by
posted on June 2, 2020
Support NRA American Hunter
DONATE
Some guys want to carry a status symbol in the field; others just want a reliable shotgun that's no cause for concern when it's ravaged by briars and beaten to hell in the cargo rack of an ATV. That's Stoeger's M3500.


Stoeger Industries is a division of firearms owned by the Beretta dynasty but made in Turkey. Its products fall under the design, distribution and purview of Benelli USA—also owned by Beretta—and this explains the similarities shared by its shotguns and those of Benelli's. Basically, Stoeger is Benelli's lower-priced line of firearms so the parent company doesn't miss out on the lower-priced shotgun market while Benelli holds the top-end. Marketing strategy aside, what's important here is that a few of Stoeger's shotguns, namely its M3000 and M3500 autoloaders, have gained cult status among hardcore waterfowlers for their reliability and value. Now Stoeger is looking to do the same for turkey and predator hunters with its latest M3500 shotgun specifically designed for them.
The M3500 Predator/Turkey (P/T) is an inertia-operated, 7.5-pound, semi-auto shotgun with a 3½-inch chamber, 24-inch barrel and a pistol grip/hybrid buttstock. It's dipped in Mossy Oak's Overwatch camo, the official camo pattern of the NRA.
At the heart of the M3500 is its action. Much like Benelli's legendary Armi inertia-operated system, the M3500 functions via a stout recoil spring hidden within its bolt. With the bolt's rotating head locked into the barrel extension during the shot, recoil forces the bolt backward within the receiver, and in doing so, compresses this recoil spring. When the spring rebounds, its force pushes the bolt head forward, thereby unlocking it and flinging the bolt rearward, ejecting the spent shell. Where it differs from the Benelli is that instead of utilizing a return spring hidden within the buttstock to push the bolt back home after picking up a fresh shell off the carrier, it is pulled by a spring that's fitted around the magazine tube.
One advantage to locating the return spring in the fore-end is that it leaves room in the buttstock for a recoil reducer, which is supplied as an accessory with the M3500 P/T. The "recoil reducer" is simply a 10-ounce solid steel cylinder that's installed by the user by removing the buttpad, but I give credit to Stoeger for providing it when very few other shotgun manufacturers do, especially at the M3500's price point. Certainly it works, as dictated by physics.
Magnum 3½-inch turkey loads carrying 2¼-ounce payloads can pound the shooter more than bona fide elephant guns, and so any weight added to the gun helps mitigate recoil. Academically it's like this:
The Stoeger (touted at 7½ pounds) actually weighs 7 pounds, 12 ounces unloaded. If we take Federal's Grand Slam 3½-inch, 2-ounce, 1200 fps No. 4 turkey load, mathematically the gun produces roughly 56.4 ft.-lbs. free recoil energy. (That's like a .416 Rigby.) But with the recoil reducer installed, the gun now weighs 8 pounds, 6 ounces and produces 50.7 ft.-lbs. recoil. That's a 10.10 percent reduction. I'll take it.
The inertia-operated action inherently reduces some recoil by lengthening the recoil impulse, so that 50.7 ft.-lbs. won't feel quite as bad either. The barrel is also ported thereby reducing kick even further by redirecting some of the shell's gas upward and partially pushing the barrel down rather than back toward the shoulder. However, one of my complaints about the gun is that its rubber recoil pad is awfully hard; for obvious reasons, I'd prefer it be softer.
The difference in the M3500 P/T and the waterfowl models is threefold. Mainly, the P/T wears a pistol grip/hybrid buttstock that provides greater control of the gun with one hand. While I don't recommend vertical pistol grips for wingshooting, for turkey and predator hunting where guys typically set up with their backs to a tree and the gun rested on a knee while calling with the support hand, the pistol grip is handy. It's made of very grippy rubber with conforming finger grooves.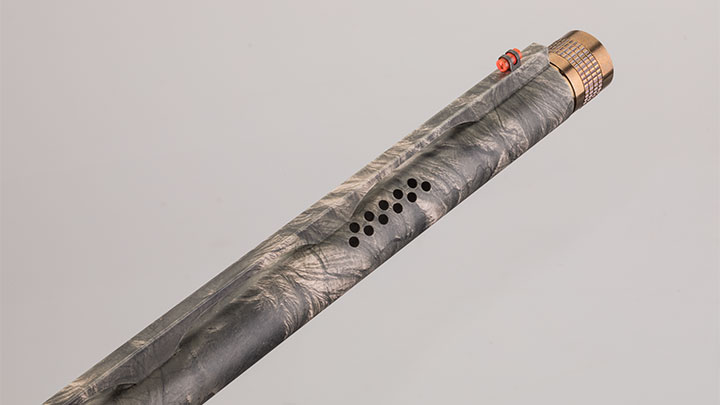 Secondly, the gun features a fast-handling 24-inch, ribbed barrel that can be maneuvered easily, even in dense woods. It features Beretta Mobil-style choke tube threads and comes with two extended, hand-removable/installable Mojo "Fatal Shot" custom chokes that sell for $79 each if purchased online. One is an extra-full Turkey choke while the other "Predator" choke is computer optimized for T-shot that's often used on coyotes.
The M3500 features a long mag tube that holds four 3-inch or 3½-inch shells or five 2¾-inch shells. I discovered that with manipulation, you can "ride a shell" on the shell carrier, therefore increasing the M3500's overall capacity by one. While this represents little real benefit for turkey hunters, as a home defense shotgun—for which this arm is also perfectly suited—the extra shell is huge.
Another carryover from Benelli's system is the mag release button located just ahead of the trigger guard. When pressed, it releases a shell from the mag so the gun can be unloaded manually; but if it isn't pressed, it allows the unloading of only the chamber so a shell can be swapped out for another type without emptying the mag. It's a handy feature that I've used many times while hunting.
In actual use, I found the gun handled lithely, especially with the pistol grip. I was able to control it easily with one hand with the gun's fore-end resting on my knee. It proved supremely reliable with magnum shells, but like many 3½-inch chamber semi-autos, it failed to cycle light target loads of 1⅛-ounce payloads and less. But that's OK, as this shotgun is billed as a turkey and predator gun and not destined for the skeet range. With its custom choke tubes, patterns were superb, providing devastating results on a paper turkey head at 40 yards using No. 4 and 6 shot.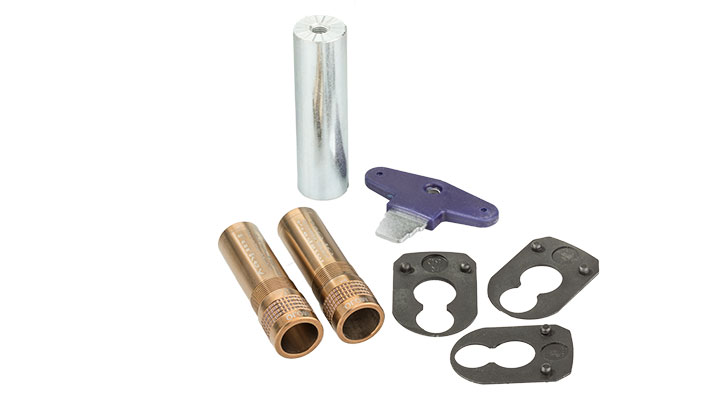 The only feature the M3500 lacks (other than a softer recoil pad) is a mid bead to go with its front light pipe for precise aiming at a turkey's head. Overall, however, it's a heck of a gun. I was impressed it came with so many useful accessories for its price—such as the custom choke tubes, a neat paracord/survival sling, a shim kit to ensure proper stock fit and the aforementioned recoil reducer. Basically, the shotgun is a Benelli, just at a lower price—and one that anyone should trust behind a bedroom door, in the woods or while in the back of a pickup getting pounded by abuse.
Sure, I like a $2,000 shotgun as much as the next guy, but there's a status symbol attached to this gun, too: It's one of a hunter who doesn't care so much what brand is stamped on the barrel of a gun so long as it hits what it's aimed at and goes bang every time. That's the M3500.
Technical Specifications
• Type: inertia-operated, semi-automatic shotgun
• Gauge/Chamber: 12/3½"
• Barrel: 24"
• Magazine Capacity: 4 rnds. (3",3 ½"); 5 rnds. (2¾")
• Trigger: 5.25 lbs.
• Sights: red fiber-optic front pipe; drilled and tapped for optics mounting
• Safety: cross-bolt
• Stock: synthetic; Mossy Oak Overwatch; LOP 14⅝"; drop at comb 1½"
• Metal Finish: Mossy Oak Overwatch
• Overall Length: 46"
• Weight: 7 lbs., 12 ozs.
• Accessories: two Beretta Mobil-style choke tubes (Mojo Turkey; Mojo Predator), choke tube wrench, stock shim kit, recoil reducer, paracord sling
• MSRP: $929; stoegerindustries.com