Support NRA American Hunter
DONATE
While not as glamorous as riflescopes, spotting scopes are just as important, maybe more so. You can't shoot what you can't find. Even at short distances a spotting scope can be invaluable for locating game in dense cover.  Not too long ago I found a coastal Oregon blacktail buck while guiding a friend. All I could see at first was a small portion of its neck, ear and antler tucked under some young fir trees. Even though that buck was only just over 200 yards, I never would have found him with only a binocular. Even for target shooters, without accurately spotting hits you're just making noise; ammo is too expensive for that kind of nonsense. It's not a matter of if you need a spotting scope, it's a question of which one. Could the Leupold SX-4 Pro Guide HD 15-45x65mm be the one? Let's find out.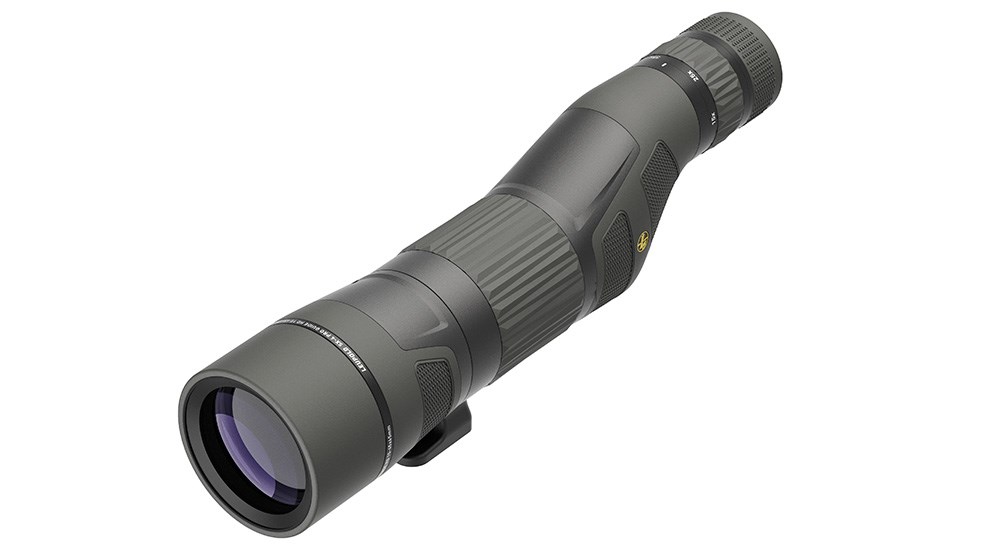 The SX-4 Pro Guide HD 15-45x65mm is one of Leupold's mid-price range spotting scopes designed to provide solid performance without requiring a second mortgage to get it. It's priced significantly less than their Gold Ring options or some European spotting scopes. There's nothing unique about it really, but it does have the features you want for a spotting scope in this class of optics.
I was lucky enough to use one of these scopes for my entire deer hunting season. I mostly hunt the Oregon coastal range for Columbia blacktail deer. This can present challenging conditions for optics over the course of the season. You're intensely glassing at first and last light at short and long distances, it can be hot or cold and almost always pouring rain with driving wind. The terrain is lumpy so there's a lot of up and down hiking, putting the scope in and out of rigs, and on and off mountain bikes. As a bonus, because of my clumsiness, optics are subjected to a consistent number of impacts when I slip and ungracefully hit the ground like a well-padded bag of hammers. These conditions not only test the optics, but also the ergonomics and durability.
There were no surprises unboxing SX-4 Pro Guide HD 15-45x65mm, it's a basic setup. With the scope you get lens covers and a neoprene scope cover. A quick note about the cover: installation and the subsequent removal of the neoprene cover is about as convenient as what it might be like trying to put a sumo wrestler into a wetsuit. Save yourself the trouble and leave it off. It doesn't fit all that well, you can't use the sunshade with it on, and it makes using the focus ring awkward. You don't need it anyway. After throwing the scope in and out of my old truck, it falling on the ground, being shoved in and out of my pack, the rubberized armor encasing the housing seems no worse for wear. So, let's agree never to talk about the cover again, mmmkay?
While the SX-4 has a lot of features, they're all just a support system for the lenses, so let's talk about the optics first. Leupold designs their products around excellent glass. In the case of the of the SX-4, the lenses have multiple coatings that make up their "HD" and "Elite Optical System" nomenclature and performance. These coatings include their DiamondCoat 2 for abrasion resistance and light transmission. Other coatings help keep the light passing through the lenses and prisms as it should. The result is good light transmission, durability, image quality and detail. For me, the next most important feature is that it's waterproof. Great optics are useless if the spotter fogs or gets wet inside and turns into a heavy kaleidoscope. The SX-4 also has an integrated sunshade, rubberized armor coating, twist-up eye cups with detents that keep it where adjusted, larger centerline focus ring, and it rotates on its tripod attachment point. Do the features come together to deliver as promised? As an overall package, yes.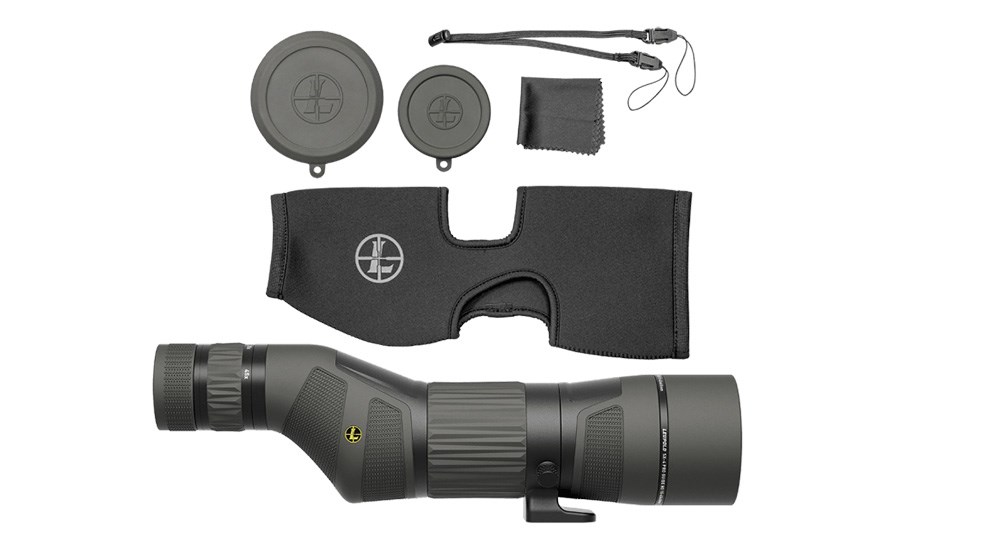 The image and color are clear and with no obvious distortions or aberrations, although the focus did appear a bit less sharp at the highest magnification.  It had good low light performance. Maybe not the best, but keep in mind it's a couple bills below $1,000 and with that said, it's a solid performer. It's worth remembering that at 45X your exit pupil is about only about 1.4mm versus 4.1mm at 15X. Something to keep in mind when glassing in low light conditions. Any spotting scope is going to appear brighter at the lower magnification setting. Don't expect to zoom in at max power on something in the last 15 minutes of daylight and expect to see a bright image. That's just physics. The DiamondCoat 2 does seem to work well, as I repeatedly used about anything I could find to wipe water from the lenses, and they appear to have zero scratches or degradation of the coatings.
The mechanical features worked quite well. My hands never slipped off the focus ring or eyepiece during use and when muscle memory kicks in, using both is intuitive and they remained smooth in hot and cold weather. The eyepiece worked well with sunglasses when fully collapsed, so I suspect it would also work well with eyeglasses. The integrated sunshade, or as I like to call it, a rain shield, is a must. The sunshade can help keep rain off the objective lens and it spent most of the time in the extended position and was critical for long periods of glassing during rainy, windy mornings. Yes, it also worked well to reduce the glare from the sun like the brim of your hat. It works great.
Most importantly, the SX-4 remained waterproof. It saw heavy rains, constant mist, snow, cold and even after my repeated body-slams showed no signs of springing a leak.
The only real gripes I had, and they're very minor, is the eyecup rattles a tiny bit when extended, and the method to lanyard the caps to the body seem to get in the way a lot. Neither is important enough to worry about.
Is the Leupold SX-4 Pro Guide HD 15-45x65mm perfect? Of course not. If the clarity of the image is the only criteria for which to judge, there might be better, albeit likely more expensive, choices. But if you are looking at the performance requirements of a spotting scope as a system, such as image quality, ruggedness, ergonomics and weight, then this in fact is a solid choice. In totality the SX-4 Pro Guide HD 15-45x65mm did in fact deliver as promised.
Technical Specifications
• Type: variable-power spotting scope
• Magnification: 15X-45X (tested), 20X-60X
• Eyepiece: straight (tested), angled
• Objective Lens Diameter: 65mm (tested), 85mm
• Focusing Range: 34' - infinity
• Eye Relief: 20mm (15X), 17.6mm (45X)
• Exit Pupil: 4.1mm (15X), 1.4mm (45X)
• Coatings: fully multi-coated; Elite Optical System; DiamondCoat 2; phase coated prisms
• Construction: magnesium body; HD lenses; roof prism; rubber armor coated; waterproof, fog-proof; integrated sunshade
• Length: 14.4"
• Weight: 62 ozs.
• Accessories: neoprene cover
• MSRP: $799.99; leupold.com