by
posted on December 5, 2022
Support NRA American Hunter
DONATE
In recent years, the popularity of long-range shooting competitions and the number of hunters setting up rifles for taking game at extended distances has exploded. Leupold has some great scopes in its line for these disciplines, such as the Mark 6 and Mark 8, but nothing specific catering to these groups at a price a mere mortal can afford. 

Enter Leupold's Mark 5HD. This optic was specifically designed for long-range competitors and hunters with features they want, including excellent image clarity, excellent low-light performance, elevation and windage adjustments that track precisely and ergonomic controls, all while weighing less than similar scopes and costing significantly less than the company's Mark 6 and Mark 8 optics. Let's be clear though, the Mark 5HD is not an inexpensive scope. But in the world of long-range rifle optics, to co-opt a word used by bourbon and wine aficionados, the Mark 5HD is "accessible." I wanted to see if the Mark 5HD 3.6-18X44 figuratively hit its target.
The two most defining features of the Mark 5HD are its 35mm main tube and the 5:1 zoom ratio. The Mark 5HD 3.6-18X44 is a sort of chunky looking little scope because it's fairly short at only 12.1 inches combined with a large diameter main tube. It's a robust looking unit. Models are available with either a first focal plane reticle or second focal plane reticle. My test sample was a first focal plane model with the TMR reticle and adjustments calibrated in MILS (because if you're going to do this long-range tactical hunting stuff, then you need to do it right).
So why a 35mm main tube instead of the common 30mm or 34mm main tube? To increase the amount of elevation adjustment for the shooter. A 35mm tube also allows for larger internal components and lenses. The larger the lens, the larger the optical "sweet spot." This minimizes the distortion at the edges of the sight picture throughout a larger percentage of the field of view. The larger tube is not for better light transmission. The diameter of the main tube has nothing to do with that.
The magnification system is a 5:1 zoom ratio, providing the shooter a good field of view at the lowest power and enough magnification to aim precisely at extended distances.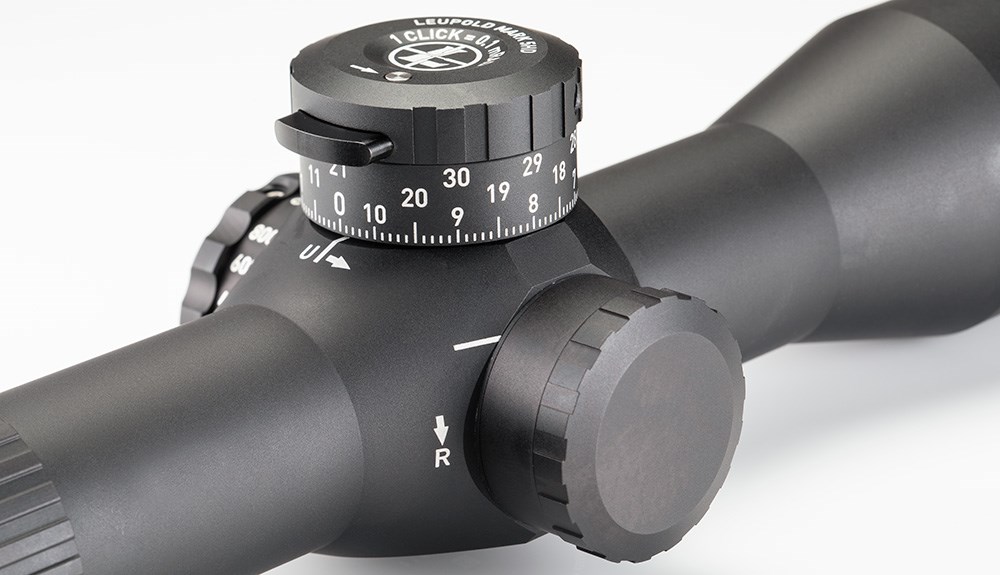 The elevation and windage adjustment ability of a long-range scope could be considered the heart, if not the soul, of the optic. Adjustments must be precise and repeatable. The Mark 5HD has an exposed elevation knob with a zero stop, as well as a push-button lock preventing it from accidentally getting bumped off zero. Having missed a blacktail because my exposed adjustment knob accidentally got bumped to the aiming solution for a mortar round, I can tell you this is a must. It has a well-thought-out feature in that the lock button is proud for the first revolution of the elevation dial, flush with the knob on the second revolution and recessed into the knob on the third revolution. This way you know how many times you've turned the dial and it tells you which set of numbers on the knob you should be using. It is a nice touch. To make windage adjustments you will have to remove a cap, but that's okay, as most shooters just hold for wind adjustments rather than dial. The windage indicator mark on the scope body is at an unusual spot so you can see it while behind the rifle. It does work, but it can be a bit difficult to see exactly what windage knob mark you're lined up with. The "clicks" on the Mark 5HD adjustments are extremely positive and crisp. That doesn't necessarily mean the scope is tracking properly, but when making an adjustment, there's no doubt the knob has turned. The knobs are large enough to easily grab and turn without being obnoxious.
While it may not be very important on a hunting-type scope that you basically set and forget, ergonomics are important on a long-range scope because the controls get used a lot. The Mark 5HD has some solid ergonomics. The side parallax adjustment knob and fast-focus eyepiece are easy to adjust as needed, and the magnification power selector ring is large enough to easily grasp and comes with a little knob that acts like a throw lever to provide some leverage.
That's basically the nuts and bolts of the scope in a short stubby little nutshell. To see how it performs, I mounted it on an accurate FN SPR to put it through some tests. Mainly, I wanted to check its ability to hold zero, and the elevation adjustments' ability to track precisely and repeatably, at a few different temperatures, as well as after some time being vibrated, bumped and even smacked like Chris Rock at an award ceremony.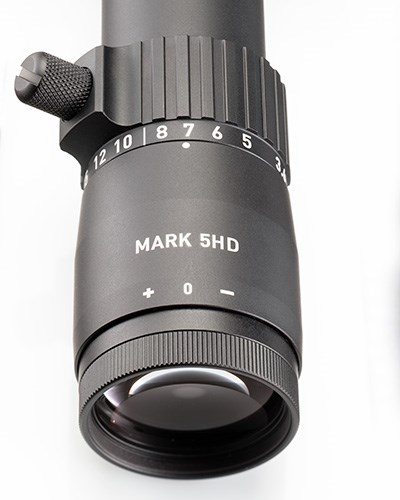 Mounting the scope was straightforward. One thing I noticed is that if mounting this scope on a bolt-action  with an open-top receiver, you might have to get a one-piece mount because there's not enough scope tube length to use a two-piece mount and rings. Just something to keep in mind.
Using Hornady Match ammo, zeroing was quick and easy requiring only a few shots, a good precursor indicating the adjustments track well. It was also a good opportunity to check out the image quality around the edges of the field of view by looking at the target grid throughout the scope's magnification range. It looked good with no easily detected aberrations or distortions at the edges.
I shot a box test to check the repeatability and relative precision of the elevation adjustments. It tracked perfectly with only minor variance easily within the range of the group size. But I wanted to see if there would be any tracking shift or error when the temperature changed, so I used ice to cool the scope, as well as a heat gun to heat it up, and shot the test again at each temperature. The scope remained zeroed and the adjustments tracked as they should. Any noticeable shift in the point of impact was again within the margin of error of the accuracy of the rifle and my shooting ability.
My dilapidated compressor provided vibrations by running it with the rifle and scope leaning on it. Again I shot the baseline, adjusted the scope "up," and shot again with no apparent tracking error. So far so good.
We've all dropped our gun on the scope before and internally said not nice things. Given Leupold's factory recoil and forward and backward impact testing, I wasn't worried about that as much as getting bumped sideways. As much as it pained me, I smacked the side with a dead blow hammer a few times—not enough to bend the tube, but enough to ruin the elevation knob cap (whoops). It shot to the same point of impact within the margin of error.
While not completely "real-world" conditions, I did leave the scope overnight in a tub filled with water, and ran the adjustments like a crazy kid on an Etch A Sketch while it was submerged. Not surprisingly, there were no signs of leaks. You just don't see many failures like that with good quality riflescopes.
It will be nice to give this scope an extended test. Such will probably occur in Oregon during the coastal blacktail hunting season, as this is a great riflescope to put on a lightweight bolt-action rifle or even a DMR-type AR-15 setup. The adjustments are positive, precise and easy to see and use. The reticle is clean and precise, and I was pleasantly surprised that it did not completely disappear at the lowest settings like some of the finer grid-type reticles can disappear.
Yes, this scope is expensive when compared to other baseline hunting optics, but it's hitting way above its weight class, legitimately competing with scopes that are sometimes twice the price and considerably heavier. If you want a solid "do-all" scope that will work for hunting, long-range shooting or even tactical applications, the Leupold Mark 5HD is a great choice.
Technical Specifications
• Type: FFP, variable-power riflescope
• Magnification: 3.6X-18X
• Objective Lens Diameter: 44mm
• Eye Relief: 3.5" (3.6X), 3.8" (18X)
• Field of View @ 100 Yards: 28.3 ft. (3.6X), 5.8 ft. (18X)
• Reticle: FFP, multiple reticles available, TMR (Mk) (tested)
• Elevation Adjustment: 29 MIL range; .1 MIL click value
• Coatings: fully multi-coated
• Dimensions: 35mm tube diameter; length 12.1"
• Weight: 26 ozs.
• Construction: 1-piece aluminum tube; HD lenses; matte black finish, waterproof, fogproof, shockproof
• Accessories: removable throw lever, lens covers, sun shade
• MSRP: $1,899.99; leupold.com