by
posted on October 1, 2015
Support NRA American Hunter
DONATE
Binocular buyers are often puzzled about the relationship between price and quality. With various models retailing for anywhere from $80 to $3,000, it's a broad sea to navigate. "Buy the best you can afford" is good advice but barely limits the selection. In each price range there seem to be dozens of models from many, many companies. Where do you begin?
One place is with a known, proven brand that's been around for decades and has stood behind its products. Leupold is such a brand. This American company is renowned for producing rugged riflescopes right here in the U.S.A.—and standing behind them.
Not made in the U.S.A. is Leupold's BX-1 McKenzie line of binoculars. These are designed, engineered and tested in the company's Beaverton, Ore., facility, but they are built to spec overseas, specifically China. Leupold still stands behind each optic with its Full Lifetime Warranty. According to this warranty, if the instrument is found to have defects in materials or workmanship, Leupold will repair, replace or refund the purchase price. For a binocular with an MSRP of $189.99 and retailing for as low as $125, this is a remarkable promise. Can the McKenzie live up to it?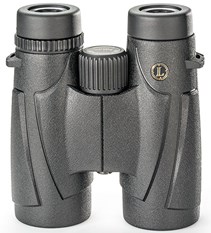 Having sculpted, textured, polycarbonate, black armor-coated barrels with a gold Leupold emblem on the front of the left one, the McKenzie looks modern, compact and fairly sleek. However, I could do without the garish gold "LEUPOLD" down the right barrel. At 22 ounces, it's delightfully lightweight and easy to hold for extended viewing. A knurled, center focus knob turns smoothly without too much tension and completes the focus range from infinity to 10 feet in 1.5 turns. Rubber eyecups twist up freely and, although they don't have a discernible locking position, hold quite well. One nice touch is the rubberized extensions that cover the sides of the metal strap connections. These should minimize banging and scratching of other gear one might carry, like a slung rifle or rangefinder.
Marked by a gold "L," the tiny cap covering the end of the single hinge post holding the barrels together screws off to reveal a threaded tube that should fit the appropriate aftermarket tripod mount. Nice.
The McKenzie's knurled diopter adjustment ring is around the base of the right eyepiece. In recent years binocular builders have been incorporating diopter adjustments within the focus knob, leading to inadvertent changes that drive me nuts. Once I set my diopter properly, I rarely need to touch it again, so why not keep it stiff, unobtrusive and out of the way under the eyepiece? This instrument does. Bravo.
Peering into the objective end of the barrels, I see the usual array of lens mounting flanges, ribbed interior walls and lenses. Everything appears to be neat, orderly and undamaged by sloppy assembly. While turning the focus wheel, I see the interior elements sliding smoothly up and down, revealing the tiniest few silver scratches through the flat-black interior coating.
The hinge flexes smoothly, but I would prefer a bit stiffer resistance since this joint will wear with use. Still, both barrels hold their position when I support just one in the glassing position.
According to Leupold, all air-to-glass surfaces of the McKenzie are multi-coated. Such anti-reflection coatings increase light transmission and contrast, two things you want in hunting glass, especially during low light. The problem with the "fully multi-coated" claim is the number of coatings can vary from 7 to just 2. One must assume that the lower priced the binocular, the fewer the layers.
The roof prisms within this binocular are phase-coated BAK4 glass. Barium Crown 4 glass, if made and used properly, transmits a brighter image than BK7 glass. There are, however, two types of Barium Crown 4, German Schott BaK4 (often spelled with a lowercase "a") and Chinese BAK4 (with a capital "A"). I doubt this or any other Chinese-made bargain binocular uses Schott prism glass. Nevertheless, in a roof prism, BAK4 usually performs better than BK7.
The point of all this technical talk is to alert you to the complexities of assessing binoculars. Because there are no industry standards for BaK4 glass and "fully multi-coated," the terms don't tell you much. And there's only so much you can do to check. One trick is to study the reflection of a single light bulb in the objective end of a barrel. Each reflection represents a lens, and the colors represent, more or less, degrees of coating. When shining a flashlight at an objective lens of the McKenzie, I see seven colors. Three are blue-green, two are green and one is purple. Uncoated lenses usually reflect white, single-coated reflect yellow and multi-coated bounce back variations of green, blue and purple. The brighter the reflections, the less effective the anti-reflection coatings. Reflections from a top-line Zeiss Victory binocular are a deep purple, which I suspect indicates the best multi-coatings.
Other things one can't see during a binocular assessment are tiny bubbles within the prisms. The more there are, the more "milky" or hazy the image due to light scatter from the bubbles. Prism size also impacts brightness. Small prisms can cut off some light. Blackened prism edges and internal shields also reduce flare. Glued prisms aren't as durable as those fixed in metal cages.
Yes, there can be many "hidden" flaws and shortcomings in any binocular, and you have to assume that the lower priced units include at least some of these. Fortunately, there's one test that really works: the view. When it comes to optical quality, what you see is what you get, and I'm impressed by the clarity of the McKenzie. I find the diopter easy to adjust, after which both eyes achieve sharp focus on objects as close as 10 feet and as far as infinity. The view appears uniformly sharp across the plane until the last 8 percent or so of the edge. I detect slight color fringing at the edge, too, but none in the center.
During prolonged glassing the view remains sharp. I don't feel the need to refocus at any distance, a common requirement with many budget binoculars. While reading fine print in low light the McKenzie holds its own against a Zeiss Victory 8x32mm, a Bushnell Legend Ultra HD 8x42mm and a Swarovski EL 8.5x42mm. When looking directly into a hard light source, the McKenzie displays good contrast and surprisingly good flare control.
Those are my subjective assessments. You might see things differently, but for the price, you can't afford to ignore a budget roof-prism binocular this good.
Technical Specifications:
• Type: roof-prism binocular
• Magnification: 8X (tested), 10X
• Objective Lens Diameter: 42mm
• Focusing Range: 10'-infinity
• Eye Relief: 17.7mm
• Exit Pupil: 5.25mm
• Field of View @ 1,000 Yds: 330'
• Coatings: fully multi-coated lenses; phase-coated prisms
• Dimensions: length 5.8"; width 5"; weight 22.1 ozs.
• Construction: polycarbonate frame w/ black rubber armor; nitrogen filled; waterproof; fog proof
• Accessories: neck strap, lens covers, carry bag, microfiber lens cloth
• MSRP: $189.99