by
posted on June 2, 2009
Support NRA American Hunter
DONATE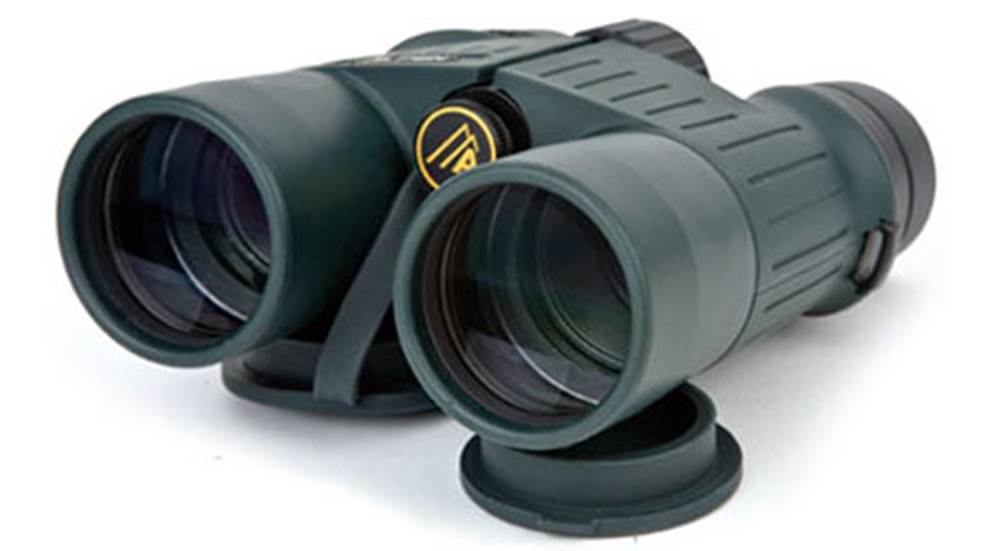 The answer to the question "What binocular is green-and-black and sleek and sharp and bright and respected all across the country?" no longer has a single answer. It could be the one you're thinking of, but it could just as well be the Alpen APEX 8x42. 
This doesn't mean the Alpen is necessarily better than all other green-and-black binoculars, but it may be better than most, if my tests are any indication. And for the money, this could be a best buy.
Here are the basic facts: This is a 22-ounce, roof-prism binocular with an aluminum body coated with soft rubber that provides a warm, comfortable grip while protecting against impact damage. The objective lens system is apochromatic, which minimizes color aberrations such as fringing. All air-to-glass lenses are coated with multiple layers of anti-reflection coatings. The prisms are high-index BAK4 glass that are phase-coated to minimize distortion as split light waves are brought back together. The HRT metallic mirror coating consists of multiple micro-thin layers for increased efficiency, which means increased light transmission for a brighter image. 
 User-friendly engineering includes twist-up eyecups that lock into two positions; grooved body coating for enhanced grip; a knurled diopter ring for secure grip; raised finger stops that catch your index fingers near the strap attachment points for natural support; quick-release neck strap; and a ribbed focus knob for one-finger control.
The unit is waterproof, fogproof and dustproof, and carries a limited lifetime warranty, i.e., "warranted to be free of all manufacturing defects in workmanship and materials" as long as the original owner still owns it. There is a $15 charge for inspection and handling of returned binoculars.
In practice the APEX pretty much lived up to its billing. While looking directly toward the sun as it kissed the western horizon, the APEX exhibited less flare and higher contrast than a famous brand binocular costing three times as much. It showed slightly less edge distortion than a top-line 8x43mm from another well-known company and equal resolution until 45 minutes after sundown. At that twilight moment, the 8x43 plus an 8x44 from another well-known manufacturer proved slightly brighter than the Alpen, but those units have an MsRP of $1,260 and $2,300 respectively. The Alpen unit had a noticeably bluer color cast overall than the 8x43, about the same color cast as the 8x44.
When looking through the APEX at a hard edge against a white sky (the best way to check for color fringing), I detected none until the extreme edge of the field-of-view, when a noticeable purple fringe appeared quite obvious. Fortunately, no one does any serious glassing with the outside 10 percent of any binocular's field of view, so this isn't a huge issue. 
After spending a night in the kitchen freezer, the APEX emerged frosty, but only externally. No internal fogging was detected as the unit warmed and dried, nor was there any internal fogging after a half-hour dunking in the kitchen sink (my optics torture lab). While the unit was submerged, I twisted the eyecups up and down several times, turned the focus wheel back and forth five times and cranked the diopter wheel through several cycles. For good measure, I sloshed the binocular vigorously several times in imitation of a hunter trying to extricate himself from a pond or river. No leaks resulted from my efforts.
The stretchy, familiar neoprene neck strap that came with the Alpen proved quite comfortable, and the quick-release nylon buckles were quite handy. The binocular balanced neatly in my hand, the focus wheel was easy to reach and turned smoothly with one finger, yet wasn't easily bumped off focus. It had just about the right degree of resistance. Stiffness at the main hinge assured that barrels stayed spread to my selected interpupillary distance. The eyecups twisted up easily and did, indeed, lock into place, giving just the right eye relief whether I wore eyeglasses or not. All things considered, I find this an amazing glass. For a list price of $425, it's one heck of a deal.
Type: roof-prism binocular


Magnification: 8X (tested), 10X


Objective Lens Diameter: 42mm


Focus Range: 5' to infinity


Eye Relief: 20mm


Twilight Factor: 18.2


FOV @ 1,000 yards: 341 yards


Weight: 22 ozs.


Dimensions: length-5¾"; width-5"


Coatings: fully multi-coated


Construction: aluminum housing, rubber armor coating


Accessories: lens covers, neoprene neck strap, case, cleaning cloth.


MSRP: $425