by
posted on May 10, 2022
Support NRA American Hunter
DONATE
I must admit I'm a bit biased regarding Kimber's fine lineup of bolt-action rifles. My in-the-field companion has been the manufacturer's 4.13-pound Mountain Ascent chambered in .280 Ackley Improved for the past two seasons, and I've been lights out with that rifle. I made a 500-yard shot on a free-range aoudad ram, took my biggest bull elk to date, and took numerous other game animals with the highly maneuverable, super-accurate shooter. You can see why I'm a bit biased.

My first impression of Kimber's new Hunter Pro was that it is flat sexy. The 22-inch stainless-steel barrel, with a muzzle brake, melts into the Desolve Blak camo pattern covering the reinforced polymer stock. The rifle was, of course, ultra-clean—no nicks, dings or displeasing aesthetics. At 5.9 pounds, the new Hunter Pro was not noticeably heavier than my Mountain Ascent, but I could feel the slight weight difference. Even so, the feeling of the gun in hand and the positioning of my cheek on the stock were all too familiar, like an old friend, and I couldn't keep from grinning. This rifle fit me like a glove.
The rifle is drilled and tapped, and scope attachment is elementary. I opted to attach Leupold's VX-5HD 2-10x42 scope. After a quick boresight, I was ready to send my first round with the Hunter Pro chambered in 6.5 Creedmoor.
The Hunter Pro is priced more than $1,000 below the Mountain Ascent, but they felt identical on the bench. I cheer the three-position Model 70-type wing safety, and the trigger guard allows for easy trigger access when wearing thin shooting gloves or bulky wintertime warmers. The detachable box magazine is easy to remove via a simple push button, easy to feed and provides an appreciated audible click once reseated. The trigger is set at the factory between 3.5 and 4 pounds, offers no creep and breaks crisply and cleanly. It is perfectly curved, and I brand its width as "just right." The trigger is not easily user-adjustable, however, Kimber will adjust it at the factory if you provide them with your desired pull weight.
I realize there are some excellent actions out there, but Kimber's 84M is tough to beat for the money. It is a short action with a dual-lug bolt that has been slimmed down to cut weight. It sports a full-length, Mauser-style claw extractor for controlled-round feeding, and a bolt release lever is positioned toward the rear. The bolt angles down perfectly and promises a quick throw, and it loads the next round into battery as smoothly and speedily as you can ask for.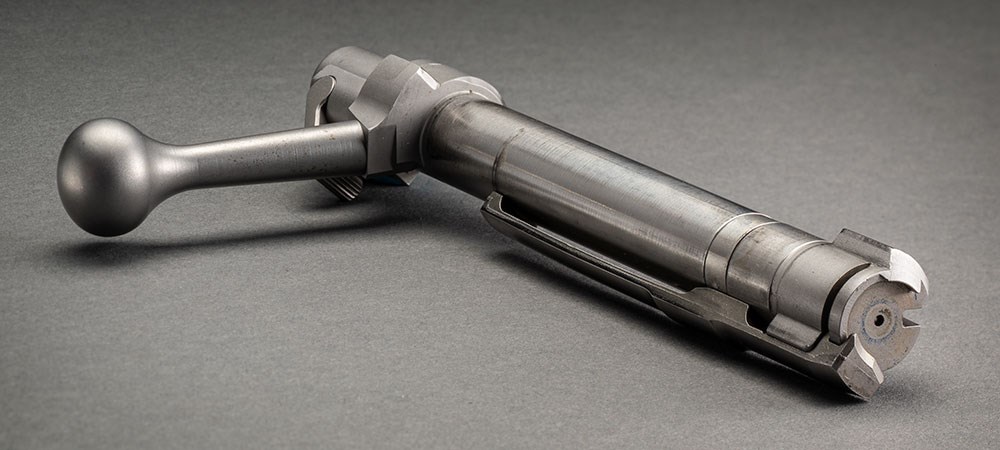 Lightweight guns, which the Hunter Pro is, often get a lousy reputation for recoil, even when chambered in loads like the 6.5 Creedmoor. And while this rifle did kick shooting Federal Premium's Big Game 120-Grain Trophy Copper exiting the muzzle at 2809 fps, the stock design, muzzle brake and recoil pad made it feel minimal. When the rifle thundered, I was able to stay on the scope and reacquire the target quickly.
Throughout an afternoon, I shot three-round groups off a bench at distances of 100, 200, 300, 400 and 500 yards. The Kimber Hunter Pro chambered in 6.5 Creedmoor is exceptionally accurate. Nearly all of my 100- and 200-yard groups had at least two bullets touching, and my last 500-yard group fit inside a 3-inch orange dot.

Moving away from the bench, I put the Hunter Pro through its paces in real-world scenarios shooting off sticks as well as offhand, prone and while propped up on a backpack. Friends, this is where this rifle shines bright. There is nothing not to love about how the gun handles in these situations. It's compact and light, super maneuverable, and I applaud the thin taper of the fore-end. The gun falls into sticks, sinks into backpacks and balances with the best of them when steadying for an offhand shot. This type of shooting is why Kimber created this rifle. This is a big-game hunting rifle built to carry well and be highly maneuverable. It's the type of rifle you want when going after that once-in-a-lifetime bighorn, or when packing in miles and miles on horseback. Its slim build allows the Hunter Pro to fall into a scabbard, taking up little room on the saddle. Available chambered in 6.5 Creedmoor, .280 Ackley Improved and .308 Winchester, it's a versatile rifle that will be favored by mountain hunters and those who venture far off the beaten path in search of big-game nirvana.
I can't wait to test drive this new Kimber in August when I cash in 21 Colorado points and go after fleet-footed pronghorn. This rifle is everything I hoped it would be. If you're looking for a dependable, accurate and all-around incredible big-game rifle, the Kimber Hunter Pro is it.
Technical Specifications
• Type: bolt-action centerfire rifle
• Caliber: 6.5 Creedmoor (tested), .280 Ack. Imp., .308 Win.
• Magazine: detachable, three-round capacity
• Barrel: 22"; stainless-steel; sporter contour; 1:8 RH twist; 4 grooves; threaded muzzle w/brake
• Trigger: single-stage, 3.5-4 lb. pull weight
• Sights: none, drilled and tapped for optics
• Safety: 3-position Model 70-type wing safety
• Stock: straight comb; fiber-reinforced polymer; Desolve Blak camo; LOP 13.75"
• Metal Finish: stainless steel
• Overall Length: 41.25"
• Weight: 5.9 lbs.
• MSRP: $1,006; kimberamerica.com