by
posted on October 23, 2018
Support NRA American Hunter
DONATE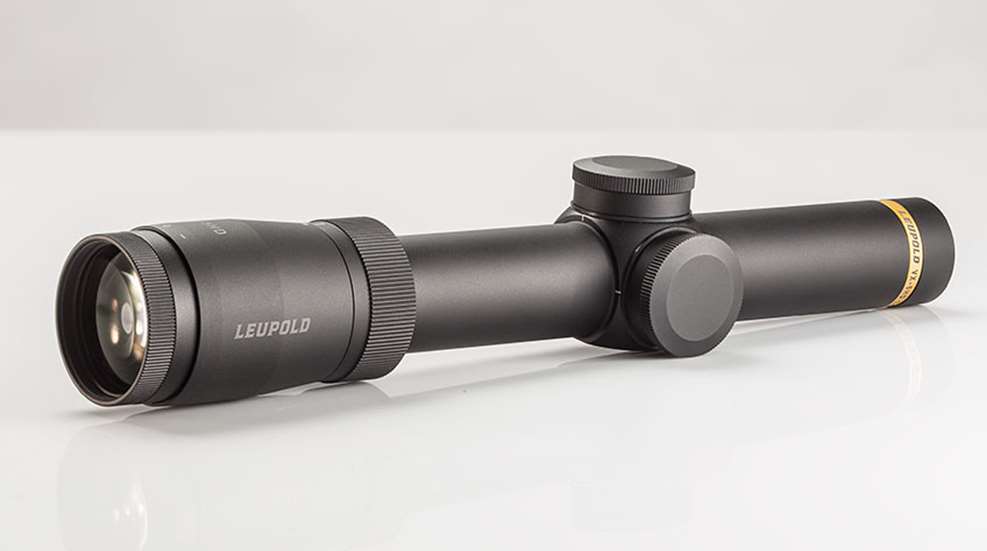 Riflescopes have changed radically in recent decades; I consider improvements in optics and projectiles to be the most pertinent developments in the hunting field today. The new VX-5HD series from Leupold, a company that has been an American staple when it comes to making quality riflescopes, is an excellent example. I tested the VX-5HD 1X-5X-24mm, a perfect scope for dangerous game on a big-bore rifle but also one well-suited to close encounters with any animal.

There are many methods for testing riflescopes, but I used what may be the best one for wringing out the VX-5HD 1X-5X-24mm: I took it on a bear hunt in coastal Alaska. What better way to observe light-transmitting qualities than to sit on a brown bear bait station until 2 a.m., when the Alaska dusk finally turns—very briefly mind you—to darkness? Frequent rain showers, blowing dust and sand, salt spray, not to mention a healthy level of recoil: all will take their toll and give a real-world test of how a scope will stand up.
I hunted in Tyonek, Alaska, with Bob Jewett of Top Gun Treks for black bear and coastal brown bear. After mounting the VX-5HD in Talley detachable rings on my Mark Bansner .404 Jeffery, I zeroed the scope using Norma's African PH ammo. The load I chose sends a 450-grain Woodleigh Weldcore at 2150 fps and generates some stout recoil.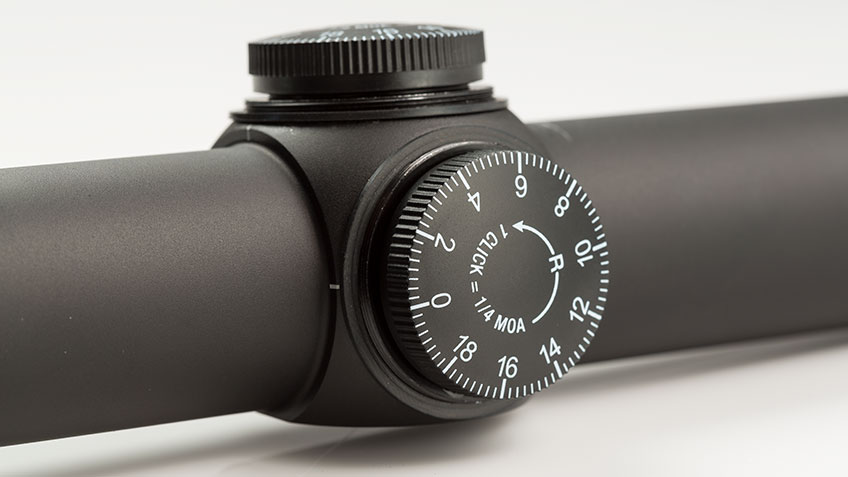 With .25-MOA clicks—and the VX-5HD provides a definitive feel for each click—the scope took adjustments like a champ. This Bansner rifle is accurate for a big-bore, printing groups between .75 and 1 MOA, so it was easy to see how the scope tracked. I'm happy to report that the VX-5HD went where I told it to and stayed put once it got there. Shooting from the bench, I truly appreciated the generous eye relief; it's no fun whatsoever to have your bell rung by big-bore recoil. Even at 5X, the Leupold gave me 3.75 inches of eye relief while maintaining a full sight picture from edge to edge, and the .404's recoil posed no issue at all.
The Extreme Fast-Focus Eyepiece allows the user to quickly and precisely adjust the crosshair focus; this is important on the higher magnification models at longer ranges. The power adjustment ring is smooth and ergonomic, allowing for quick adjustments.
Leupold uses a blackened edge to the lenses in order to improve contrast and diffuse light. Looking toward the sunset with the VX-5HD will immediately show the benefits of this process, and that is especially important when hunting dangerous game like Cape buffalo and brown bear at last light. The Twilight Max HD Light Management System further enhances the view by using lens coatings to maximize the proper spectrums of light delivered to the shooter's eye. Sitting 70 yards away from the bait in Alaska, well past midnight, we had a young black bear come in to feed. I had a crisp, clear view of the bear, despite the gloom of murky light that caused the view through my binocular to become fuzzy. I took another black bear at just after 9 o'clock one evening, and the Leupold helped me put the bullet exactly where it needed to be.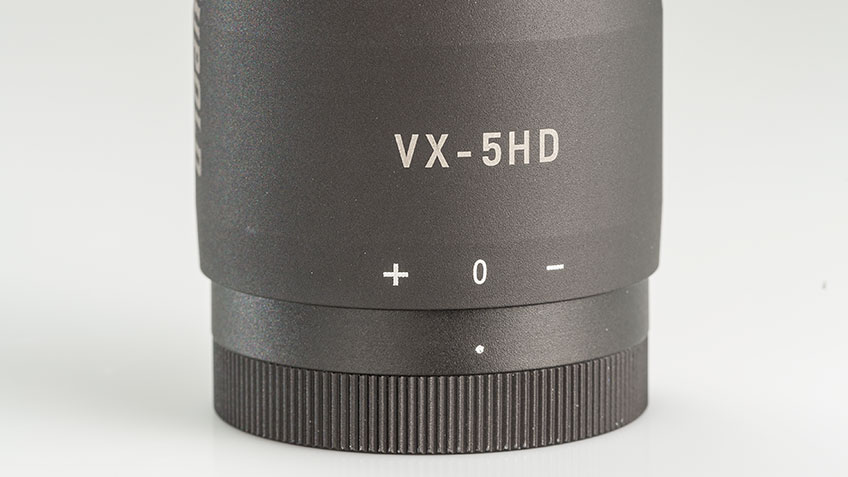 Alaska rain showers posed no issue for the VX5-HD; Leupold uses what it calls a Guard-Ion coating to ward off rain, dirt and fingerprints, and I can tell you that the water rolled right off the lenses. The 1X-5X-24mm model has its objective lens set rather deep into the main tube, and that design can easily collect dirt, water, seeds or whatever else it's exposed to. I simply blew out the water or dust, and the lens was clean and ready to go.
The matte finish on the tube and eyepiece is durable; dust and dirt wiped off easily. It was perfect for hunting bears up-close and personal, where any flash of light off a rifle or scope will quickly spook an animal.
While I am no scientist, I've used and looked through hundreds of different scopes. I can attest to the fact that optically, the VX-5HD line is indeed something special.
The VX-5HD line has a true 5X magnification range, and it includes three variations other than the one I tested: 2X-10X-42mm, 3X-15X-44mm and 3X-15X-56mm. All have 30mm main tubes to aid in adjustment range. There are some nice reticle options, including Leupold's Ballistic Aiming System reticle and FireDot illuminated reticle; the latter makes a great low-light scope even better. The higher magnification models have a side knob to eliminate parallax at longer ranges.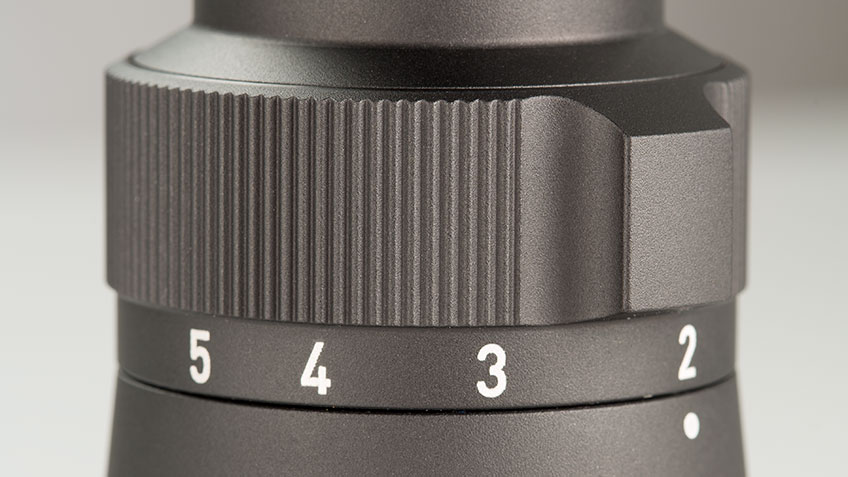 All the models are available with the CDS-ZL2 turret, a handy system for those who prefer to dial for elevation changes. A convenient ZeroLock button holds the turret in place until you press it to dial, and the lock will only snap back into place when you return to zero—no more questioning whether you've made the necessary revolutions to get back to your original zero setting. Leupold will etch the dial according to the ballistics of your load.
The VX-5HD scopes are constructed of 6061-T6 aluminum to keep weight down, and I love that. Scopes seem to have grown in both size and weight, and the balance of a fine rifle can be thrown off by an overly heavy scope. When you need to bring that rifle to shoulder in a hurry, say for a charging brown bear or Cape buffalo, you want the best balance possible. While I've been a staunch supporter of Leupold's traditional VX-3i 1.5X-5X-20mm as a dangerous game scope (it has a 1-inch tube and compact design), I think the VX-5HD may be a better choice. It has a wider field of view and certainly transmits more light to the eye.
I was impressed by the contrast provided by the Leupold VX-5HD when the light got dim in Alaska. With the scope cranked down to 1X, I felt confident any brown bear that decided to show in the thick vegetation would be handled without issue. At 5X the clarity remained stellar, and a 250-yard shot was no issue. Alaska guide Bob Jewett may have put it best: "That's one of the best choices for hunting this terrain I've ever seen." That's enough endorsement for me.
Technical Specifications
• Type: variable-power riflescope
• Magnification: 1X-5X (tested), 2X-10X, 3X-15X
• Objective Lens Diameter: 24mm (tested), 42mm, 44mm, 56mm
• Eye Relief: 3.8″
• Exit Pupil: 10.1mm (1X), 4.8mm (5X)
• Field of View @ 100 Yds: 114.6′ (1X), 22.5′ (5X)
• Reticle: second focal plane; duplex
• Adjustments: 170 MOA in .25-MOA increments
• Coatings: fully multi-coated; Twilight Max HD Light Management System, Guard-Ion
• Dimensions: tube diameter 30mm; length 10.76"; weight 13.4 ozs.
• Construction: one-piece 6061-T6 anodized aluminum tube; argon/krypton-filled; waterproof, fog-proof, shockproof
• MSRP: $909.99; leupold.com