by
posted on January 11, 2018
Support NRA American Hunter
DONATE
A line of shotshell slugs from Latvia solves five American hunting challenges—accuracy, penetration, expansion, lethality and legality—in one fell swoop. Anyone who's had to fuss with slugs in a shotgun-only hunting zone knows they've never been famous for long reach or precision accuracy, although sabot types and rifled barrels have improved that a lot in recent years. But if you like the idea of the full-diameter hole and heavyweight punch that an old, full-patch "punkin' ball" can deliver, you'll want to take a hard look at Ddupleks slugs.
The Ddupleks line currently imported into the United States includes four 12-gauge, 2 3/4-inch loads. (Yes, the name really does start with two D's; it's pronounced "dee-duplex.") Two of the slugs, smartly called Broadheads, are wasp-waisted solids with dished-out "noses" that are segmented into six petals engineered to expand, break off and disperse through the target medium. The other two, called Steelheads, have a similar waist but are flat-nosed solids designed to penetrate straight and deep.
Both the Broadhead and Steelhead slugs are made of steel. They are under nominal 12-gauge bore diameter, and are surrounded by narrow polyethylene skirts fore and aft that obdurate to varying bore diameters and choke constrictions. That's probably a big part of the reason why they're so accurate in so many guns. The Broadheads and Steelheads I measured were .630 inch in diameter at the widest parts of their steel bodies, front and back. Their polymer skirts spread .726-.730 inch. Under the heat and pressure of firing, I suspect these skirts flare dramatically to grip any bore, smooth or rifled, yet squeeze down easily to slip through tight chokes.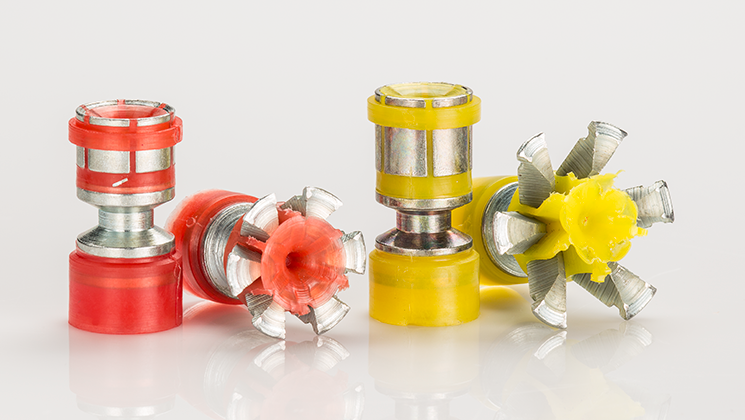 The polymer skirt at the front of the Broadhead serves a second purpose. It divides the "nose" of the slug into petals and fills the hollow between them. Upon impact, the chunk of polymer squashes against the petals, aiding in expansion and fragmentation.
The skirts are mechanically secured so tightly to the steel slugs that they remain attached during flight and even after violent contact with a variety of media. Gallon plastic jugs of water, corrugated fiberboard, plywood, gravel and dirt have variously smoothed, spread, bent and mangled the skirts, but thus far have failed to dislodge them.
I tested the accuracy of the Broadhead and Steelhead loads primarily in a Mossberg 930 semi-automatic with a press-fitted, 24-inch, rifled barrel and a Leupold VX-3i 2.5X-8X-36mm scope fixed to the barrel via a cantilever mount. Semi-auto (and pump) shotguns with interchangeable barrels, not to mention cantilever scope mounts, aren't famous for rigidity and maximum accuracy potential. Still, this setup yielded 50-yard, three-shot groups running 1.25-2.5 inches and 100-yard groups spreading 2.9-4.3 inches, depending on the load. These groups are even more remarkable considering all holes in the targets were slightly oblong, indicating these long slugs were flying at the ragged edge of stability for the 1:36-inch rifling twist of the Mossberg. Friends with faster-twist barrels and stiffer slug guns like the Savage 212 bolt-action shotgun report one-hole groups at 50 yards.
Because many slug-gun hunters press their smoothbore bird guns into service for deer, I fired a 25-yard, three-shot test group through a Winchester SX4 having a 28-inch bird barrel with an improved-cylinder choke. I sat and shot off a Bog-Pod tripod rest, and I used just the front bead for aiming, but I still poked a 2.55-inch group.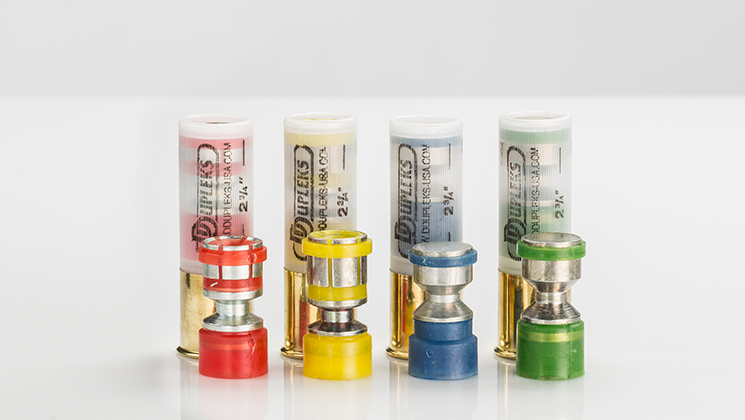 As I suspected, the Steelhead penetrated like a migraine. I lined up five 1-gallon milk jugs filled with water, and the slug zipped right through them. The next slug made it through seven, so I went to eight jugs in a line and punched through all of those, too. Except for a torn plastic nose skirt, the 11/8-ounce slug I recovered on the ground 40 yards beyond the last jug looked pristine. It still weighed 11/8 ounces. This is not only impressive penetration, but also stellar straight-line performance. African dangerous-game hunters have long chosen flat-nosed bullets for straight-line penetration, and you don't get much bigger or flatter than the steel meplat of these Steelheads.
The fragmenting Broadhead really impressed me. After punching through a gallon jug of water, six petals broke lose to spread evenly across a fiberboard backer placed about a foot behind the jug. The diameter of the spread was about 12 inches. I recovered one of the 1-ounce Broadheads in the dirt berm 5 yards back. Its red skirt, ragged, was still attached to the steel shank. Slug diameter at the rim where the petals had sheared was .629-inch. Retained weight was .7 ounce. That's 70 percent weight retention. Hunters wanting deep penetration and dramatic fragmentation will love Broadheads.
I can't imagine any big game besting these slugs. They are just too heavy, too powerful, too devastating to be anything but lethal. Throw in the ripping, cutting action of those six shed petals from the Broadhead and … oh my.
These slugs should be legal wherever slug hunting is mandated, but check local regs first. Because they contain no lead, Ddupleks slugs should also be legal in lead-free ammo zones.
I'm guessing citizens of Latvia are not allowed to either own rifles or hunt big game with them. Or they really like the challenge of shooting single projectiles from shotguns. Regardless, someone over there has engineered a line of impressive slugs. I have a hunch a lot of American hunters—but not many deer, elk, moose, bears or hogs—will like what Ddupleks has to offer.
Technical Specifications
Ddupleks Broadhead
Gauge/Length: 12/2¾″
Slug: 1 oz., 1 1/8 oz.; solid steel w/polyethylene skirts, pre-fragmented nose
Muzzle Velocity (advertised fps): 1460 (1 oz.), 1400 (1 1/8 oz.)
Muzzle Energy (advertised ft.-lbs.): 2,050 (1 oz.), 2,130 (1 1/8 oz.)
MSRP: $10.49-$12.49 per 5-rnd. Box; ddupleks-usa.com
Ddupleks Steelhead
Gauge/Length: 12/2¾″
Slug: 1 oz., 1 1/8 oz.; solid steel w/polyethylene skirts, flat nose
Muzzle Velocity (advertised fps): 1460 (1 oz.), 1410 (1 1/8 oz.)
Muzzle Energy (advertised ft.-lbs.): 2,070 (1 oz.), 2, 180 (1 1/8 oz.)
MSRP: $7.99 per 5-rnd. Box; ddupleks-usa.com