by
posted on January 7, 2018
Support NRA American Hunter
DONATE
Editor's Note: Contributor Shawn Skipper recently had the chance to put the following gear to use on an upland hunt in Mexico. You can catch up on that story here.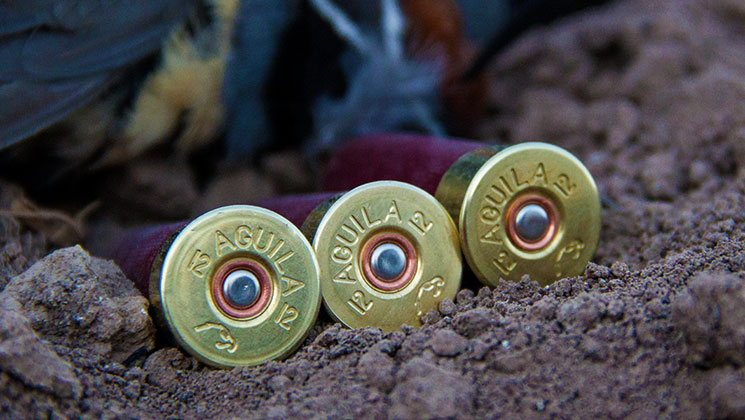 Aguila Ammunition
In Mexico, it felt only appropriate to be using ammunition manufactured south of the border. As such, over the course of our stay many a pheasant, quail and dove was brought back down to Earth by the hard-hitting lead shotshells produced by Aguila Ammunition. And before you get the wrong idea, I should make it clear that Aguila's products are very much available to hunters and shooters here in the United States, where they're exclusively distributed by Texas Armament and Technology.
Aguila (which translates simply as "eagle," hence the logo on the packaging), an ammunition manufacturer based in Mexico, operates under Industrias Tecnos of Cuernavaca. It's been doing so since the 1960s. That company's original ammunition plant was established in collaboration with Remington Arms back in 1961. At the time, Tecnos was known as Cartuchos Deportivos de México. So, whether you've known it, Tecnos has substantial history in supplying ammunition to the U.S. market. Nowadays, Aguila serves as Latin America's foremost ammunition maker. Among other things, it serves as the primary supplier of ammunition to the Mexican military, and is one of the world's largest producers of rimfire ammunition.
Aguila's shotshell wares cover the industry's most popular gauges—12, 16, 20, 28, .410-bore, they're all there, in a bevy of shot sizes. The lead shot is produced in Aguila's own shot tower, and is the first step in a vertical production method the company uses to ensure consistency. All Aguila's components are made in-house, allowing the company complete control over the product's quality and performance.
I had the opportunity to use Aguila's 12- and 20-gauge offerings (in standard and high velocities) during the trip. They ran clean, shot true and helped me keep the bird boys busy. Perhaps most intriguing of all to American shooters is that you should be able to find many of Aguila's shells on the shelf for less than $10-15 a box. Hard to argue with that.  MSRP: $10-15; aguilaammo.com.

TriStar Viper G2 Bronze
The beautiful TriStar Viper G2 Bronze served as a constant companion while afield. Based in Missouri, TriStar imports its goods from Turkey and has spent the last 20-odd years delivering value-friendly firearms to the American market. The G2 Bronze serves as a tricked-out version of the company's signature Viper G2 line. The gas-operated semi-auto is equipped with all the standard G2 features—chrome-lined chamber and barrel, magazine cut-off and a fiber optic front sight, among other perks—but in a package that'll turn heads. As its name might suggest, the shotgun features a durable bronze-colored Cerakote finish that plays wonderfully against the high-grade select Turkish walnut stock with cut checkering and a high-gloss finish. It's available in 12-, 20- and 28-gauge models; the sweet-swinging 20 helped me pile up the Gambel's quail. MSRP: $760; tristararms.com.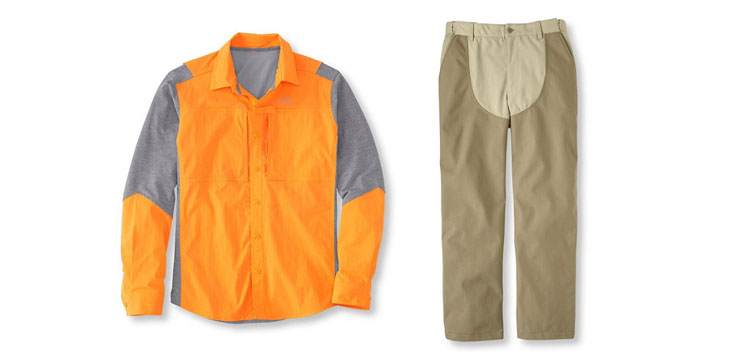 L.L. Bean Uplander Pro Hybrid Hunting Shirt/Precision Fit Upland Briar Pant
Most days started with me donning L.L. Bean's Uplander Pro Hybrid Hunting Shirt and Precision-Fit Upland Briar Pant, both of which proved more than up to the challenge of surviving a warm climate and long walks through thick milo fields.
The Pro Hybrid Hunting Shirt combines two breathable fabrics for comfort during warm-weather hunts, without sacrificing toughness. Its rugged woven fabric torso, forearms and cuffs help protect your upper body from most brush. Two zippered chest pockets give you a little on-the-go storage, and a bi-swing back ensures you'll have an unimpeded gun swing.
The Precision-Fit Upland Briar Pant is designed to do precisely what its name suggests: fight off the worst of whatever you may be trekking through. It is 100 percent nylon, but remains breathable so you stay dry. The chap portion provides protection from briars; other perks include a double-layer seat, articulated knees and suspender buttons. An interior polyurethane coating on the facing fabric is meant to help shed early-morning dew, and the waist adjusts up to 3 inches to accommodate layering. MSRP: $89 each; llbean.com.
Expedition Adventures
To book an upland adventure south of the border, contact Gordie White with Expedition Adventures. 800-483-0796; expedition-adventures.com.