Support NRA American Hunter
DONATE
For big-game hunters, and especially anyone who's truly fixated on pursuing bugling elk, there's a "shadow" season for closely related red deer that occurs in the southern hemisphere. This hunt however, peaks during the months of March and April when North American antler fanatics are out of business. One red deer option is Argentina, but many hunters prefer to make the even longer journey to New Zealand where they find monster stags in a friendly, wonderfully scenic, English-speaking nation. To share the story, here's a photo gallery from a super New Zealand hunt I recently experienced with a group of fellow American hunters.


Gallery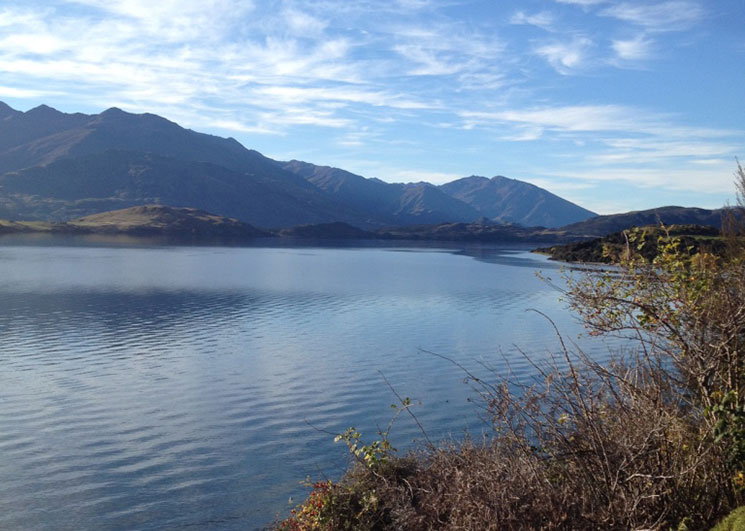 Hello, New Zealand
Yes, it's a long trip, but traveling hunters can fast-forward to some of the best deer pursuit on Earth. Springtime in America means it is fall in New Zealand, time for "the roar," the red deer equivalent of elk bugling. It's a beautiful time of year—especially for hunting—in that faraway land's scenic Southern Alps.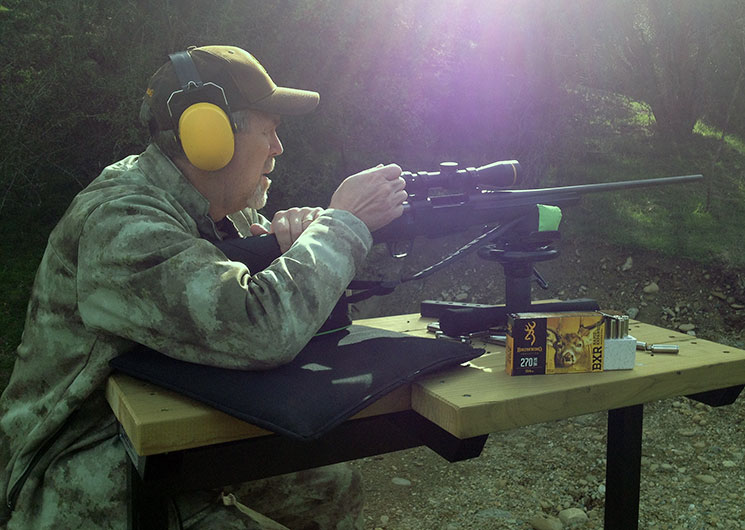 Holding Zero
It's a blessing when rifles hold their zero after such a long trip, and NRA Publications' John Zent liked what he saw from the Browning and Winchester hardware his group was shooting on this trip.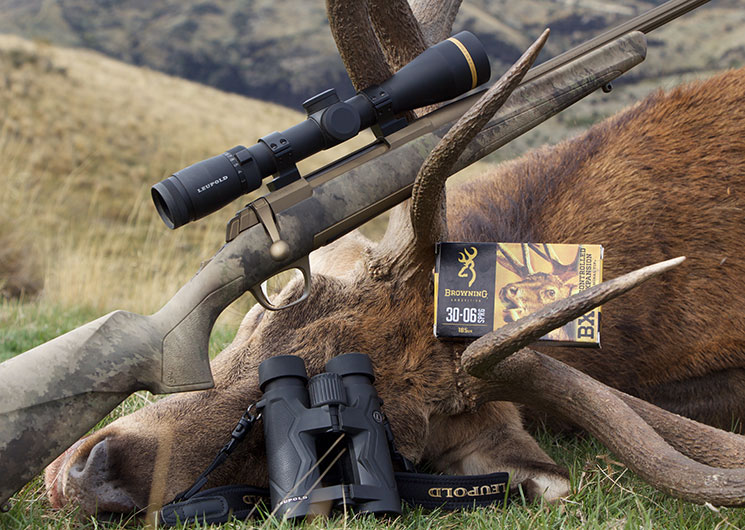 Browning
Of particular interest to our U.S. hunting party were a couple new lines from Browning, including branded ammunition that is already in steep demand and the Hell's Canyon Speed collection, which includes guns, clothing, packs and knives sporting high-tech A-TACS camo. Rifles brought in for the stag hunt were X-Bolts chambered in .30-06 and wearing A-TACS A/U (arid/urban) stocks contrasted by metalwork in Cerakote Burnt Bronze. What a look! The Browning cartridges—the first bearing the company's head-stamp in nearly a half century—were topped with the brand's flagship BXC bullet, a controlled-expanding number designed to give great performance on heavy game. Leupold optics were used, including VX-6 2-12x42mm riflescopes and BX-3 Mojave binoculars.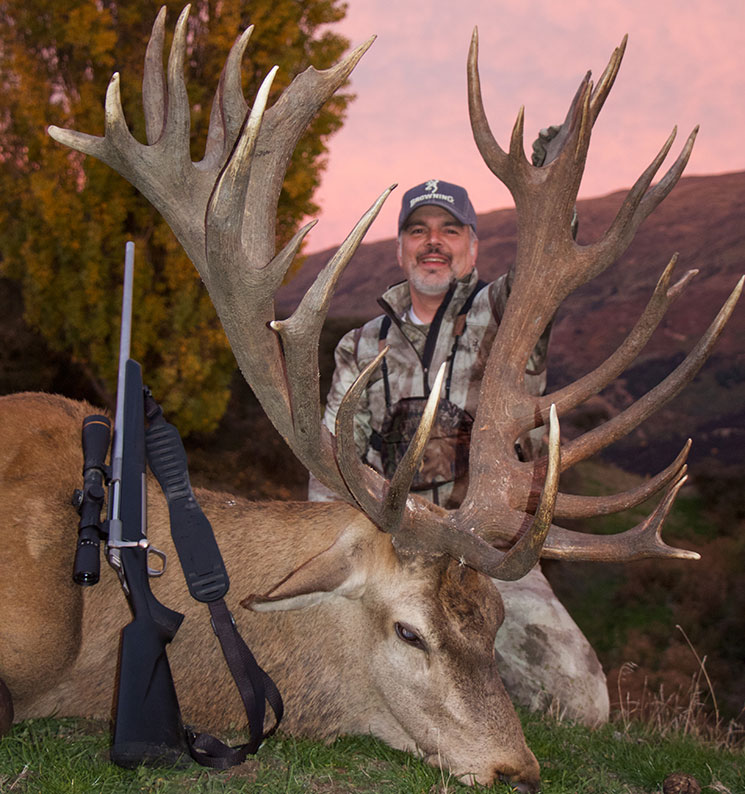 First Blood
Getting right down to business, Browning CEO Travis Hall launched a sundown stalk on a stag whose antlers were absolutely astonishing. No ground shrinkage on this guy! The giant had been traveling in a bachelor gang spotted across a wide valley, and after careful evaluation, the race was on to reach the big monarch before last light. Firing the .30-06 BXC load from his X-Bolt, Hall leveled the beast with one shot.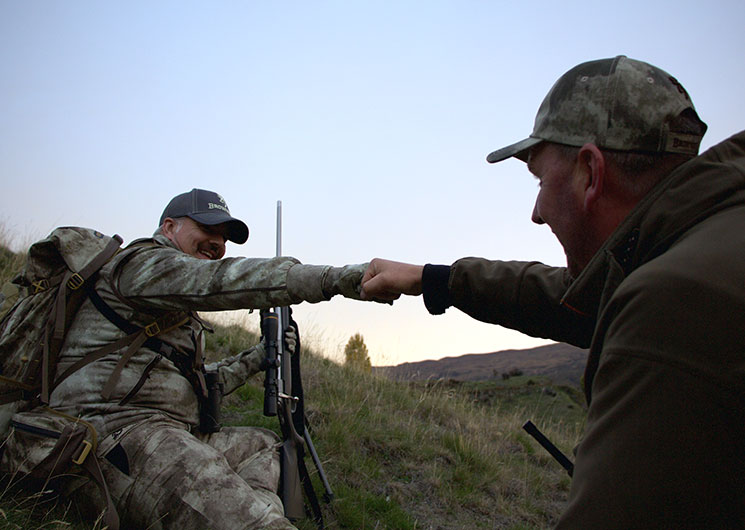 Victory!
Down under but feeling 10 feet tall: With one great stag down, Travis Hall and guide John Ellem fist-bump to celebrate an unforgettable day with the promise of more to come.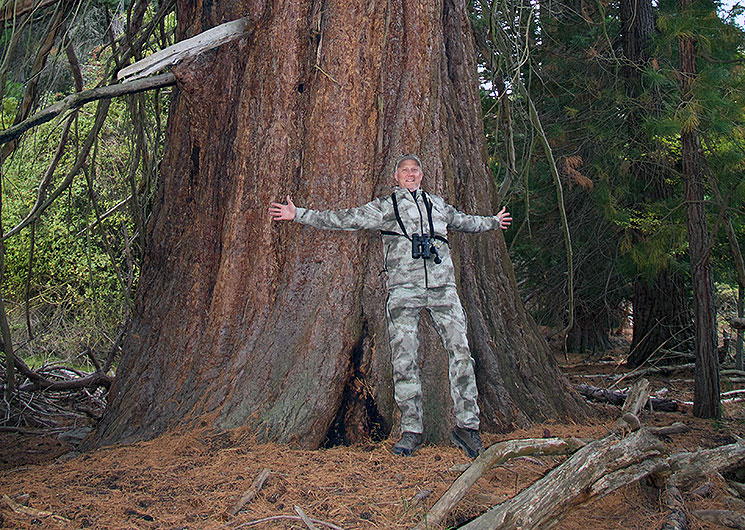 Dream Big
Winchester Ammunition's Brett Flaugher is a guy known to think big, and so this massive redwood located on the hunt property was right on scale. Flaugher and his colleagues at Winchester—now observing its 150th anniversary—are responsible for the development and production of Browning ammunition. That continues an historic partnership that goes back to early John M. Browning-designed Winchester lever-actions.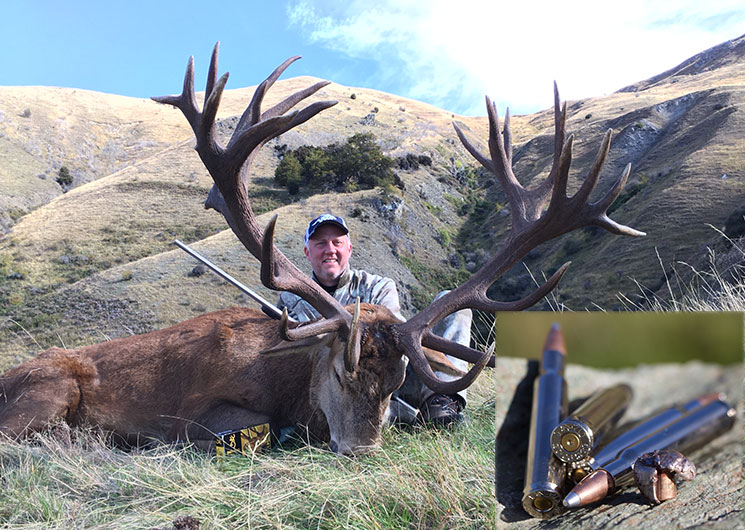 Browning Ammunition
Brett Flaugher hiked many miles before getting on track with a king-size stag whose antlers measured nearly 500 inches. He too relied on the .30-06 Browning Ammunition with the BXC, validating the unique structure that combines a bonded bullet with an aluminum nose dubbed the Terminal Tip.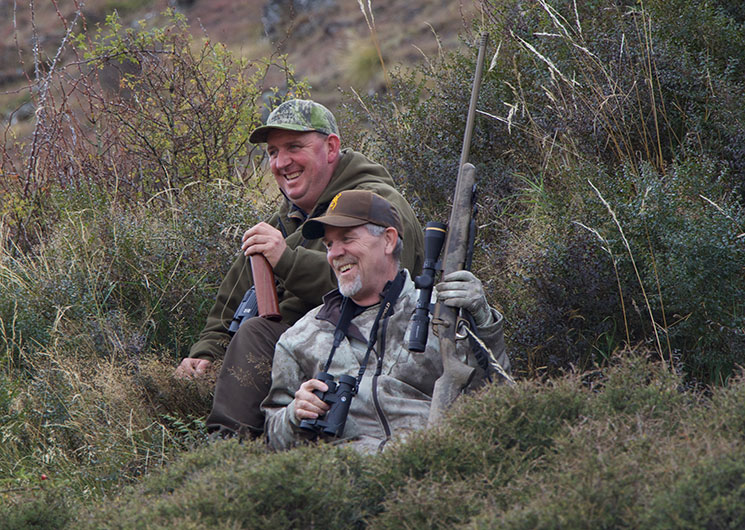 Have Some Fun
Cardrona Safaris Guide John Ellem and NRA's John Zent agree that one key to a successful hunt—no matter how intense or difficult and whatever the luck—is that there's always room to have some fun.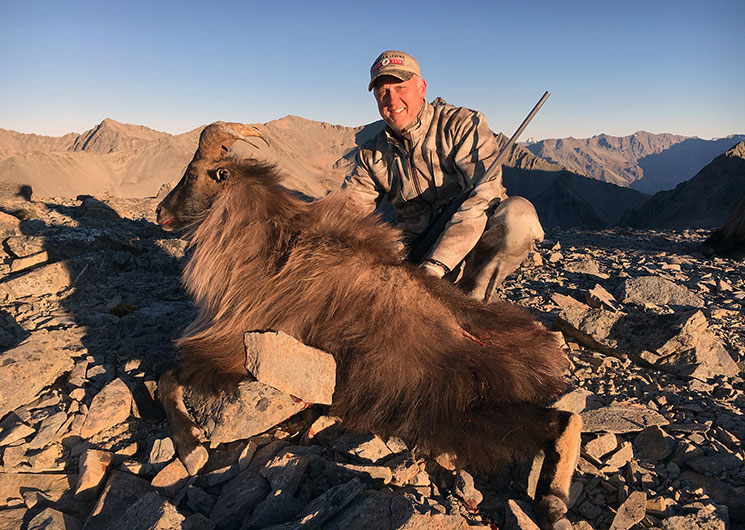 Himalayan Tahr
To pursue Himalayan tahr, the scene shifted to the area's barren mountaintops. This member of wild goat family was introduced and now flourishes in New Zealand Southern Alps. The tahr are so prolific there that if not kept in check by regulated hunting and management, they can damage the alpine habitat. Brett Flaugher and his partners switched to Winchester gear for this one, namely a Model 70 shooting Winchester Expedition grade ammo in the .300 WSM/180-gr. Accubond CT loading. Flauger's bull tahr is an old-timer with long horn tips and a luxurious coat.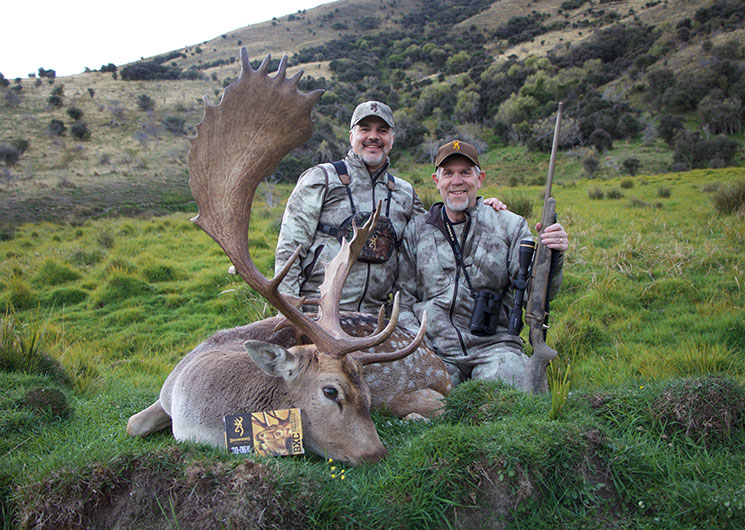 Fallow Deer
Another big-game animal that has done exceptionally well New Zealand is the fallow deer. Originally from the eastern Mediterranean and Asia Minor, it has been introduced in many places worldwide, and is prized by hunters and wildlife watchers. Mature bucks sport spotted pelts and fabulous palmated antlers, like this record-class specimen collected by John Zent on the Cardrona Safaris concession.
Memories
Hunters who've had the good fortune to experience New Zealand red deer hunting can't help but come home rich with memories of the regal stags that roam that country's rugged landscape.