by
posted on July 31, 2023
Support NRA American Hunter
DONATE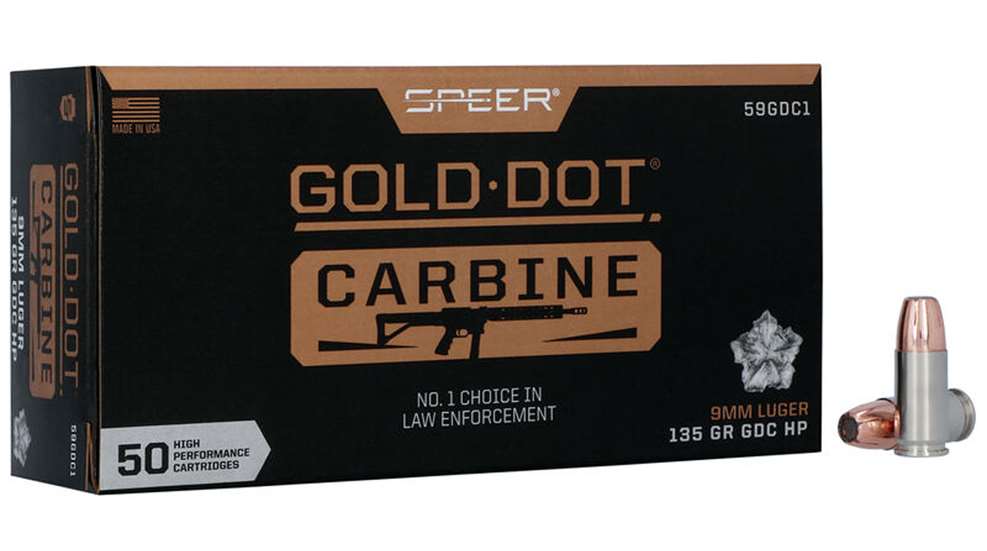 Speer Ammunition has announced its Gold Dot Carbine ammo. Tuned specifically for carbine-length barrels and velocities, this 9mm Luger comes loaded with 135-grain projectiles, for an expected muzzle velocity around 1170 fps.
With a surge in popularity of pistol-caliber carbines, and an end user desire to use them for personal protection, we've designed and optimized Gold Dot," said Speer's handgun product manager Chris Laack. "The Gold Dot's construction and Uni-core bonding creates a very robust bullet that performs well at the higher velocities that come from carbine-length rifle barrels."
Gold Dot Carbine produces ideal velocities through carbine-length barrels and cycles reliably. The Speer Gold Dot G2-style, elastomer filled bullet nose is tuned to produce effective penetration and expansion even through common barriers. Hunters and shooters alike interested in products like the recently released Henry Homesteader—chambered in 9mm—would be well served with Speer Gold Dot Carbine. Of course, 9mm is hardly the first choice anyone reaches for as a serious hunting round, but for pests and personal protection around the farm or ranch, its utility is far greater. From coyotes to hogs and more, Speer Gold Dot Carbine packs the necessary punch to drop common targets target at close range. Velocity at 25 yards drops only to around 1128 fps; at 50 remains around 1091; and is still travelling at 1030 at 100 yards. That's means the bullets is still impacting with around 318 ft.-lbs. of energy at 100 yards. At the muzzle, energy sits around 410 ft.-lbs., just shy of the average energy of a .40 S&W.
"Gold Dot G2-style bullet has been updated for optimized terminal performance, accuracy, and function in carbine platforms," continued Laack. "We've also made sure it's still a capable load in full-size handguns, to allow for flexibility in use." 
This new product is available in 50-count boxes For more information, visit speer.com. MSRP: $76.99