by
posted on September 9, 2022
Support NRA American Hunter
DONATE
Pnuma Outdoors has announced the Pursuit and Pursuit Zip-Off pants, designed and engineered with the active hunter in mind. Constructed out of a durable, four-way-stretch nylon fabric, the Pursuit pants are flexible, breathable, and built to withstand the abuse and brush encountered in the field. The fast-wicking, fast-drying properties of Pnuma's blended fabric is taken a step further with the addition of a Polygiene Odor Crunch treatment. Polygiene is an industry leader in fabric treatments to eliminate odor through a catalytic process, while also allowing the garment to be worn more, and washed less.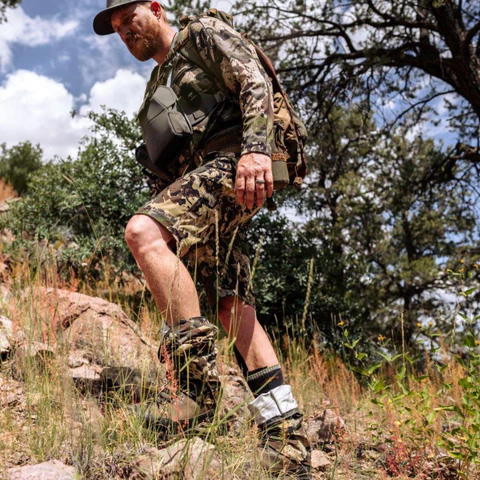 The five-pocket design of the Pursuit pant includes zippered thigh and back pockets for accessibility and security, while keeping much-needed items easily within reach. Available in two versatile options: the Pursuit Zip-Off pant and a standard leg model. Both offerings are equipped with reinforced overlays on the knees for increased durability. When the temperature rises, simply unzip the lower portion of the Pursuit Zip-Off pant to convert them into shorts quickly and easily. The standard leg configuration of the Pursuit pant offers integrated and removable knee pads for added protection, comfort and mobility afield.
Both the Pursuit pant and Pursuit Zip-Off pants are cloaked in Pnuma's proprietary Caza camouflage pattern that was designed to incorporate macro shape disruption, utilizing large regions of light and dark patterns to break up and distort the human outline at long distances. Once you've closed the distance, or your target buck finally comes close to your stand, the Caza micro texture disruption becomes integral to hiding the human form. Utilizing small- to medium-sized elements helps hunters blend into the environment in which they are hunting. Lastly, depth and focal confusion is achieved by the Caza pattern's ability to break up the human outline, while creating a sense of depth, effectively fooling the depth perception and distorting the peripheral vision of wildlife.
For more information, visit pnumaoutdoors.com. MSRP: $160