by
posted on January 27, 2020
Support NRA American Hunter
DONATE
It's been a few years since Franchi rolled out their first hunting rifle, the Momentum, and now that gun is getting an upgrade. The new Elite version of the Momentum, which launched at SHOT Show 2020, will offer all the features hunters love about the original Momentum in a new package that's designed specifically for hunters.

Many of the features that appeared on the original Momentum will carry over the Elite guns, including a spiral-fluted three-lug bolt, ergonomic synthetic stock, a cold hammer-forged barrel and TSA recoil pad. But unlike the original Momentum, the Elite version is available with a variety of stock colors and Cerakote metal finishes. Options include a Hunter Gray stock with Cobalt Cerakote finish, a True Timber Strata camo stock with Midnight Bronze Cerakote, and a Realtree Excape camo stock with Burnt Bronze Cerakote.
Color options aren't the only upgrade on Franchi's Momentum Elite rifles, though. They also come with a removable muzzle brake and a Picatinny top rail for optics mounting. These guns also come with a detachable box magazine. Three caliber options are available in 2020: 6.5 Creedmoor, .308 Win., and .223 Rem. The 6.5 Creedmoor and .223 Rem. versions come with 22-inch sporter profile barrels, and the 6.5 Creedmoor comes with a 24-inch pipe. Weights range from 7.1 to 7.5 pounds.
Along with the build quality and features list, one appealing aspect of the Momentum Elite rifle is the cost. MSRP ranges from $849 to $899, which is very competitive for a rifle that offers this level of performance. The original Momentum rifle has a reputation as a tack driver, and when I tested that gun it was capable of sub-MOA accuracy with a variety of loads. The Momentum's impressive accuracy is thanks in part to Franchi's superb single-stage user-adjustable (2 to 4 pounds) trigger.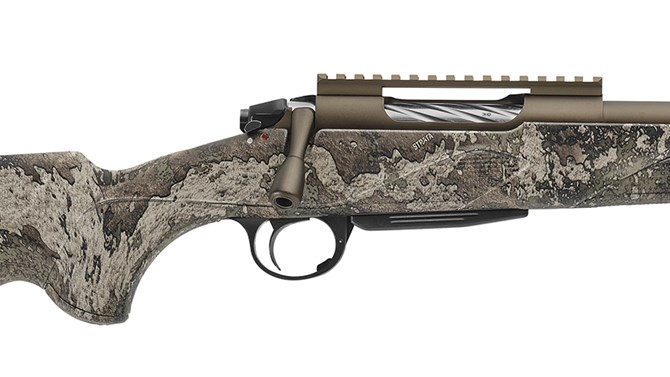 Another feature that Momentum fans appreciate is the stock design: textured surfaces on the pistol grip, below the action and on the forearm make it easy to grip the Momentum and recessed molded sling studs won't hang-up on gear or in gun cases or rifle scabbards. The TSA recoil pad is effective at reducing recoil (it carries over from Franchi's hard-hitting Affinity shotguns) so even in hard-kicking calibers the Momentum isn't particularly unpleasant. With the muzzle brake and available chambering options, the Momentum Elite will be a soft-shooting, accurate hunting rifle.
Franchi has a good thing going with their Momentum rifles, and hunters are responding. It's likely that the new Elite versions will help grow the rifle's fanbase, and if you're looking for a new hunting rifle for 2020 and this rifle is in your price range, its definitely deserve consideration.
For more information, visit franchiusa.com.