Support NRA American Hunter
DONATE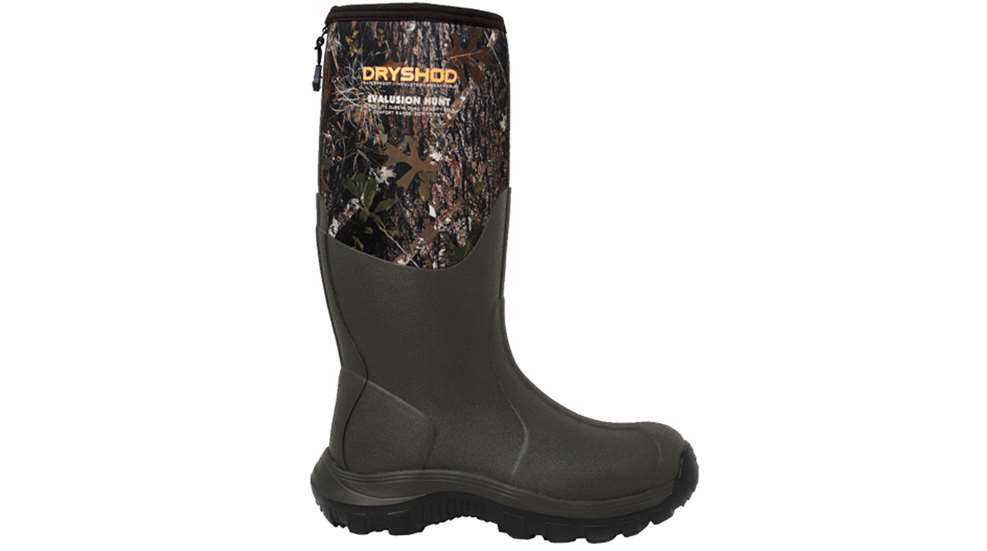 Dryshod has released a new, lightweight line of slip-on hunting boots termed the Evalusion. The Evalusion Hunt, Evalusion Hi, and Evalusion Ankle boots boast a first-ever outsole material that makes them exceptionally light in weight while simultaneously delivering excellent traction and support on any terrain.
Hunters and outdoor enthusiasts know that while waterproof boots are welcome assets in all manner of terrain and climate conditions, they often come at a "heavy" price. It is the weight of waterproof boots and the fatigue resulting from hours of walking that has limited their use for many outdoor adventurers. The Dryshod Evalusion endeavors to solve that problem.
The Evalusion is the first waterproof boot series to feature the Dryshod-exclusive Dureva outsole technology. Dureva is a lightweight and abrasion-resistant fusion compound that delivers the durability and traction, while offering exceptional comfort, energy return and stable footing. This means a secondary rubber outsole is no longer required. By eliminating the need for a secondary outsole, Evalusion boots are nearly one pound lighter than Dryshod's already lightweight counterparts.
In addition to the weight reduction, the Dureva compound maximizes traction performance with the Evalusion's multi-lug tread design. The tread offers optimal stealth by quietly flexing and bending over ground elements. This is of great value to hunters, of course, but also to anyone moving over difficult terrain where superior traction is essential.
To learn more about Dryshod's ground-breaking Evalusion waterproof boot series or to see the company's full line of waterproof footwear, visit DryshodUSA.com.