by
posted on May 29, 2018
Support NRA American Hunter
DONATE
No firearm in the United States has evolved as much as the turkey hunting shotgun. Once upon a time, we grabbed the same shotgun used for ducks, geese or pheasants, and simply went turkey hunting. The need for a shotgun dedicated specifically to turkey hunting didn't enter most hunters' minds, but things change.  
The surge in turkey populations and resulting popularity of spring turkey hunting in the past thirty years has changed the shotgun landscape. A turkey gun quickly became a semi-automatic or a pump-action with a camo-covered stock, many times with optics mounted on the shotgun. Then something else happened; turkey hunters began to demand ultra-tight patterns at extreme distances.
With the head and neck on a wild turkey being the vital area for a shotgun, the trend began to center around putting the highest number of pellets possible in that area. Choke tubes like Trulock and Jebs, along with new shotshell technology, such as Winchester's Longbeard XR and Federal Premium's TSS loads, made patterns tighter and ranges longer. Fifty yards became the new 40 and 60-yard kills now seem common place.
As I have said many times before, this is all well and good if the gobbler we are taking a bead on is beyond the 30-yard line. When the turkey steps out in your face—sometimes a matter of feet and not yards away—that ultra-tight shooting shotgun becomes a problem. If the turkey takes one step as you pull the trigger, you've probably missed.
Now we have an addition to this equation in the form of a relatively new method of gobbler hunting known as fanning, or reaping. Hunters take advantage of the spring gobbler's aggression at seeing another tom in his backyard, and they run in to bring the fight to this trespasser. The hunter is making use of a spread turkey fan by hiding behind it and waiting until the gobbler gets close—sometimes it is very close, like shaking hands close.
Reaping brings up the same dilemma of the "too close" turkey; you need a choke for when the gobbler is calling you long distance, and one for when he is up close and personal. David Miller, Shotgun Product Manager and Pro Shooter at CZ-USA had an idea for a solution.

"The method of turkey reaping gave me the idea for this gun" Dave said. "I saw guys miss shots on turkeys up close, less than twenty yards, with XF chokes. I saw the need for the flexibility to be able to take turkeys at 40 feet or 40 yards; this is how we came up with the CZ-USA Reaper Magnum."
The Reaper Magnum is an over/under shotgun with 26-inch barrels, and the tang-mounted safety is integrated with the barrel selector. This makes it easy to switch barrels on the fly for those times you may be in a tense duel with a big gobbler—one flick of your thumb and you've selected the other barrel. The Reaper Magnum is finished in Realtree APG camo, and comes ready to attach QD sling swivels; every turkey hunter needs a sling.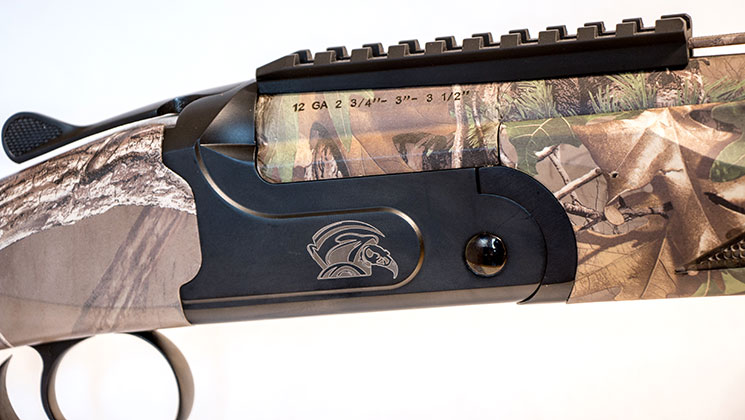 Another great feature of the Reaper Magnum is its low-profile Picatinny-style rail added to the 8mm ventilated rib. As I mentioned earlier, optics on turkey guns are becoming increasingly popular, but they sometimes have to be mounted high on top of the rib of the shotgun. This makes it difficult for the shooter to have the good cheek weld on the stock that we want when shooting a shotgun. The low-profile Picatinny rail on the Reaper Magnum, along with the proper optic, can help with this. I found the Burris Fast Fire 3 red-dot optic to be a good choice to mount on the Reaper Magnum.
The 26-inch barrels on this gun were very maneuverable and handy in the turkey woods, and I thought the selector switch worked like a charm. The Reaper Magnum ships with five chokes, and with the Mobile choke system you have a wide variety of aftermarket choke tubes to choose from. I installed a Trulock choke made for shooting the new Federal HeavyWeight TSS #9 shot load and was very happy with it.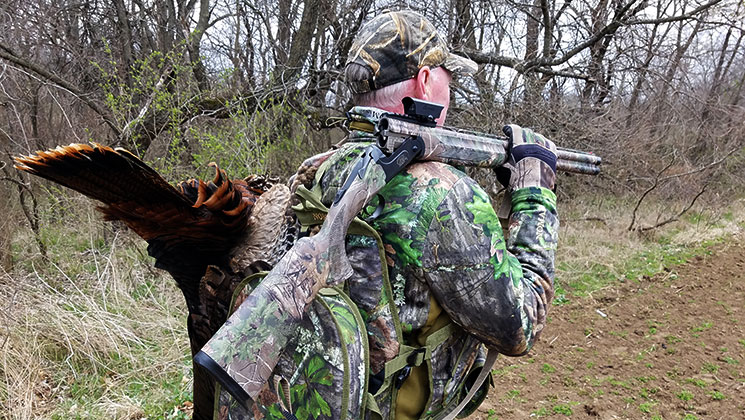 For the open barrel on the Reaper Magnum, I did something a little different. Following Dave Miller's advice, I stayed with the Cylinder Bore choke tube supplied with the shotgun. For the shotshell in this barrel I chose an Aguila 2¾-inch, 1 1/8 of #6 shot. Do you really need a 3-inch Magnum load on turkeys under 10 yards? I don't think so. If you choose a more standard shell for these close encounters, I think you will agree.
Whether you chose to try reaping for turkeys or not, the CZ-USA Reaper Magnum is definitely worth checking out if you're in need of a reliable turkey gun. You'll be covered from 40 feet to 40 yards