Support NRA American Hunter
DONATE
Once upon a time, hunters came home from a day afield, sat down at the kitchen table and regaled family, friends and anyone that would listen with the day's events. My dad did, at least. When I was a kid, I used to wonder if he got more out of sharing his story than he did the hunt itself—it certainly seemed like it, most evenings. That, though, was another time. Today technology has allowed hunters to bring their audiences closer than ever before—sometimes right into the tree or blind. Point-of-view cameras may have been crafted with action sports in mind, but hunters have had little trouble using them to capture some truly exciting scenes.
There's no shortage of options available to a discerning shopper when it comes to point-of-view cameras, but one that I've recently had a chance to work with is the new CGX2 Action Camera from Cyclops Gear. Here are five things you need to know.
1. It offers 4K HD.
The CGX2 prides itself on offering 4K HD resolution, and indeed it does, at 10 FPS (frames per second). I can attest that the footage it produces is indeed crisp and clear. You shouldn't have a problem getting that trophy bull on camera, just before you drop the hammer.
2. It has a built-in motion detector.
This feature should be awfully handy for hunters. The CGX2 has a motion detector setting. So, if you've got your camera affixed to your blind, or a nearby tree, and it spies the big whitetail emerging from the brush, it will automatically begin recording. You don't have to activate the camera and risk busting your buck.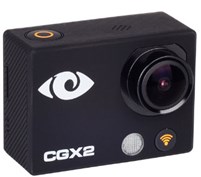 3. It features built-in Wi-Fi, and has a compatible App.
The Wi-Fi feature, which reaches out to about 30 yards, allows the CGX2 to connect to the Cyclops Gear App. Using the App, you can start and stop the camera and review footage, among other things. Anyone that's been using point-of-view cameras since the beginning knows the struggle presented by operating a remote unit that's not actually on your person. That's no longer an issue.
4. It's ships ready to go.
The CGX2 includes a waterproof case, a remote-control watch and eight mounts, right out of the box. The watch is a handy way to activate the camera if you're not using the aforementioned App. Further accessories are available, naturally, but the basics (and more) are covered with your initial investment. The watch is waterproof, too, by the way.
5. It's reasonably priced.
The CGX2 ships with an MSRP of $299.99, which places it firmly within the same price spectrum of many of its competitors—and well below more than a few, mind you.