by
posted on March 9, 2021
Support NRA American Hunter
DONATE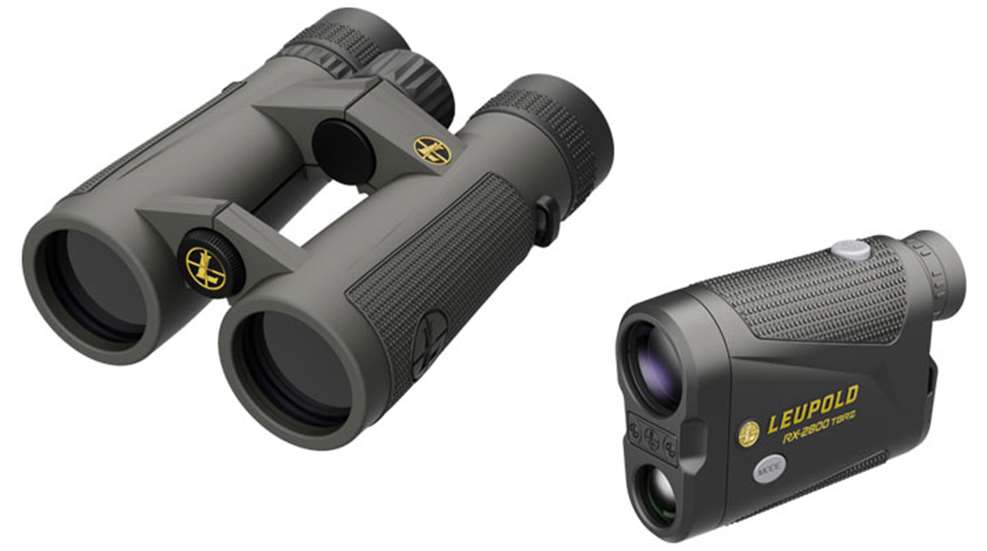 When planning a Western or backcountry hunt, one's choice of glass is of paramount importance. When planning two in one go, their selection becomes even more vital. Faced with back-to-back hunts this past fall—the first in pursuit of pronghorn on the rolling prairie outside Casper, Wyo., the second combing the rugged Idaho mountains for mule deer—I knew I would need a balance between wide field of view, detailed clarity and precise ranging capabilities. Luckily for me, a pair of Leupold's BX-5 Santiam HD 10x42mm binoculars and an RX-2800 TBR/W rangefinder were on hand, ready to be put to the test.
Construction
BX-5 Santiam HD 10x42mm binoculars are constructed around a rubberized, armor-coated main body with harsh environs in mind. They boast a generous eye box to reduce eye strain during long sessions, adjustable eye cups, and an open bridge for comfort and easy portability. A smooth dial in the center adjusts focus, while a dial on the right lens manages diopter setting.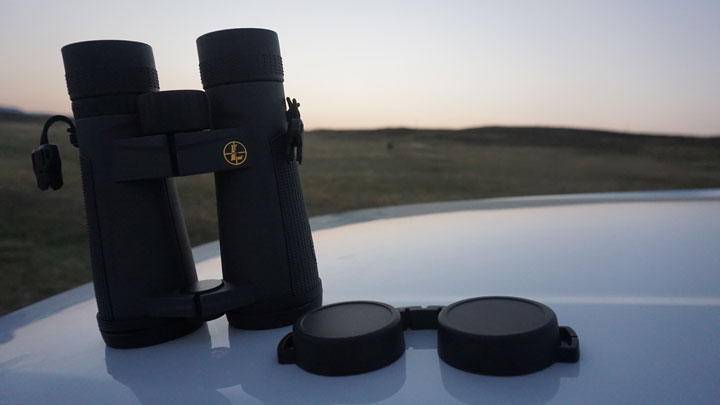 Internally, Leupold's optical system promotes clear light transmission—even in low-light conditions—and fights glare. External lenses are multicoated with DiamondCoat 2 and Guard-ion on external glass, for better protection against fog, dirt and water. Finally, the roof prisms are phase-coated for optimal clarity. The whole unit weighs in at just 24.3 ounces, for a light footprint.

Next up, the Leupold RX-2800 TBR/W digital rangefinder boasts ½-yard accuracy out to 2,800 yards on reflective targets (1,800 on deer), with 7x magnification. A red OLED display presents information, while an Alpha IQ engine allows for the ranging of small targets. Finally, True Ballistic Range (TBR) technology computes and considers angle-to-target, for an adjusted, ballistically accurate reading. The RX-2800 TBR/W weighs in at just 7.9 ounces, meaning total weight between both items was 32.2 ounces, or a hair over 2 pounds.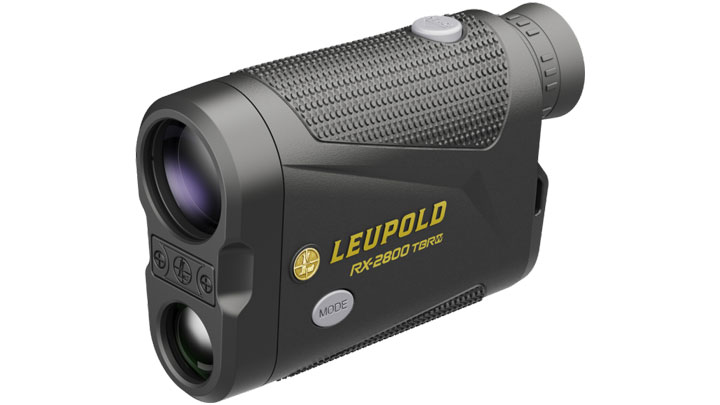 Field Testing
Of course, one could find out most of that looking at a spec sheet—we're here to determine how well these optics performed in a real-world setting. As mentioned, my first stop was Wyoming, in pursuit of rutting pronghorn outside Casper. A novice antelope-spotter, I needed all the help I could get telling rock from speed goat among the oblong boulders of the Wyoming countryside, and boy did the BX-5 Santiams come in handy. Amid the pale earth tones of the prairie, the binocular's crisp focus often made the difference in determining an animal's profile at long range. Meanwhile, the wide field of view afforded by 10x42mm magnification (341 feet at 1,000 yards) made sweeping the vast, open landscape easy, as I was able to peruse large swaths of ground at a time.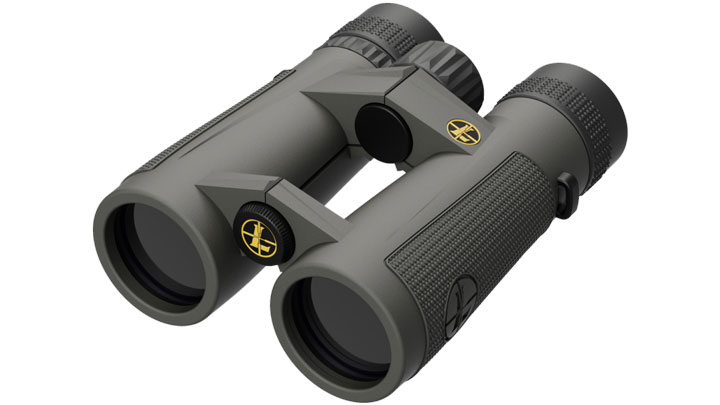 When we finally were able to identify a prize buck some 1,500 yards distant, the RX-2800 TBR/W was the perfect stalking companion. Small and unobtrusive, it stayed within reach on my beltline, easily accessible to gauge range whenever we peeked up over a draw at the herd. The red display was well bright enough to be read clearly, even on that brilliantly sunny day. Finally, once we had crawled, crouched and walked some miles up and around the herd, the unit provided a precise 425-yard reading on our target buck—confirmed to be spot-on, as the elevation I dialed made for a perfectly placed shot.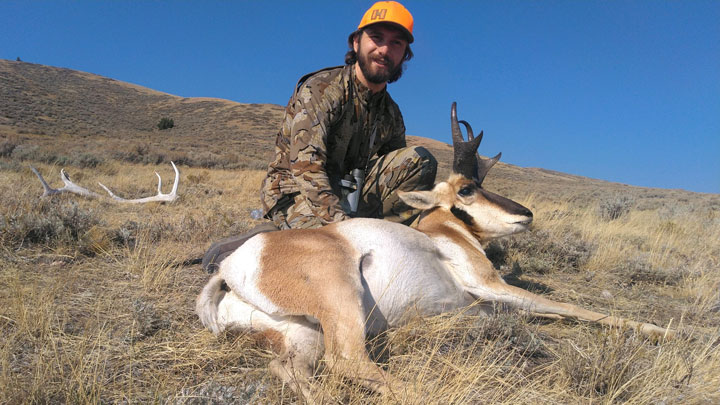 In Idaho, both the terrain and quarry were polar opposites from Wyoming; densely packed trees and lone deer were the name of the game. As the weather was often dark and stormy, and we glassed hillsides from dawn to dusk, it was here the DiamondCoat 2 coating really showed its value. Despite being primarily known as an abrasion resistor, it has the added benefit of improving clarity, contrast and light transmission, particularly when working in tandem with phase-coated roof prisms. This made it far easier to pick out winter-coated muleys amidst the shadows of seemingly eternal fir trees. The Guard-ion lens coating also contributed to crisp visuals, as its hydrophobic nature kept liquid obstructions well out of sight whenever beset by snow or rain.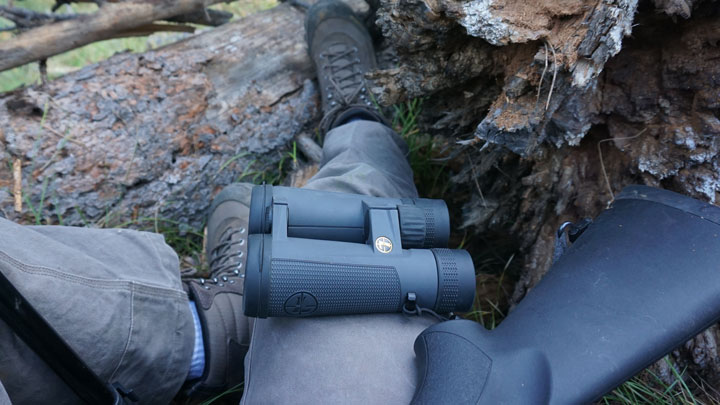 While some may not consider a 10x42mm magnification ideal for forest work, preferring a higher magnification to penetrate a wooded hillside, I found the binos adapted well, simply requiring a different strategy. Broad, slower sweeps when gridding out a hillside combined with the excellent clarity afforded by Leupold's impressive glass allowed me to spot quite a few singles, pairs and full-on herds hiding under the shade of the Idaho trees.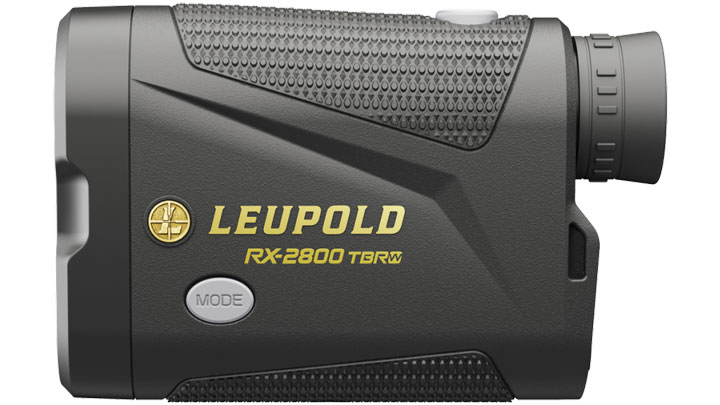 The RX-2800 TBR/W similarly proved its value, accurately threading its laser through twigs, trunks and trees to our intended targets. Indeed, it often did so well past 1,000 yards, despite poor visual conditions and a low capacity for reflection. In the jagged terrain we encamped, the rangefinder's True Ballistic Range was an additional boon when attempting to dial elevation at an extreme shot angle. (To read more about this intensive backcountry experience, click here).
All in all, from the open Wyoming prairie to the craggy Idaho woodland, the Leupold BX-5 Santiam HD 10X42mm binos and RX-2800 TBR/W rangefinder proved durable, dependable, accurate and supremely well-suited to the tasks at hand. Offering crystal-clear lenses for easier target identification, a wide field of view and robust coatings, the BX-5 Santiam HDs made a case for themselves as the Western hunter's multi-purpose binocular of choice. The Leupold RX-2800 TBR/W rangefinder, meanwhile, showed itself capable of pinpoint precision under both the best and absolute worst conditions. To learn more about either of these two pieces of kit, perfect for your next backcountry hunting or scouting expedition, visit leupold.com. BX-5 Santiam HD 10x42mm MSRP: $999.99; RX-2800 TBR/W MSRP: $599.99