by
posted on September 22, 2022
Support NRA American Hunter
DONATE
Trail cameras serve two purposes: tracking and security. Slimline options do their best at remaining undetected to human beings who might be trespassing on your property, while larger, higher-definition models will draw the most detail out of whatever sets it off. Earlier this year, my wife and I obtained an eight-acre piece of property that has remained untouched for nearly a decade. As such, it has become a bit of a sanctuary for animals that run off from the adjacent state game lands abutting its corner. Property of this nature is often desirable, as it typically makes for an easy hunt due to its long vacancy. However, for the same reason, it becomes attractive to those that want to have a private hunting experience without paying for land of their own. With that in mind, I scoured Browning's website to find affordable cameras to serve my purposes, and came up with the Strike Force Gen 5 and the Dark Ops HD Max.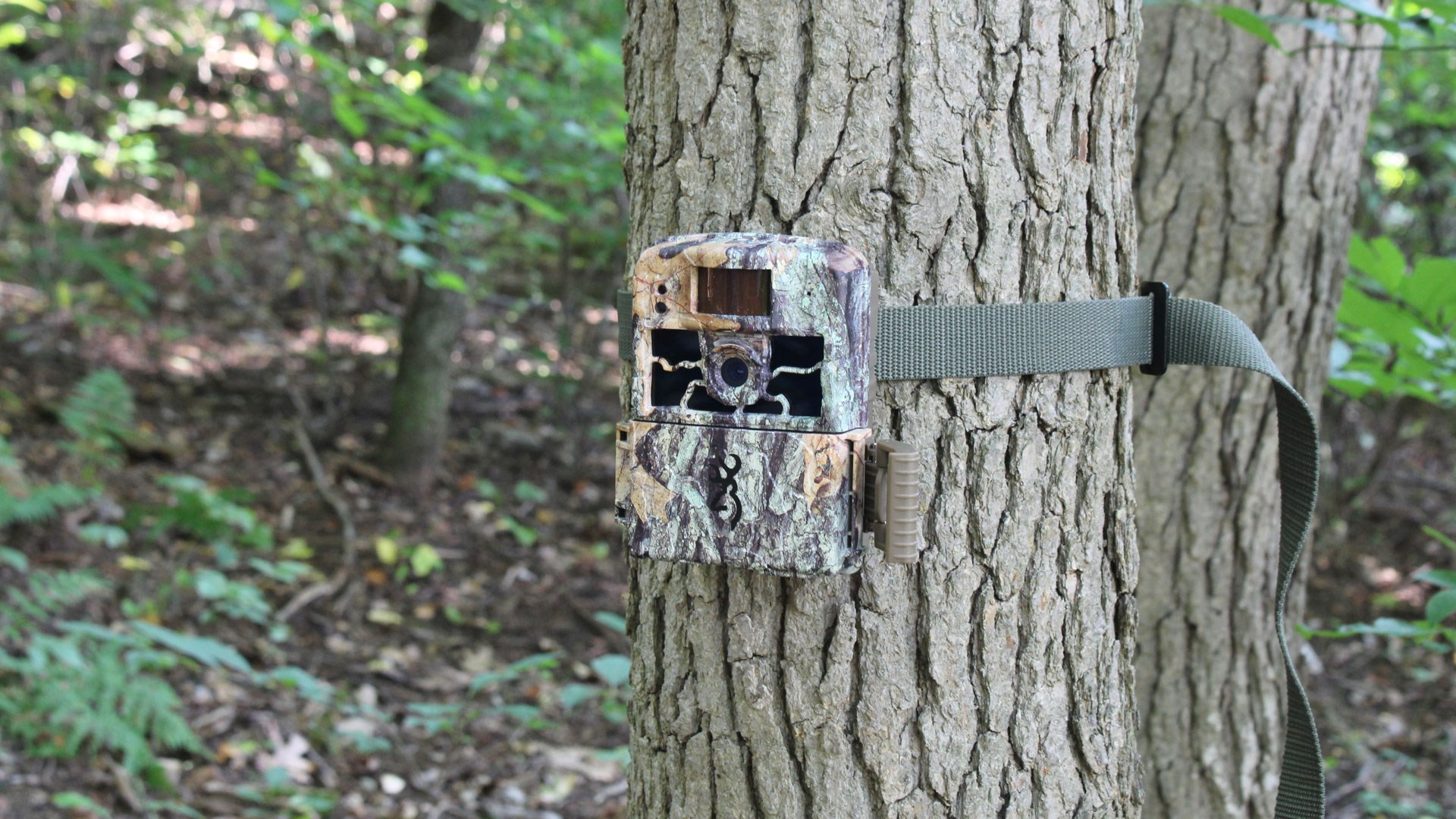 Features
The features on both cameras were enough to garner my interest, particularly the diminutive Dark Ops model. Although small, it boasts an 18 MP camera and an infrared flash that can reach 80 feet in pitch-black conditions. It also offers an array of features, such as trigger-time adjustability, flash intensity, and the ability to capture either still or video images. The Strike Force Gen 5 is full of the same features, except its larger housing allows for a 22 MP camera that can also record in full 1080p HD, with a wider range of triggering times. Together, they make a potent pair for monitoring key points of the property, and I couldn't wait to get them set up.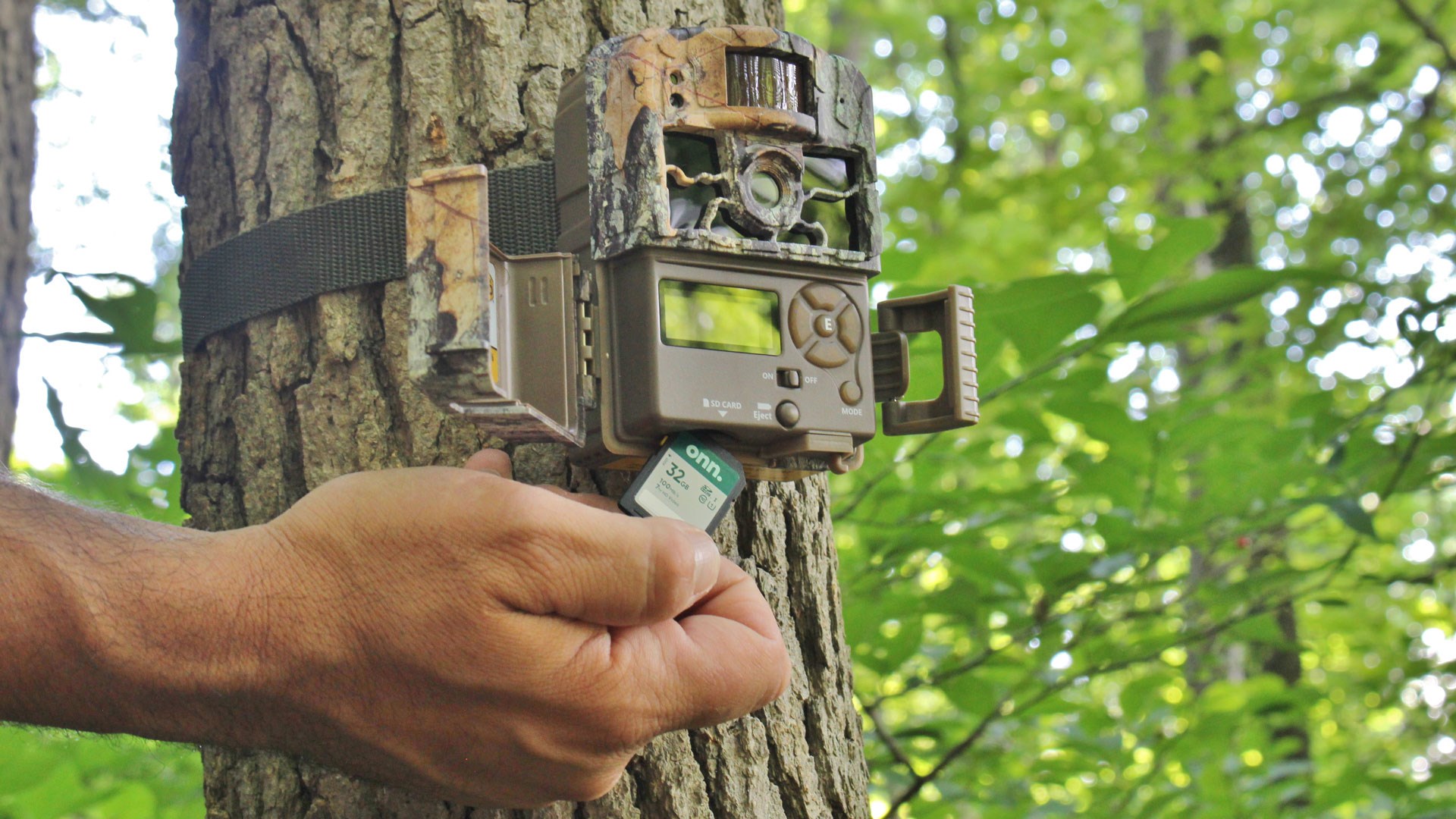 Setup
Before I go any further, it pays to mention that the property is more than five hours away from our home. Therefore, I only have the opportunity to visit about once a month. Timing product evaluations with our land is always challenging, as they need to show up with enough time to check them out in between trips. Well, I didn't get that for this one. No, they showed up as we were packing the car to get on the road, which left me with just a car ride to figure out how they worked. Electronics are always funny, so I'll admit, I was a little nervous, but to my surprise, both cameras were straightforward to set up. In addition, nothing too hard-to-find was required to run them. On the way up, we stopped in a Wal-Mart, picked up two inexpensive SD cards and 12 AA batteries (each camera takes six), and continued with the setup as we made our way out to the property. As I scrolled through the options, I set everything to the lowest quality, a move that would allow for more images to be stored. I also figured it wouldn't be wrong to get some "worse case scenario" footage to see exactly how far I could stretch things. After all, if a camera is sensitive enough, it could fill a card in a matter of days, leaving me high and dry in-between visits.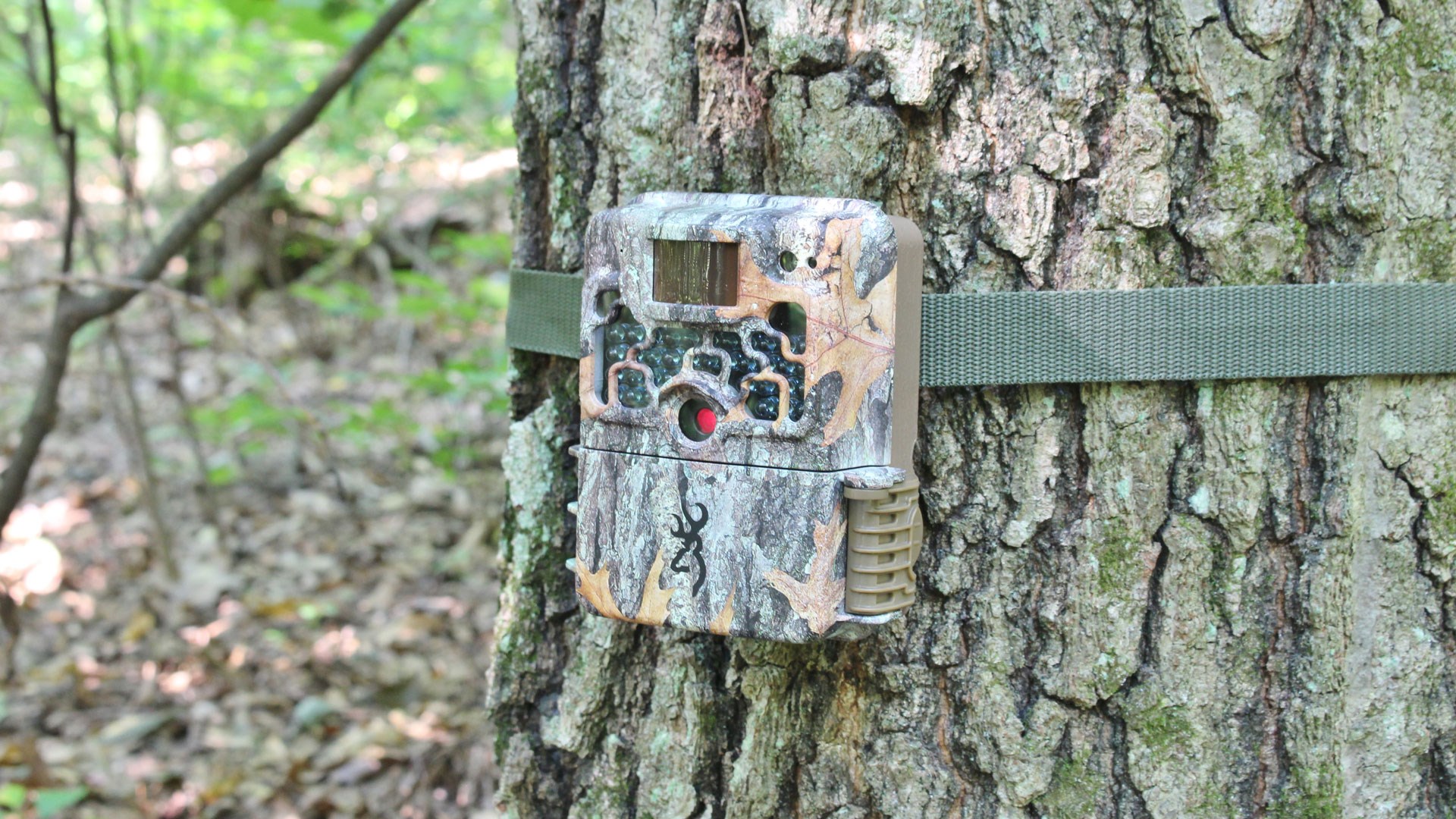 In the Field
When we arrived at our place, we set out for the woods to find a few points of interest. Without any surprise, there was a series of trails that wrapped around our mulberry bush. As whatever crosses are likely to stop and forage, I placed the Strike Force camera there and set it to grab bursts of images. This is the way to go when you feel something is going to either stop or move through an area rather slowly. Sure enough, a spike and a group of does set it off just hours after placing it.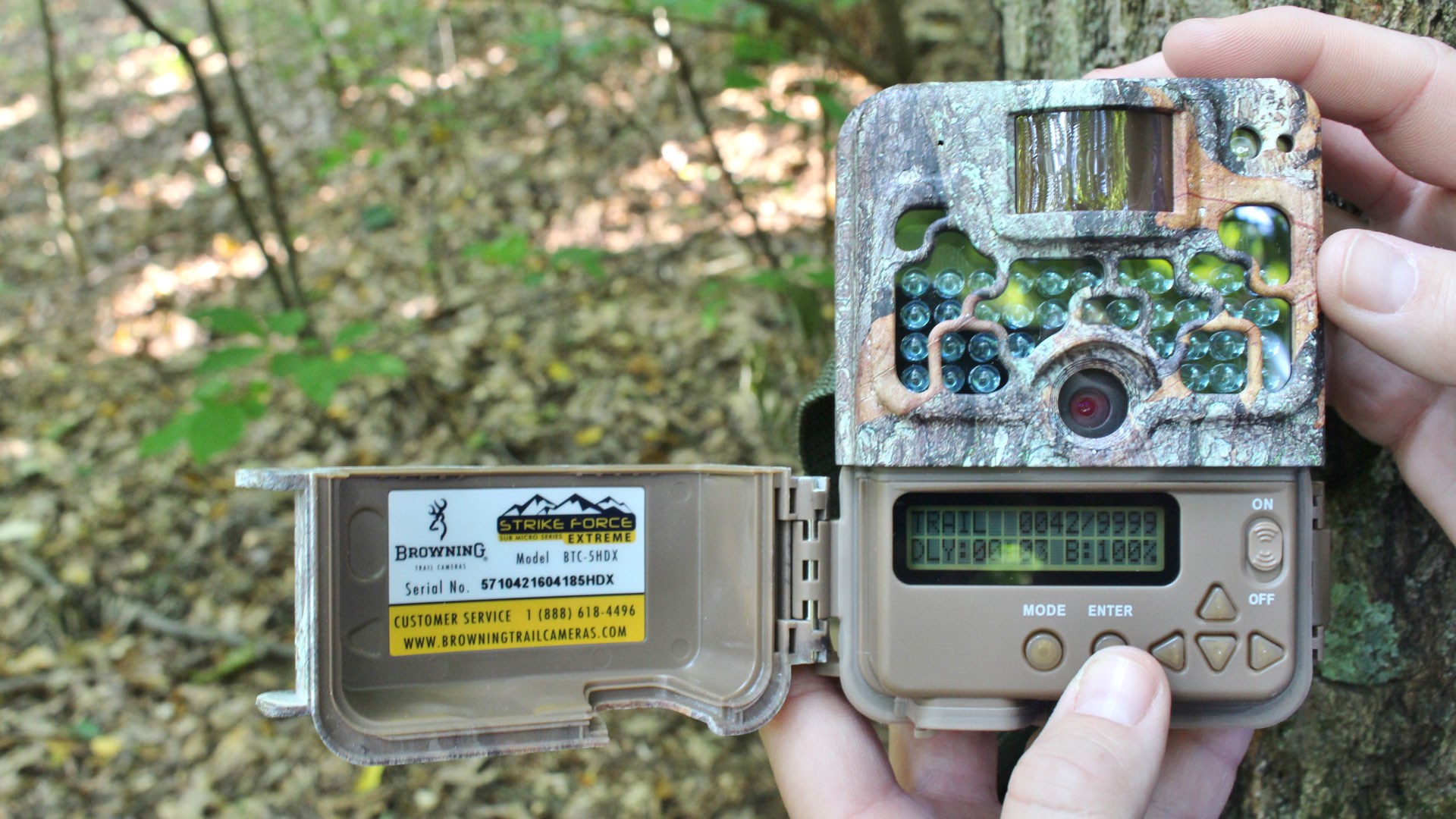 Moving to the east side of the property, we found a superhighway that could be traveled by nearly anything in North America, including mankind. Because something coming through would likely just keep moving, I chose the video setting for the Dark Ops camera and set it somewhere relatively out of sight. Well, nothing on two legs came through during this test period, but a doe did stop to take a look at what Browning cooked up. It looks like that same spike took a pass through as well. The cool part about this is I now have an idea of the path the deer take in and out of my property, and with any luck, I'll be the only hunter there. Now, all I have to do is pick a tree somewhere in between for a ladder stand and hope that baby buck gets chased off by somebody superior. At the very least, I know I'm filling my doe tag, so life is good!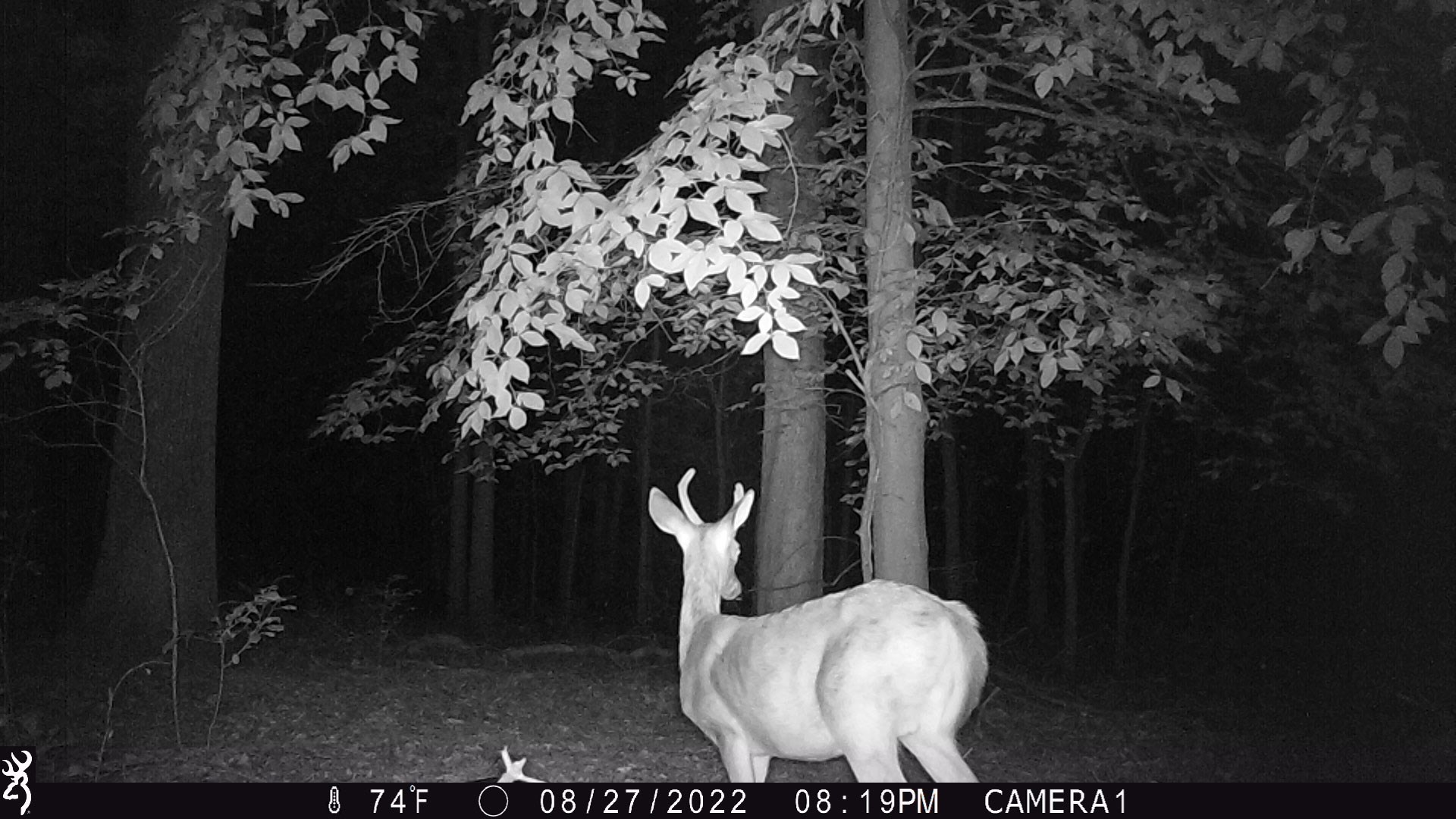 Satisfied with what I learned, I moved the cameras around and tested them for about another week and a half, primarily to see how capable they were. I found them both to be exceptionally efficient regarding battery life, as the Dark Ops only went through about 30 percent, despite taking over 900 5-second videos. The Strike Force did even better, only dropping a paltry 2 percent after taking over 2800 still images. I had both cameras set to burst mode, so if I cut it down to singles, I could easily see one set of batteries lasting for an entire season, at least in still image mode. The other place that  I spotted efficiency was in the sensitivity of each camera. With nearly 4,000 firings between the two, neither picked up songbirds or squirrels, saving valuable juice and card space. It did, however, pick up slow-moving raccoons, so trappers need not feel left outwhen their season begins. Dollar for dollar, I can give each of these trail cams my highest recommendation for a hunter who is just starting out, or a property owner who needs to see what's going on in their woods. For more information, visit browningtrailcameras.com. MSRP: $129.99; $159.99