by
posted on April 14, 2014
Support NRA American Hunter
DONATE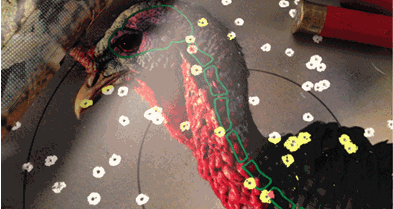 The pattern above may look a bit thin for a turkey load--until you realize it was shot at 50 yards. Count 'em. There are six solid hits in the head and neck area of the Birchwood Casey PreGame Turkey Target. What you don't see (thanks to the constraints imposed by this blogging software) are six more pellet holes centered in the neck just below the waddles, and a total of 76 pellets in the 10-inch circle surrounding the bird's head and neck. Twelve vital hits at 50 yards. That's a dead bird.
Now, I'm not advocating that you take a 50-yard shot at a turkey with just any load. But the 12-gauge, 3-inch Mag-Shok Heavyweight No. 7 offering from Federal Premium is not just any turkey load. It has the power, the pellets and the pattern to dump a bird at 50 yards and even a bit beyond. I've pressed it into service at this range twice on birds that wouldn't budge another inch. Both died like they were standing at half the distance. Two of my coworkers have had similar experiences. Four birds with four shots at 50-plus yards isn't "golden pellet" luck.
The No. 7 Heavyweight pellet is something special, and this is coming from a guy who used to be a diehard fan of lead No. 5's. The tungsten alloy Federal uses for the Heavyweight pellet has a density of 15.2 grams per cubic centimeter (g/cc). A lead-antimony pellet has a density of about 11.1 g/cc. Heavyweight is about 37 percent denser than the lead pellets used in typical turkey loads, which means a No. 7 Heavyweight pellet is substantially heavier than a No. 7 lead pellet--hence the name. In fact, a little math shows that a No. 7 Heavyweight pellet weighs about 2 grains, which puts it between a No. 5 and a No. 6 lead-antimony pellet in terms of weight (2.47 grains and 1.90 grains, respectively).
At the same velocity, a No. 7 Heavyweight pellet will fall between a No. 5 and a No. 6 lead pellet in terms of energy as well, but this is less than half the story. Since a No. 7 pellet is smaller in diameter than a No. 5 or 6 pellet, it will experience less resistance in flight and during penetration than either. This means more retained velocity and energy downrange, and deeper penetration once the pellet reaches the target. The Heavyweight alloy is also much harder than lead. It doesn't deform like lead, which results in more consistent patterns and straighter penetration through bone and tissue.
A high pellet count at a high-stepping muzzle velocity is another piece of this lethal combination. The 1 5/8-ounce Mag-Shok No. 7 Heavyweight load contains a whopping 355 pellets, which Federal reports leave the muzzle at 1300 fps. A 1 5/8-ounce No. 5 lead load contains 288 pellets--almost 20 percent less than the Heavyweight load. The higher pellet count of Heavyweight No. 7 means odds are better that multiple pellets will hit a bird where it counts.
Finally, Federal packs this wicked payload into its FliteControl wad for tighter patterns at extended ranges. The FliteControl wad stays with the shot column longer than a conventional wad, and its design pulls the wad away from the shot from the rear to minimize disrupting the flight of the pellets. The result is a pattern that can be described as "tight" even at 50 yards.
The Heavyweight No. 7 load has been my go-to gobbler medicine for the past five or six years. During that time, I've shot it through two Benelli M2 Field models and a pair of Mossberg 500 turkey rigs. Performance was absolutely devastating in all four guns. The latest, a Mossberg 500 Flex equipped with the company's Accu-Choke XX Full Turkey tube, accounted for the pattern above. Of course, that doesn't mean your gun and choke tube is guaranteed to produce the same results. This load is great, but it isn't magic. You'll have to check the pattern from your turkey gun and determine effective range for yourself.
I like killing gobblers when they are close enough to count the hairs on their snood as much as the next guy. Bringing them in close is what the spring season is all about, but it doesn't always work out like that. I haven't shot enough longbeards to just tip my hat and let one walk when he hangs up half a football field away. With the Mag-Shok Heavyweight No. 7 load from Federal Premium, I don't have to.