by
posted on April 4, 2015
Support NRA American Hunter
DONATE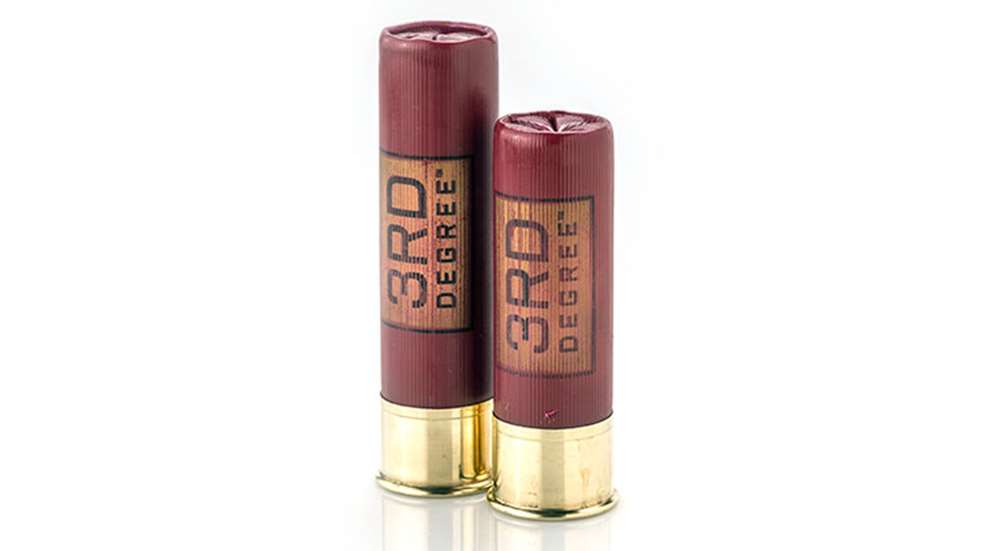 The tradeoff with a tight pattern that maximizes the range at which you can slam a snood is it can be all too tight when a longbeard really likes what you're saying and sashays into your lap. A gob of No. 6's the size of a softball doesn't allow much room for error. You jerk, he jukes, and suddenly shame replaces success.
After decades of creating turkey loads designed to deliver the goods at several dozen paces, this spring Federal Premium offers a line of ammo for when things get up close and personal. Cleverly named 3rd Degree, the 12-gauge magnum shotshells promise to throw wider patterns at shorter ranges than conventional turkey loads while retaining adequate pattern density for long shots.
Each 3rd Degree load contains three types of pellets that are stacked—not randomly mixed—inside the company's FliteControl wad. Petals that open at the rear of the FliteControl wad pull it from the shot charge without disturbing the flight of the pellets. This controlled separation lets each pellet type do what it was designed to do—and all three have different duties.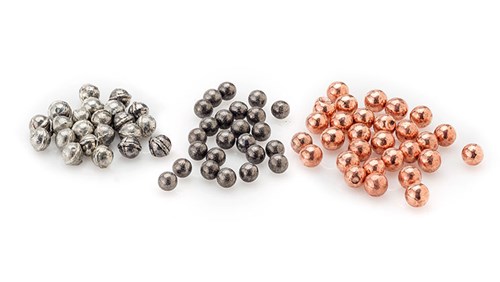 The front 20 percent of the payload consists of nickel-plated lead No. 6 FlightStopper pellets. The unique pellet's circumferential ring causes it to disperse quickly from the shot column to widen the pattern at close range, even when fired from a tight-choked gun. In addition, the ring creates a large wound channel during penetration. The FlightStopper pellet that Federal puts in 3rd Degree first proved its worth in the company's Prairie Storm pheasant loads. Just as a wide, even pattern is helpful in applying the brakes to a rooster that rockets from underfoot, it also leaves some wiggle room when lining up on a bobble-headed gobbler just beyond your boot toes.
Copper-plated lead No. 5 pellets make up the middle 40 percent of the 3rd Degree shot column. These are standard in the Federal Premium Mag-Shok line and deliver a dense pattern at typical tom killing ranges of 20 to 40 yards. When a bird follows the script, this part of the payload will lower the curtain.
Should a longbeard get a case of stage fright and hang up beyond 40 yards, the No. 7 Heavyweight pellets filling out the rear 40 percent of the load take the show to him. The tungsten-iron alloy forming the Heavyweight pellets is 35 percent denser than lead. Federal's testing has shown that a No. 7 Heavyweight pellet retains more energy at 40 yards and beyond than a No. 5 lead pellet. In addition, the No. 7 pellet's smaller diameter presents less resistance during penetration and boosts pellet count; there's about 15 percent more pellets in a 3-inch 3rd Degree shell vs. a comparable No. 5 lead load.
I tested 3rd Degree in a Remington Versa Max Sportsman with a 22-inch barrel and a Wingmaster Turkey choke tube (see p. 76), and it lived up to promises. At 10 yards, the 3-inch load produced effective patterns that averaged 58 percent wider than the company's comparable Mag-Shok High Velocity No. 5 lead load (7.13 inches vs. 4.50). I didn't count fliers or "golden pellets"; instead, I measured only that portion of the pattern where 10 or more pellets would impact an area the approximate size of a turkey's skull and spine. Patterns from the 31/2-inch 3rd Degree shell at 10 yards averaged 34 percent wider than the comparable Mag-Shok load (7.21 inches vs. 5.38). Both 3rd Degree loads had evenly dispersed pellets beyond the edges of what I considered effective patterns, and if anything, I was perhaps too conservative in my measurements.
The 3-inch load averaged 156 pellets inside a 10-inch circle at 30 yards, while the 31/2-incher perforated the same with an average of 177. The number of pellets inside the circle at 50 yards fell to an average of 48 for the 3-inch load and 56 for the 31/2-inch shell, but even at the longer range a turkey that got its head caught anywhere within that 10-inch diameter would be a dead bird.
Federal Premium 3rd Degree is a specialized turkey load in that it is all purpose. It's a solid 30-yard killer, plus or minus 20 yards. There goes your excuse this spring.
Technical Specifications:
Type: Magnum Shotshell
Gauge: 12
Length: 3", 31/2"
Shot Size: 6, 5, 7, stacked in that order
Payload: 13/4 ozs. (3"); 2 ozs. (31/2")
Shot Material: nickel-plated lead FlightStopper, copper-plated lead Premium, tungsten-iron Heavyweight
Advertised Muzzle Velocity: 1250 fps
MSRP: $21.95-$24.95 per box of 5