Support NRA American Hunter
DONATE
Where oh where has my hunting dog gone? To the store to buy a GPS tracking collar, I hope.
Losing a dog is one of a hunter's biggest fears. Roughly 14 percent of lost dogs are never found. One of my setters disappeared in a South Dakota cornfield 25 years ago and is still missing. If she'd been wearing a GPS collar I'd have known her precise location, updated every few seconds. But GPS collars didn't exist back then. They do now. And you can bet I see their value.
How smart is it to invest $1,500 in a pup, pour another $1,000 into your veterinarian's bank account, sink countless hours in training, give years of love—and then send Dog off into unknown territory while hoping he doesn't disappear, get snatched or fall prey to a sinkhole? A GPS collar helps insure against such tragedies.
Less traumatic but more common and maddening is wondering if Dog has run off, is lost and searching for you, or is merely holding down the largest, slowest covey of upland birds you've never seen. I don't know about you, but many times I've walked north looking for a dog that was pointing south of me. More often I've trudged to a hilltop thinking Dog had disappeared over it, only to look back and see her on point just 40 yards below where I'd been. Grrr. You don't have to be an efficiency expert to hate such wastes of time and energy. A GPS collar can prevent them.
GPS collars are the 21st century version of the 19th century's tinkling bell and the late 20th century's beeper collar. They may not be as romantic as a brass bell, but they are a lot more effective at finding a dog on point, relocating a dog that's run out of sight and sound, and even seeing exactly where Pooch has been scouring the countryside for the past hours. Like any GPS navigation device, the collars work via satellite. However, they communicate with their handheld units via radio frequency, which limits range—if you consider up to 10 miles of reach a limit.
Of course, like traditional e-collars, maximum range is not typical range. Radio signals are compromised by terrain and cover. Still, you can expect GPS collars to keep you connected to your dogs during 90 percent or more of typical hunting excursions. The exception might be big-running cat and bear hounds.
Before you drop upwards of $800 on one of these systems, you should know that using them isn't as easy as wiring a bell to Dog's collar. GPS devices require considerable study, setup and practice. Like most digital technology, they can do incredible things, but operator controls are not visible and intuitive. You have to push a few buttons and scroll through various screens and extensive menus, none of which you can see until you've figured out how to conjure them up. Anyone born after 1990 can probably do this with his eyes closed, but those of us more mechanically than electronically inclined might wish to hire a 5-year-old tutor. Study and practice, however, can have you zipping through controls and managing multiple dogs like a pro. Manufacturers offer instructions and training in printed form, via DVD, or online that gets you up and running quickly.
Most systems include an integral e-collar, so a single handheld device lets you conduct traditional e-collar controls and commands. The upside is you can control multiple dogs with just one handheld unit. Obviously, you have to buy individual collars for each dog. I'm still an amateur happy to work two dogs at once, but I've seen pros managing three and four. I do wonder if anyone has ever tried 20 dogs at once, which is possible with some collar systems. Talk about a circus! I think my head would explode.
While maintaining control of Dog is the main purpose of these GPS tracking/training systems, they are anything but one-trick ponies. Like traditional GPS mapping devices, you can use them to mark your truck or covey locations, leave waypoints, create routes, record tracks (your route traveled) and much more.
New users often find themselves more engrossed in the handheld GPS screen than the hunt itself. It's fun to watch a map depiction of where the dogs are hunting or an aerial view of the terrain you're coursing. My approach is to mostly ignore the handheld unit until it signals me that a dog is on point or until I want to see where my little dog's gone. And that's the beauty of a GPS collar. It lets me concentrate on the hunt, knowing I can find Dog wherever she's gone.
GPS Collars Compared
I recently tested GPS collars from Garmin and SportDog. Both systems offer a long list of features for keeping track of Dog during the hunt. For example, both show Dog's location, distance and direction of travel; measure his speed and total distance traveled; and record his track. They update you on Dog's status (running, on point, treed, etc.) with visual, tone or vibrating alerts. The handheld units come preloaded with topo maps of the U.S. (1:100,000 scale) that allow you to set boundaries for Dog via Geofence and alert you when he crosses them. Each system also has an integral e-collar with stimulation, vibration and tone correction, plus LED locator beacons. The Garmin and SportDog collar modules and handheld units operate on rechargeable lithium-ion batteries.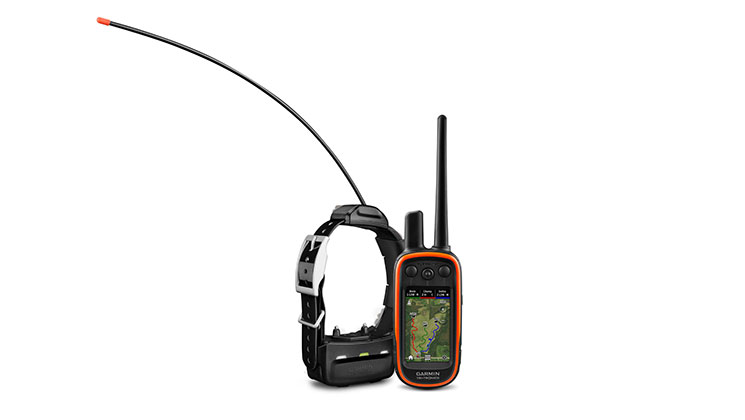 Garmin Alpha 100 w/TT 15
Range: up to 9 miles
Dogs Tracked/Controlled: up to 20
Handheld Interface: touchscreen for tracking, buttons for e-collar
Handheld Dimensions: 6.5x2.5x1.5″ (3″ display)
Handheld Weight: 8.8 ozs.
Collar Unit Dimensions: 3.5x1.75x1.85″
Collar Weight: 7.3 ozs.
Stimulation Levels: 18 continuous, momentary
Battery Life: collar up to 40 hrs., handheld up to 20 hrs.
Waterproof: collar submersible to 10m, handheld to 1m for 30 min.
MSRP: $799.99; garmin.com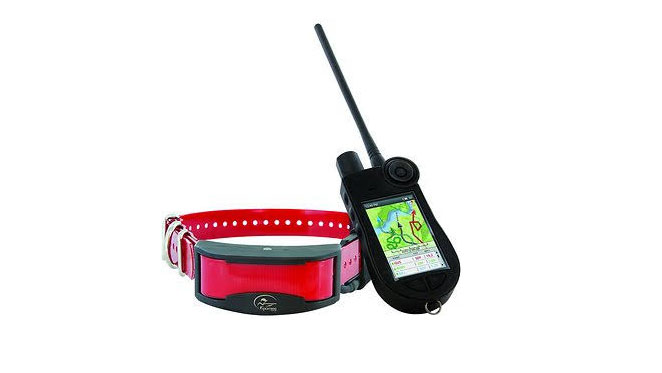 SportDog TEK 2.0
Range: up to 10 miles
Dogs Tracked/Controlled: up to 21
Handheld Interface: wheel/arrow pad for tracking, buttons for e-collar
Handheld Dimensions: 5.45x2.5x1.5″ (3″ display)
Handheld Weight: 10.6 ozs.
Collar Unit Dimensions: 3.7x1.54x1.54″
Collar Weight: 6.9 ozs.
Stimulation Levels: 99 continuous, momentary, rising
Battery Life: collar up to 24 hrs., handheld up to 12 hrs.
Waterproof: collar submersible to 25', handheld to 5'
MSRP: $804.95; sportdog.com