Photos Courtesy Tweed Media
It's just as well we weren't bowhunting and not because it would have been impossible to get within arrow range of the roebucks. But if we had been shooting bows, the temptation to belabor comparison to a certain English archer and his merry men might have been too much.
But in fact our group was making merry in the forecourt of the Anchor Inn near Lower Froyle in the Hampshire countryside. Just in from the hunt, it was near midnight on a balmy July eve, and outfitter Owen Beardsmore made sure our glasses stayed full. A big man with a big smile and raspy wit that leaves no victim unscarred, Owen was the leader of our band. He was trading barbs with ammo maker Steve Hornady, who also comes well-armed for such sport. Steve was baiting Owen about why we hadn't killed any deer that first evening of the hunt. Owen questioned our skill, luck and maternal lineage. Steve shot back something about, "… and wouldn't know a deer if it bit you in the ---."
Perhaps we should have headed straight to bed considering our wake-up call was less than five hours off, but summertime hunts that far north—the same latitude as Calgary—never involve much sleep. At this early stage there was much getting acquainted, what with five hunters, five gamekeepers (guides) and a photographer in tow. So I asked the barmaid to draw another pitcher of ale, and then poured my mates another round.
■■■ 
It had been close in the greenwood, not humid-close like July evenings at home in Virginia, but still and shadowy as we crept along two-tracks hemmed in by viney understory. John Eastick, who's a London cop by day but all countryside gamekeeper at heart, led me into a timber stand where his trail cameras had been recording the rounds of a certain old roebuck. John's movements were ghostly smooth, and other than the drone of distant farm machinery and ringneck cocks squabbling across the valley, the deer woods stood silent. 
A ladder stand marked the way, and as we prepared to climb up into it, an alert face with big eyes and ears poked out of the opposite thicket, saw us, then vanished. John grimaced, unhappy about spooking a doe given the odds of a rutting buck on her tail. John produced a squealer-type call and pierced the still air with high notes. We watched a bit, then moved on, stalking until the gathering dusk snuffed out our chances.
Regardless, July deer hunting felt like a gift, and here we were pursuing trophy bucks in the flush of the rut. At home I might have been mowing grass, listening to baseball or napping on the couch, my next deer stand at least 10 weeks distant.
For the really hardcore there are a few early opportunities. California, for example, opens a couple archery units in late July, and if you push ahead to August, southeast Alaska gets going on its Sitka blacktail seasons followed by whitetail in South Carolina's Low Country.
Or you could consider Europe, where nearly the entire continent is hunting roe deer throughout the summer months. This smallish species (40-60 pounds) sheds its antler velvet in spring and breeds in mid-summer. That odd timing works because Capreolus capreolus possesses the biological quirk known as delayed implantation, in its case deferring embryonic development until December through January, after which the young are born some five months later.
Roe deer parallel our whitetails insofar as they can live just about anywhere and are highly regarded by hunters from England to Russia. The venison is prized, and because regulations in some European countries allow commercial use of game, the fine-grained meat is a seasonal specialty in gourmet restaurants. A roebuck has diminutive antlers compared to whitetails and muleys, typically sporting two or three points per side from beams running 10 to 14 inches long. Mass increases with age, but what stands out is coarse pebbling, along with pedicle rosettes that can exceed twice the beam diameter and in some cases grow together to form a kind of boss over the skullplate. The biggest racks will fit just about anywhere, and roe antlers mounted to fancy wood plaques are a staple of continental decor.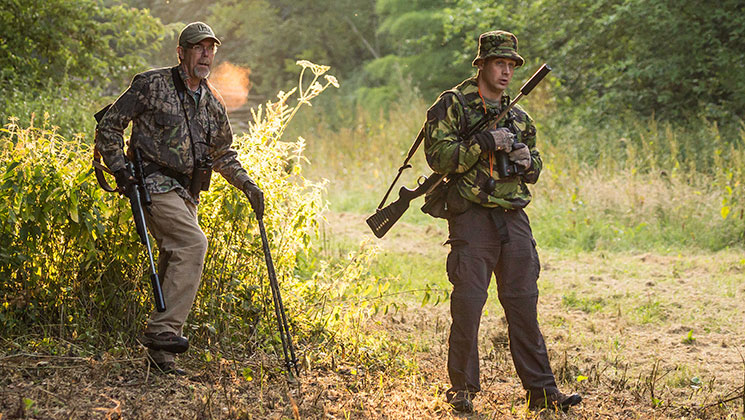 And so after Steve Hornady and I attended a giant outdoor sporting, industry and lifestyle show called the CLA Game Fair near Oxford, England, we were anxious to take advantage of a gift opportunity to do what we like best. Both of us had previously hunted roe deer elsewhere, and so we knew full well just how tricky and compelling it can be to pursue a high-strung prey animal at a time when the cover is heaviest.
We hooked up with Owen, whose outfit, Cervus UK, runs hunts for many types of game throughout the British countryside. Owen's prime roebuck area is in rural Hampshire, southwest of London, where he and his guides manage the deer on big estates and backroads farms perched on hilly terrain covered by a mix of forest and sprawling grainfields that were being harvested during our stay. Like most of their kind, roe deer are partial to edge cover, and so we stalked tractor roads through woodlots and sat in elevated stands overlooking openings and secluded corners.
Owen and company are out quite often scouting and controlling the fox population, and like many of us, they make ready use of trail cams to see what's present. So they had pretty good ideas where to hunt for mature trophies, but that in itself only went so far on the hard-to-spot roebucks.
■■■
On the heels of a slow morning, we regrouped for an early supper and then headed out for another go. Owen had shuffled the lineup, and I was teamed with guide Glen Boxall and photographer Martin Osbourne. We turned onto a gravel road that led to a farmstead now occupied by an auto restorer whose yard was jammed with classic Morgans, Aston Martins and the like. Next we happened onto a pair of hulking combines, one of which was being serviced by a man and a boy caked in dust. The narrow track then bisected a vast wheatfield and off to the right we spotted three roe deer. The fox-red deer slashed through the golden grain, a big buck energetically wooing two does. At the end of the field we entered a tree line, went from bright afternoon sun to dense shade, and proceeded to a stretch where the forest had been thinned on one side but remained tangled and untouched on the other. There we parked and proceeded on foot.
We had been hearing that Glen, who is also a professional forester, is something of a local legend for his ability to call deer using a simple beech leaf, and though happy to guide others, he is known to be rather secretive about how exactly he works the magic.
Perhaps as readily as any cervid, roe deer will respond to the right vocalizations as part of their mating behavior, so our guides from Cervus UK roused the woods with high-pitched squeals and squalls that apparently signal "come hither." The first few times out, the response was nil, but on this midsummer eve I witnessed one of the most amazing game-calling demonstrations ever. 
If for secrecy or some other reason, Glen set up 25 yards away from where I stood with my rifle rested on full-length shooting sticks. Though we wore camo, including gloves, the ground was fairly open, the underbrush patchy, and I worried that any deer would see us before we saw them. Facing toward a shallow draw, the British woodsman bleated out a short serenade, then fell silent and waited. Before five minutes, two deer, doe and kid, came tiptoeing through our setup and passed between Glen and me. After more calls, I spied another one, mostly obscured by tree trunks but easing our way. It was a buck, but when I looked for confirmation, the guide shook his head "no" and I could see then it was an adolescent with small antlers. More deer passed through looking for the squealer, and surprisingly all continued on their way unperturbed.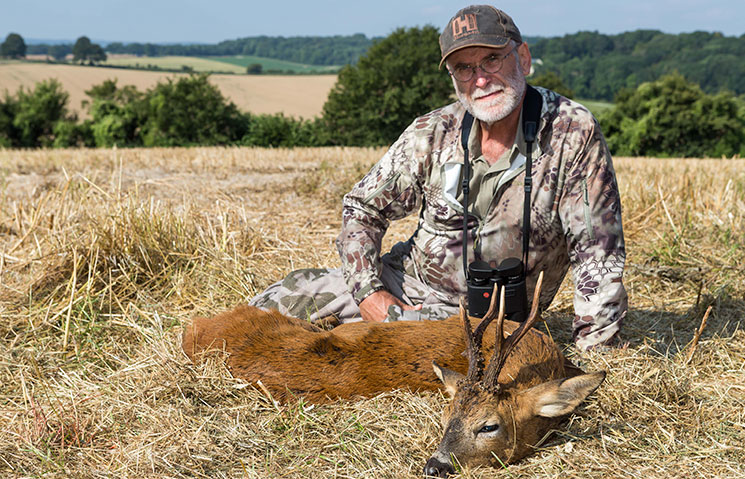 Across the draw there was yet another, moving laterally, clearly bigger, a shooter. This buck took forever crisscrossing the woods, mincing a little closer with each pass. Though it was not evident the deer would cross the draw, the animal was unalarmed, and despite a few fleeting chances, instinct said wait for a better angle. Finally the buck paused, quartering-on, and the shot from my .243 knocked the legs out from under it. Judged at four years old, the buck had tall, irregular beams with poker-chip-sized bases and stubby points. In the shadows of a midsummer eve, I reveled in whatever it is that makes deer hunting so great, no matter where or when it takes place.
■■■  
We weren't the only ones who had luck calling. Using commercial calls, Owen and John also summoned in great bucks, proving that with the right stuff at the right time, there's more than one way to "talk" to an English roebuck. Steve Hornady's prize was an aged trophy with fantastic rosettes at its antler bases, while a professional counterpart of mine, deputy editor Kate Gatacre from Britain's Shooting Times magazine, scored a massive-horned old-timer. All told our party killed seven roebucks in accordance with management plans that Owen had formulated with the landowners. Britain is a long way to go, yes, but short of introducing roe deer to the U.S. (both Hornady and I like to fantasize about that!), it offers a summertime fix for deer hunters who can never get enough.