by
posted on January 4, 2013
Support NRA American Hunter
DONATE
As deer season enters its final weeks and months, hunters face the most brutal weather Mother Nature can throw at them. To fill that last tag, you'll need to gut it out in the cold. Here's the gear that will help you do that.
Gallery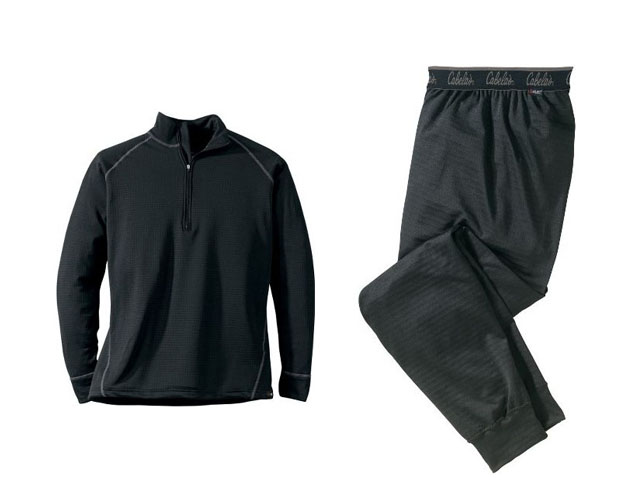 Cabela's E.C.W.C.S. Military Polartec Base Layers
You may need to copy the name from this story to remember it, but these Polartec base layers in a polar-weight zip T-Neck upper and polar-weight bottom form the ultimate against-the-body protection from the elements. The E.C.W.C.S. (Special Operations Forces, Extended Cold Weather Clothing System) was originally made with the military in mind, but provides the same protection to hunters with the warm Polartec fabric, which keeps heat in, but allows moisture to wick. The outer fabric is smooth-faced so other layers slide on easily over them. MSRP: $70 (each).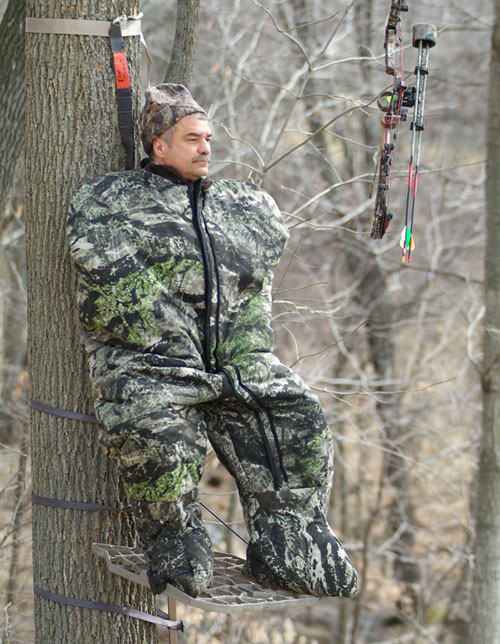 Heater Body Suit
For pulling off an all-day hunt in well-below-freezing temps, the Heater Body Suit is like a sleeping bag with feet and internal shoulder straps so you can wear it while you sit outside, but easily slip from it to make a shot. Made of Polyester Tricot camo cloth and lined with 300 grams of Thinsulate, the suit is windproof and water resistant and most importantly, it works. This suit was a lifesaver for me during one brutally cold Iowa hunt. MSRP: $350.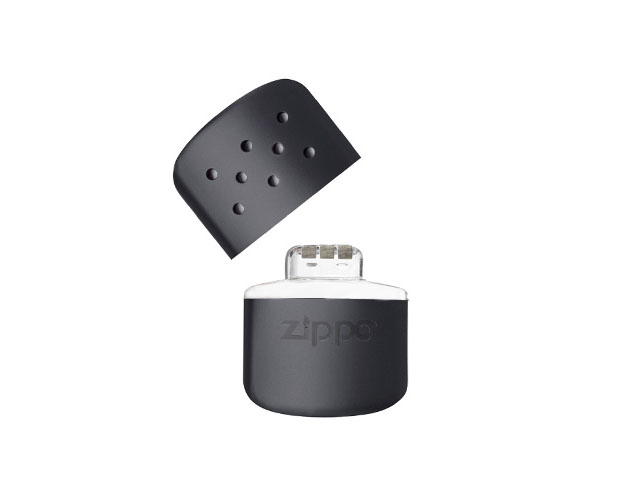 Zippo Hand Warmer
Disposable hand warmers work great, but it's hard to beat the value and performance to be had from a traditional butane-powered hand warmer like the one made by Zippo. The cigarette-pack sized hand warmer comes with an insulated carry bag to protect against excessive heat, and it burns for up to 12 hours at a time. MSRP: $20.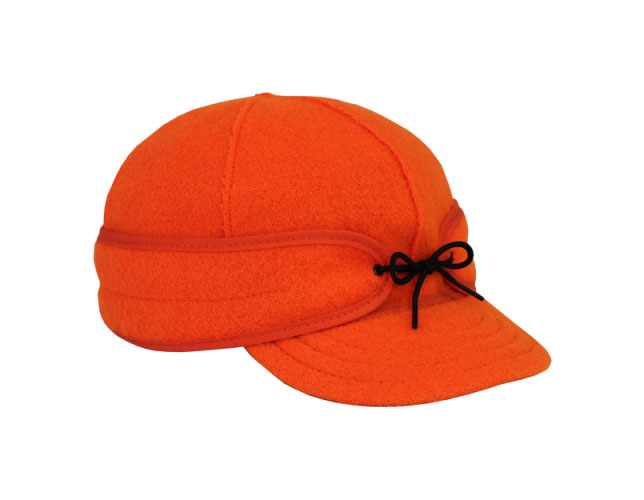 Stormy Kromer Original Wool Cap
More body heat is lost through the head than any single part of the body. Keep your dome protected the old-school way with Stormy Kromer's Original Wool Cap. A signature item from the quality hunting clothing manufacturer's earliest days, it comes in a hunter orange version and is made of 80 percent wool and 20 percent nylon and is cotton lined inside for comfort. MSRP: $40.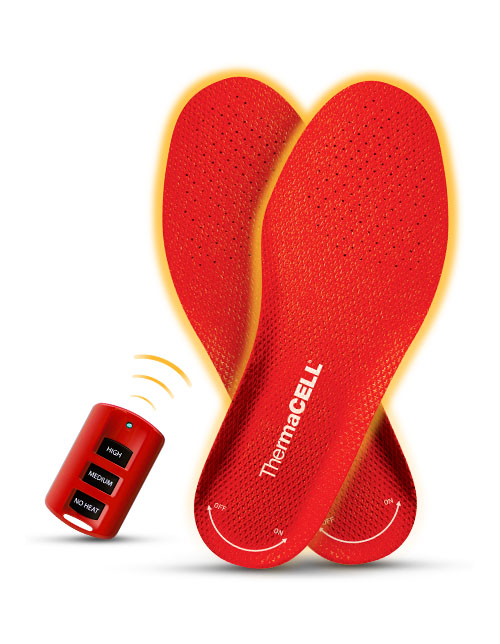 ThermaCell Heated Insoles
Take foot warmth to the next level with ThermaCell's Heated Insoles, which work wirelessly from a remote that actually allows you to set the temperature of the insoles like a thermostat. Slip them in the bottom of your boots, set the desired temperature and when it is reached, they will shut themselves off. As they cool, they will turn themselves back on. By adjusting the heat level, hunters can avoid overheating or causing their feet to sweat, which can ultimately make them colder. MSRP: $130.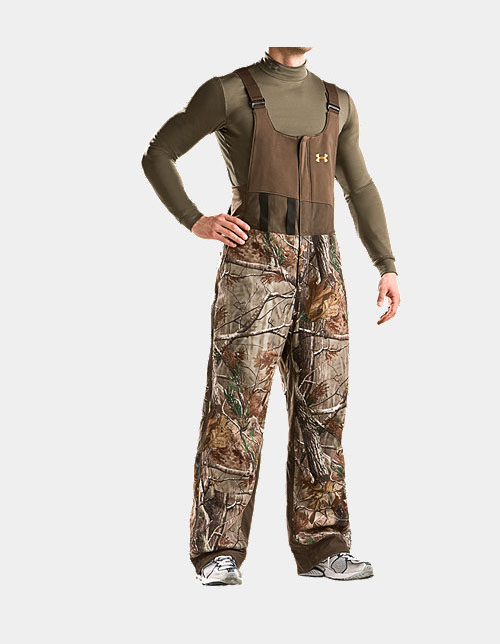 UnderArmour Ayton 32-inch Hunting Bib
A hard-faced fleece exterior and soft-touch fleece interior lining, Under Armour's Ayton 32-inch Hunting Bib traps heat inside for superior warmth, but also keeps noise to a minimum. The 4-Way Stretch construction doesn't bind as you walk or sit, and speeds up drying time as well. A full-front zipper aids easy on/off, and the adjustable suspenders allow a precise fit. MSRP: $160.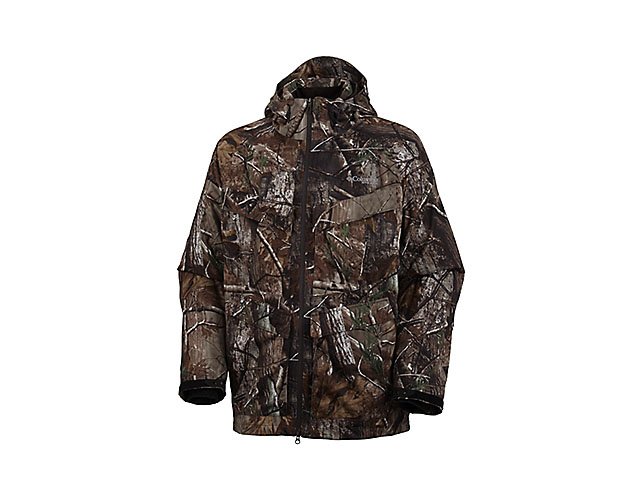 Columbia Men's Omni-Heat Electric Big Game Interchange
Columbia makes some quality performance clothing and its Omni-Heat Electric Big Game Interchange coat may be among the most advanced coats available. Three coats in one, the Interchange includes an Omni-Heat electric and insulated liner, which provides heat at the touch of a button, and a thermal-reflective, waterproof, breathable shell that traps body heat. Combined, you get the ultimate tool for maintaining overall body warmth in extreme conditions. The parka is designed with a relaxed fit. MSRP: $300.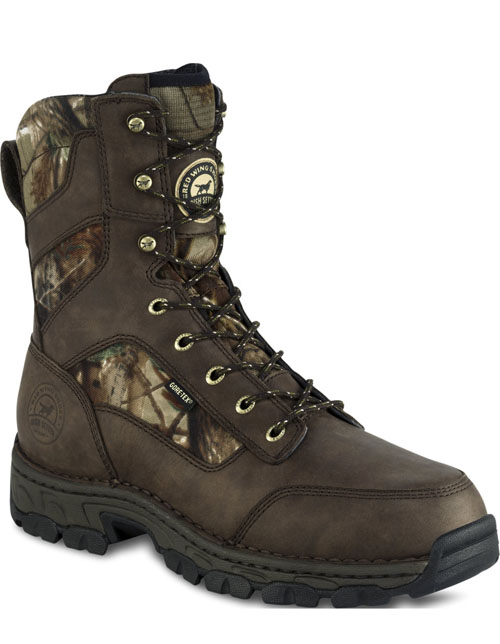 Irish Setter Havoc 848
Feet are among the first body parts to suffer when temperatures plummet and a hunter has to sit still for extended periods of time. Insulate those feet with an abundant layer of Thinsulate. Irish Setter's Havoc 848 boasts 1,200 grams of the insulating material housed in a FlexLock handsewn leather and Cordura upper over a polyurethane footbed and UltraFlex big-game broad sole. The 10-inch waterproof boot is designed for hunters on the go, but provides the protection needed for sitting tight for hours at a time. MSRP: $245.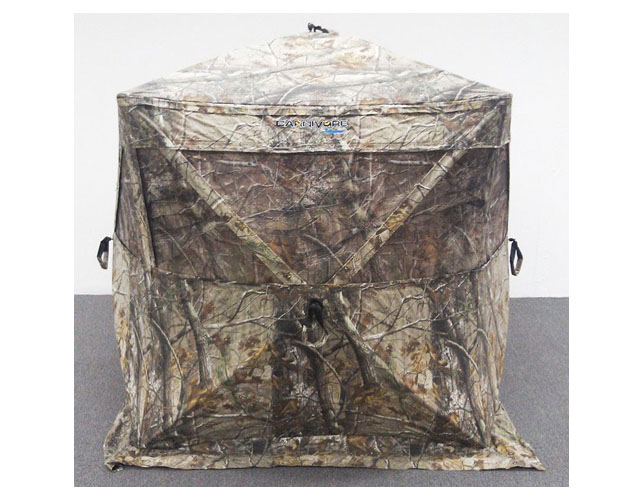 Ameristep Carnivore Blind
When the weather turns nasty with wind cutting through clothing, the shelter of a good ground blind can sure come in handy. Ameristep's Carnivore Blind is made of a poly-cotton blend fabric and includes a ground skirt and magnetic closure windows to help keep the elements out. The hub-style blind sets up easily within seconds and includes stakes and tie-downs for those windy days. MSRP: $380.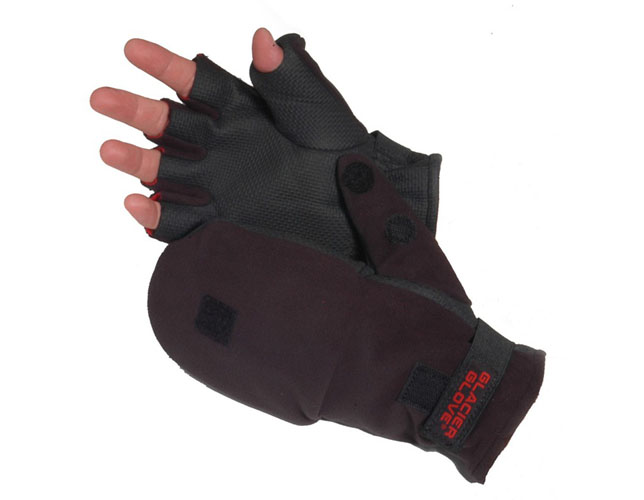 Glacier Glove Alaska River Series
The second part of the body to feel that bite of winter is the hands. The Alaska Series from Glacier Glove combine a Flip Mitten/Fingerless Glove design that provides the warmth and freedom of finger movement provided by a true mitten, but maintains warmth and the sense of touch needed to gently squeeze a trigger. The Alaska Series is a 2 mm windproof fleece lined mitten with a neoprene palm for improved grip and added water resistance. MSRP: $25.