by
posted on January 16, 2013
Support NRA American Hunter
DONATE
Anyone who returns from a safari has too many stories to tell in one sitting, and magazine writers are no different. After returning from Zambia's Luangwa Valley in September 2012.
Gallery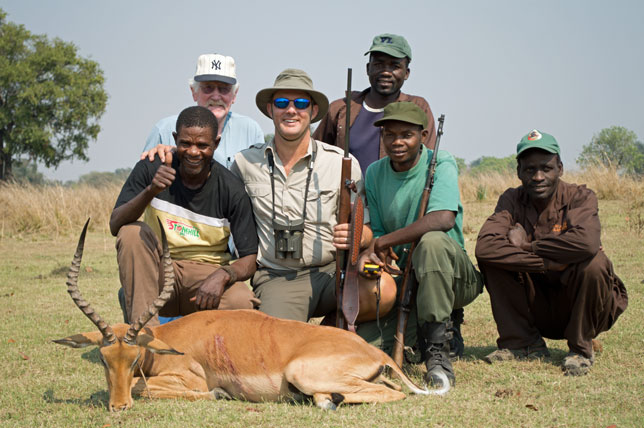 First Impala
When things go swimmingly everyone smiles. Mike Grosso's first impala was a good scene to document; from left are tracker Adwell Kachikula, Charlie Titus, Grosso, driver Dylan Nyendwa, game scout Isaac Phiri and tracker Festo Banda.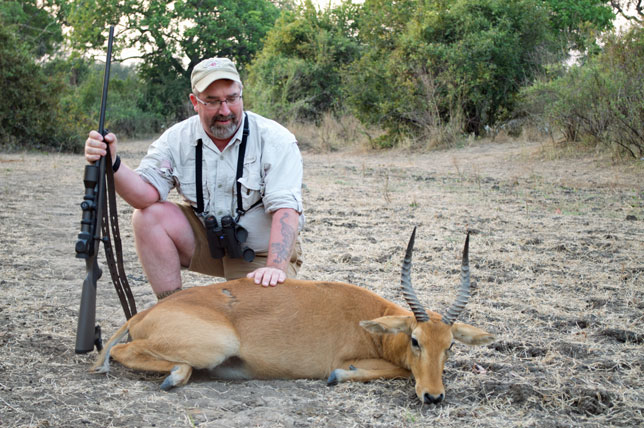 Puku
We went for buffalo, but it was hard to pass up the opportunity to take other game not found elsewhere in Africa, like a puku. When it came time to hunt plains game, I switched barrels on my Blaser R8, and thus changed calibers from .375 H&H Mag. to .300 Win. Mag. Sticking to such major calibers allowed me to swap between buffalo gun and antelope gun in minutes, since I did not have to switch bolt heads.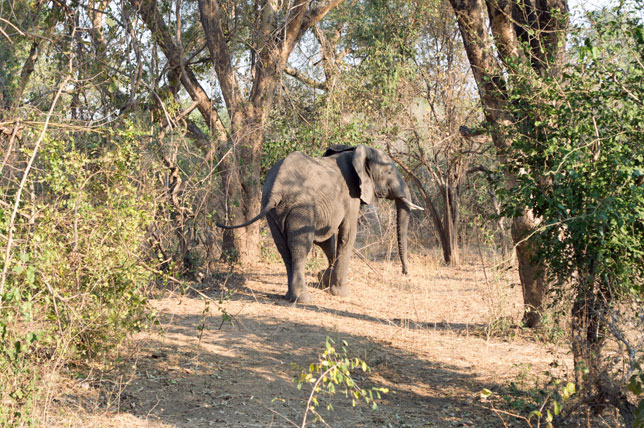 Roaming Elephants
Herds of elephants roam throughout the valley. I couldn't help but frequently look up while on the trail of buffalo, see a giant beast and think, "Doesn't everyone hunt like this?"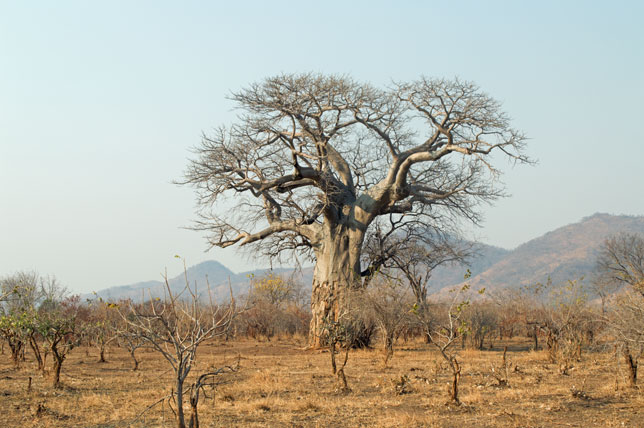 Boababs
One thing I love about Africa, when you're in the right region, is the presence of baobabs, massive trees that look as if they're growing upside down. The largest baobabs are thought to be a thousand years old. Their trunks can measure 50 feet in diameter, but many of them stretch to perhaps only 50 feet tall.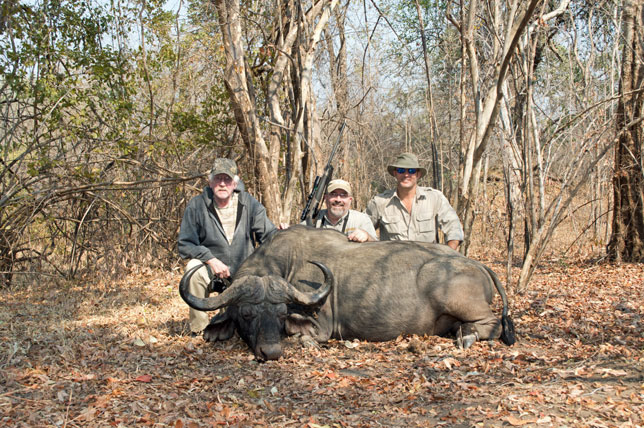 Buffalo Down
Charlie Titus, left, myself and Mike Grosso spent a week in the Luangwa Valley. Charlie didn't hunt as he is 72 and down to one lung after a battle with cancer. But as a lifelong hunter he knew he had to see Africa. He was content to watch Mike and I hunt and shoot.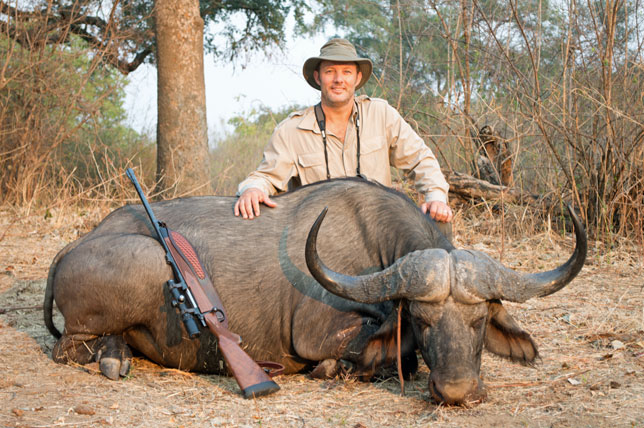 First Buffalo
Mike Grosso, from Arlington, Va., was part of our crew of three. This was his first safari, and he made the most of it, bagging not only an exceptional buffalo but a zebra and impala as well during the week-long buffalo hunt.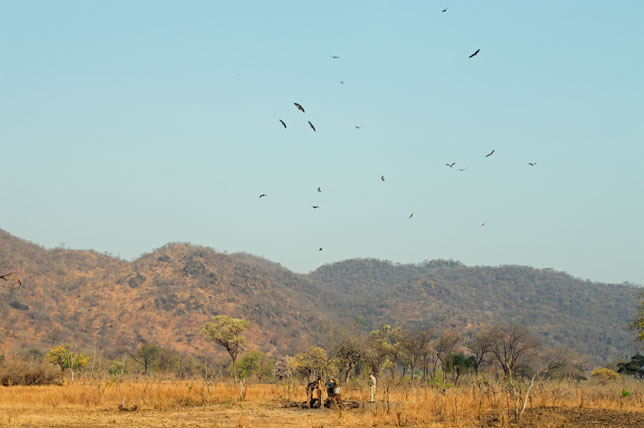 Protecting the Resource
Professional hunter Sarge Karim is a de facto game warden, charged not only with interpreting game laws from government to clients but with policing the Kwalata Safaris concession for poachers. He's a fourth-generation hunter; his great-grandfather was a commercial ivory hunter and his uncle, Peter Chipman, is co-owner of Kwalata Safaris, which hunts and manages a 750,000-acre concession in the Luangwa Valley.
We were alerted to a poacher-killed elephant by the presence of vultures circling above the site. At the scene, PH Sarge Karim and game scout Isaac Phiri determined the beast was killed with a homemade muzzleloader likely fashioned from a piece of pipe or steering column from a junked truck. The projectile was a steel ball-bearing the size of a jawbreaker, which they found in the skeleton of the elephant.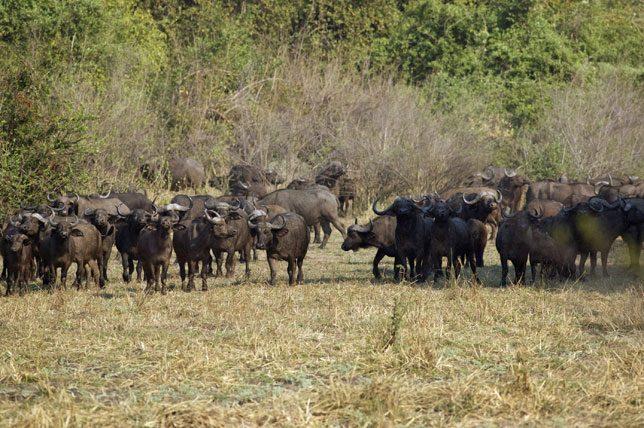 Buffalo Herds
The valley is home to perhaps 1,500 Cape buffalo, split into five or six herds that range in size from a few dozen to hundreds.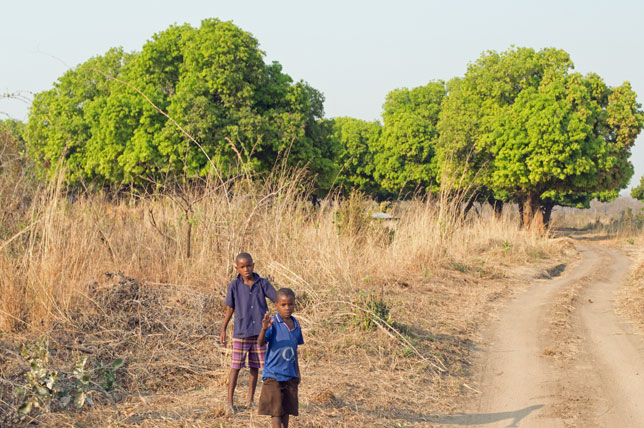 Forced Move
A village used to sit beneath the shade of this mango grove. Alas, marauding elephants that ate the fruit nightly forced the people to move their homes.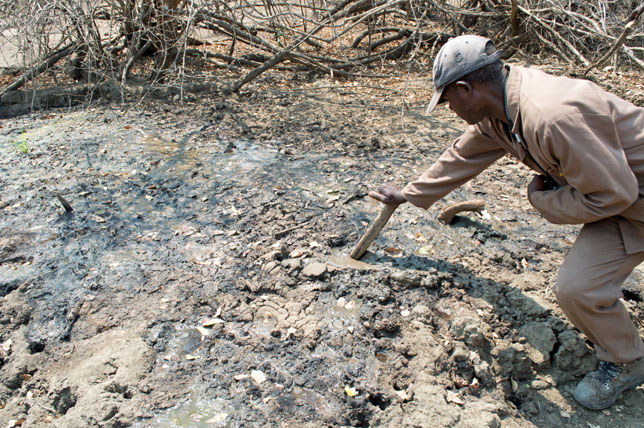 Dangers on Safari
Tracker Adwell Kachikula demonstrates the depth of a pit of quicksand—that stick is about 10 feet long. The outfit was first alerted to the quicksand when they found a giraffe trapped in its depths.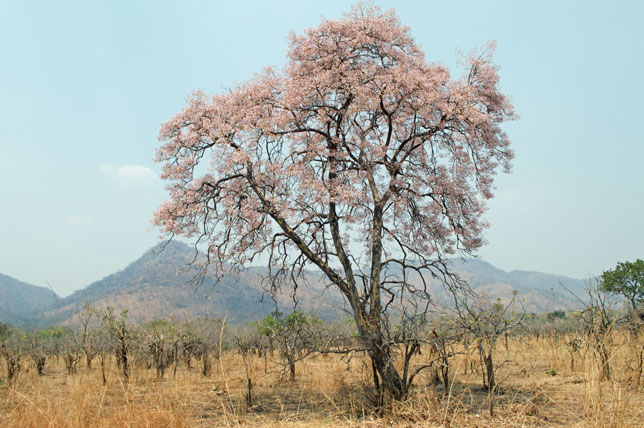 Blooms of Spring
From the capital of Lusaka, we took a small plane to Mfuwe before driving two hours into the bush. The first flora I noticed were bright, pink syringas—the first bloomers of spring, I was told.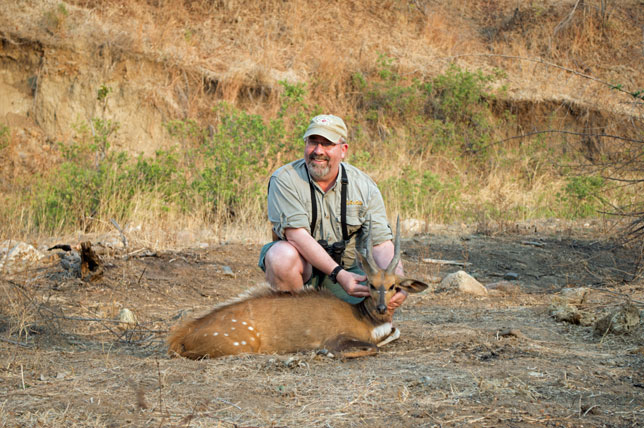 Bushbuck
I'd shot a bushbuck on safari before, in South Africa. But I couldn't pass up the chance to take a splendid Chobe bushbuck when the opportunity presented during out search for buffalo.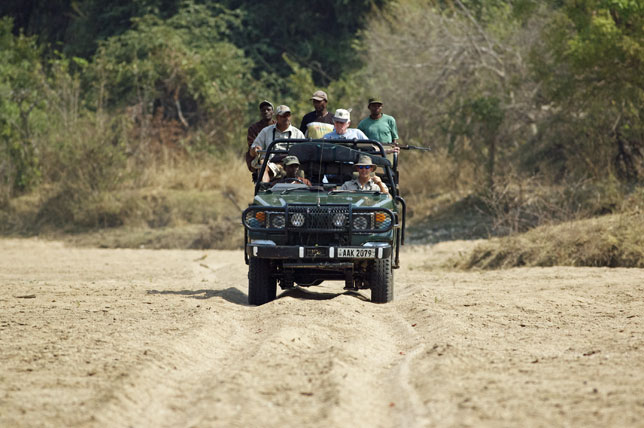 Buffalo Search
In late winter the valley still thirsts for the return of spring and the rainy season, which in September is only about six weeks away. In the meantime, we took advantage of dry river beds to make up time in our search for buffalo.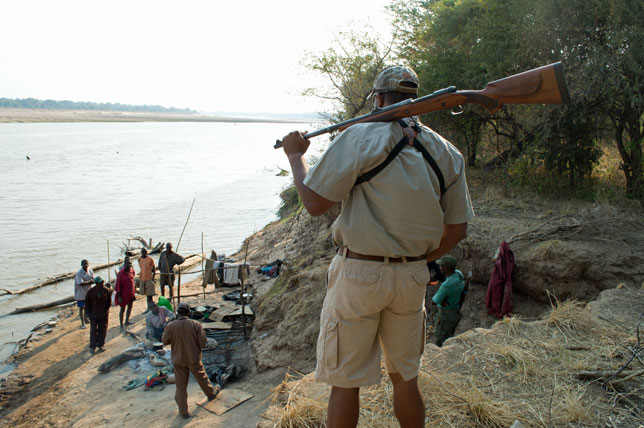 Local Information
When the quarry is buffalo no intelligence is worth discounting. PH Sarge Karim questioned fishermen on the banks of the Luangwa as to the whereabouts of buffalo.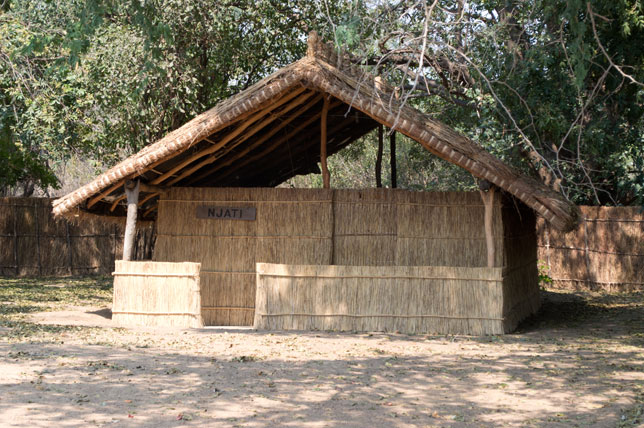 The Camp
Camp consisted of a series of thatch huts. Client huts in our camp were named after the Big 5. My hut was called "Njati," which means buffalo in the local parlance. Inside each hut clients find all the comforts of home including double beds with comfortable mattresses, mosquito netting, flush toilets and hot/cold running water.