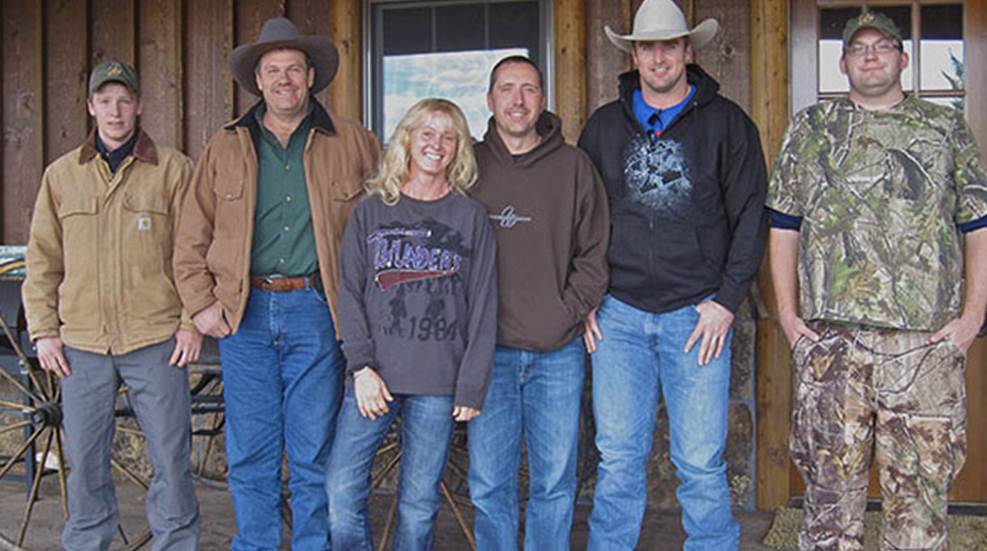 Elk are among North America's greatest game animals, leaving Shawn Skipper a bit excited when he joined Weatherby on his first-ever elk hunt. As luck would have it, five days of chasing what proved to be ever-elusive bulls over the mountainous terrain of central Colorado yielded no harvest. Though unsuccessful, he came back with plenty of stories to tell.
Gallery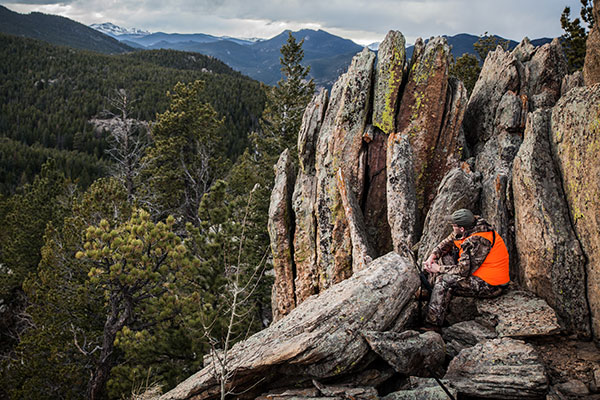 Justin Moore
Watching the Meadow
The private property we were hunting provided more than enough space for five hunters to spread out, and we took advantage of it—I'm pretty sure I walked at least 90 percent of it in the five days I was there. There were a couple of meadows, though, that we were told could occasionally be thick with elk. I'm overlooking one of them in the image above. That ledge was just made for killing elk—from there we had shots on the meadow ranging from 100 to 250 yards. Unfortunately, no one on the trip ever did kill an elk. Or see one we could shoot, for that matter. A herd comprised of cows and their calves was spotted, but bull elk eluded us for five straight days. But, as they say, that's why it's called hunting.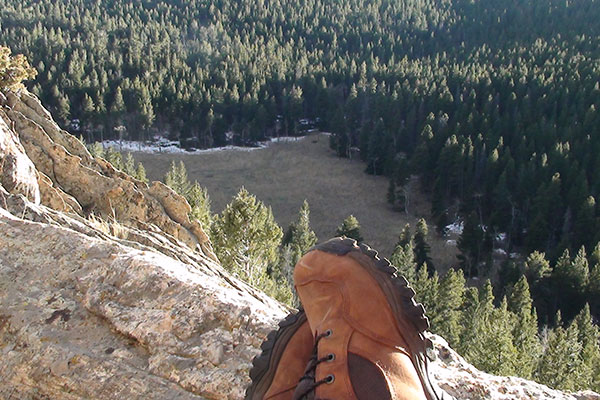 Getting Comfortable
Here's a look at what the view I had of the previously mentioned meadow. Though we also did plenty of stalking, this particular spot called for a lot more getting cozy and sitting still. As such, I made sure to get myself nice and comfortable on the occasions that I hunted it.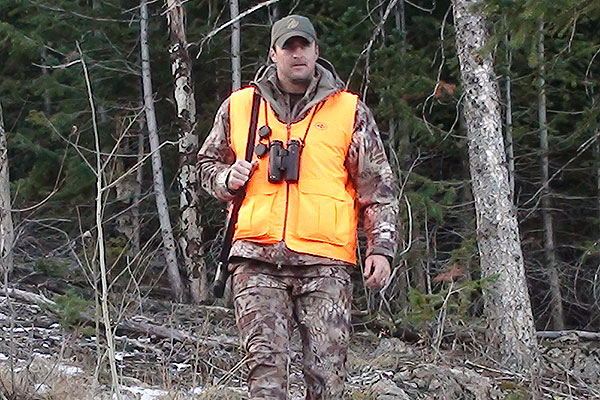 Bear On Bye
Along for the trip was Team Weatherby member and New York Giants tight end Bear Pascoe. Bear, a lifetime hunter who grew up on a ranch in his native California, is an NRA member and a dedicated supporter of the Second Amendment.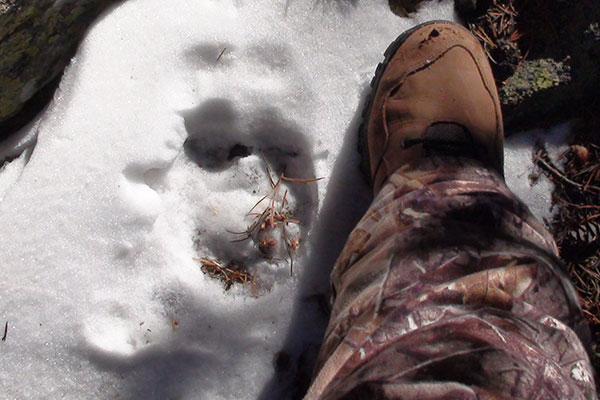 Elk Sign
Though we saw no elk, we saw ample sign—from fresh tracks to scrapes to dropping, the elk had certainly been through the property we were hunting. They just didn't seem to be there the week we had it. We didn't get any fresh powder during our stay, but we did find some rather large tracks in the snow that was already on the mountain—that's my size-13 boot to the right, for comparison.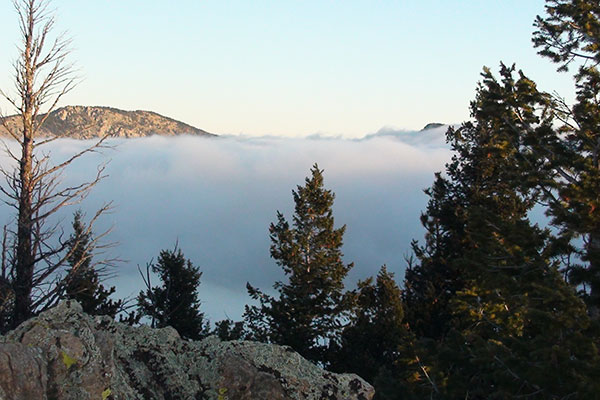 A Foggy Morning
Fog became something of an issue on the third morning of our hunt. I spent the better part of an hour climbing up to a vantage point from which I hoped I'd be able to spot some elk... and ultimately found myself face-to-face with a cloud of dense fog. There could have been a hundred elk down there—I'll never know.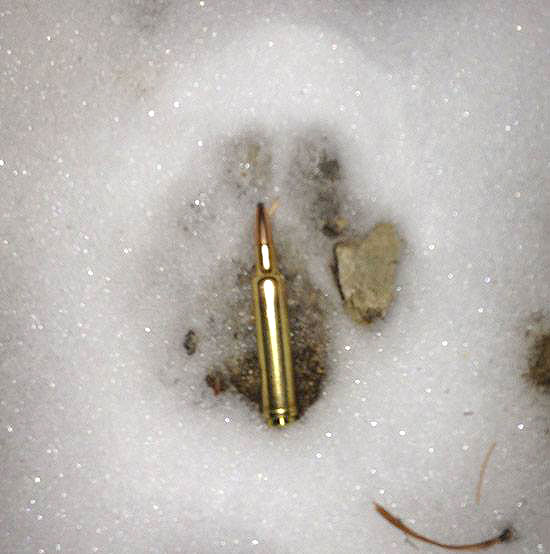 Justin Moore
Predators Lurking
One thing we saw plenty of during our stay was cougar sign. Pictured here is one particularly large track that was spotted on our first evening. That's a .270 Wby. Mag. cartridge we placed in it, to put its size into perspective. Two hunters on the trip—myself included—would later see actual cats prowling the area, an uncommon occurrence.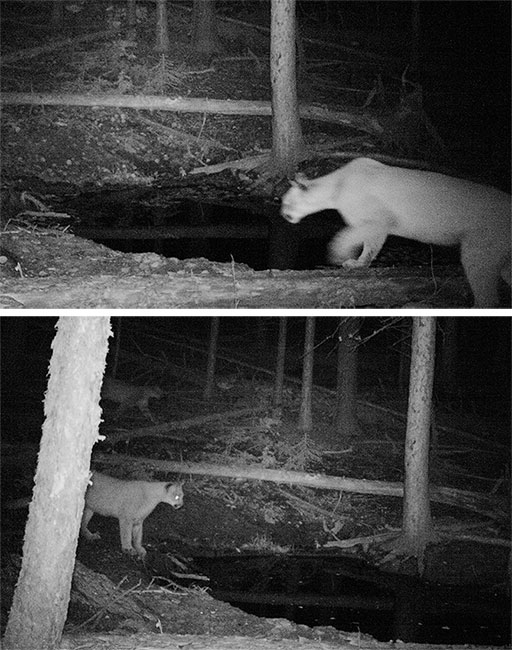 Cats On Camera
I wasn't kidding when I said there were cougars in the hills around us. These photos were pulled from a trail camera that one of our guides had set up on one of the property's watering holes. The top images shows a massive adult tom, while the bottom shows what looks to be a pair of juveniles.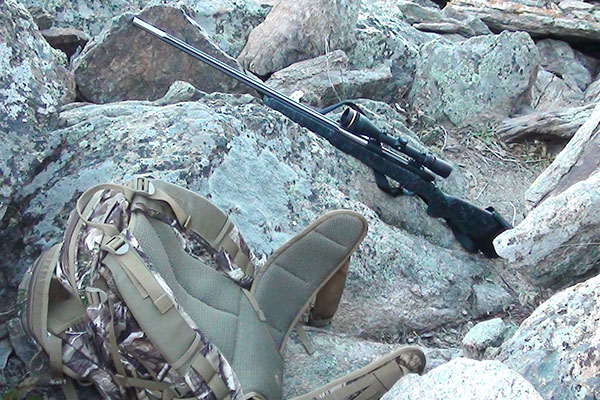 Tools Of the Trade
I alternated between two rifles during my stay. The first, seen here, wasWeatherby's trusted Mark V—the same one that Bear Pascoe used while he was in camp. The second rifle was the slightly more practical (given how much hiking we did) Vanguard Series 2 Back Country, which was decidedly lighter on the shoulder during long days afield.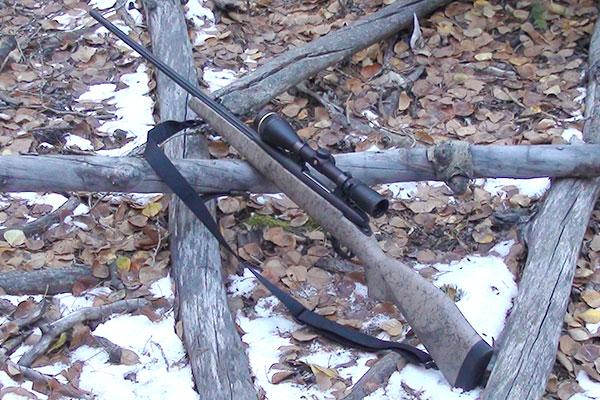 Justin Moore
Packing Light
Of course, an elk hunt typically means lots of hiking—so I wasn't the only one who was occasionally carrying a lighter-than-usual rifle. Weatherby's Justin Moore spent the week hauling this Mark V Ultra Lightweight across Colorado's rough terrain.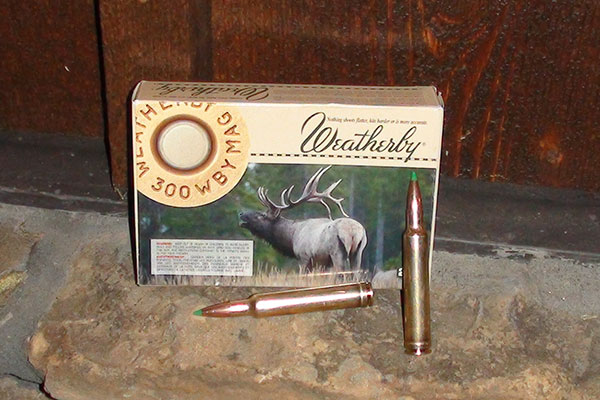 Elk Loads
There were five hunters in our group, and no shortage of variety when it came to ammunition. I spent about half my trip carrying the Mark V pictured earlier in this gallery, and it was chambered in the elk-slaying.300 Wby. Mag. pictured here. .270 Wby. Mag. and .30-06 Sprg. cartridges were also in camp.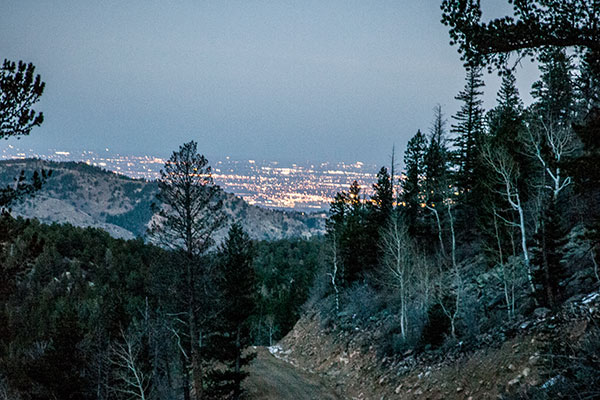 Bright Lights of the City
Thanks to our elevation, it wasn't hard to see the bright lights of the nearby city, particularly when the sun began to set at the end of each day. This view is my favorite way to look upon any city—from a distance.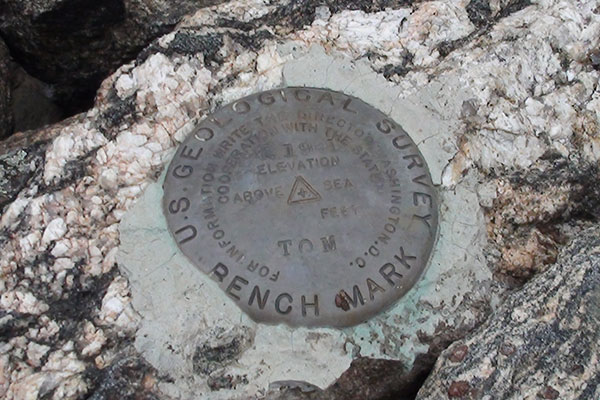 Mt. Tom
The property we were hunting was quite a ways above sea level, but nowhere more so than the very top of Mt. Tom, which we scaled on two separate occasions. The peak, which stands at 9,741 feet, was home to both elk sign and an airplane crash (check out the next photo for more on that). Reaching it wasn't easy, either—especially for someone that grew up in a region of the country where 25-feet above sea level was considered the "high ground."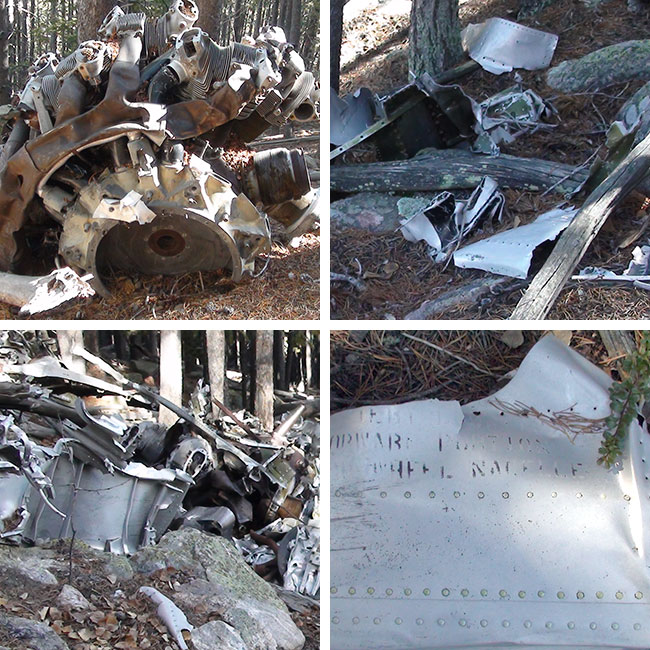 History on the Mountain
Elk aside, Mt. Tom had plenty for us to see. On April 8, 1952 Capt. Hilton B. Wilcox, Jr. and Lt. Col. Merrill E. Smith lost their lives when the B-25 bomber they were piloting crashed into the side of the mountain. The military recovered its pilots' remains, but little more—leaving nearly the entirety of the wreck where it lay. It's still there to this day, and we couldn't resist scaling the mountain a second time, just to do a little sight seeing.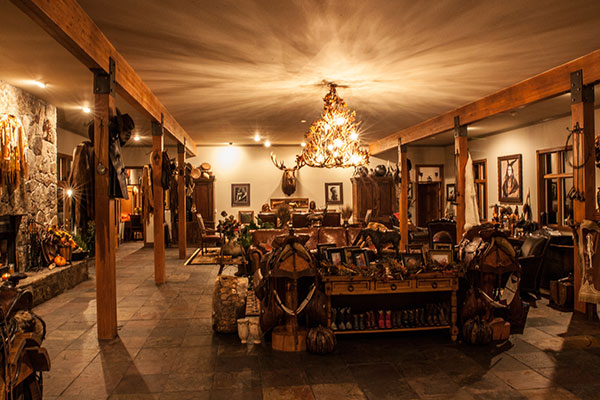 Justin Moore
The Lodge
The lodge—which doubled as the home of our hosts, Mike and Cheri Cappello—was as comfortable as it was spacious. Surrounded by trophy mounts and antique ranching equipment, it wasn't difficult to get into a hunting mood. We spent more than a few hours here pouring over a series of maps, trying to figure out where on the property our prey might be holing up.
Cheri Cappello
Hunting Camp
It was a small camp, but a very friendly one. From left to right: Porter Pearce, Brian Pearce, our host Cheri Cappello, Justin Moore of Weatherby, Bear Pascoe and the author, Shawn Skipper.