by
posted on October 16, 2015
Support NRA American Hunter
DONATE
We all want rifles that shoot better than we do, but what really goes into creating such a work of art? They don't happen by accident (actually, sometimes they do), so what goes into making one shoot tiny little groups on-demand? I have found the Bible.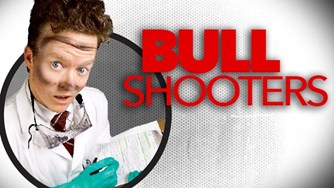 The Author
Bill Hambly-Clark retired a few years ago after a long career as a gunmaker in Australia. His creations ran the spectrum—from beautiful walnut-stocked sporters to heavy target guns—but they all had one thing in common: seemingly unparalleled accuracy. As a self-taught smith, Bill did not have the luxury of parroting techniques he'd been taught. Instead, he took a step back and examined each process and tried to improve upon it. Unlike many in his profession, Bill continued to develop his techniques throughout his career in order to continually move the ball forward. In his book, Bill shares these lessons with the reader in a well-articulated, easy-to-understand format—with plenty of photos. 
The Book
"Centerfire Rifle Accuracy—Creating and Maintaining It" was recently released in its Second Edition. The first one was so sought-after (and became so valuable), that people like me begged the author to do a second printing. If you're the type of hunter that wants to know what makes a rifle tick, this book is 564 pages of pure gold. Though the tome's intended audience is more likely a gunsmith or hobbyist, I believe that it's just as valuable a resource to a potential custom rifle customer or other gun enthusiast.
The more I learn about the art and science of building rifles, the more that I realize that many "well regarded" gunsmiths in this country are living in the Dark Ages. I've learned this the hard way, by spending my own money on guns that didn't perform up to the standard they should have. Had this book been available to me years ago, I could have asked the right questions and saved myself money and disappointment.
Sample Chapter
So just what am I rambling on about? Well, how a gunsmith sets up a barrel in a lathe to be fit and chambered is one of the absolute keys to producing an accurate rifle. In the book, Bill shows us three methods that could be described as "good, better, best." He provides step-by-step instructions on how to thread and chamber a barrel using each method before going into a very articulate explanation on why each method is superior to the previous one. He does so with facts that produce measurable outcomes rather than the double-talk you hear out of some gunsmiths. Between the book and my own experience as a rifle customer, I would not purchase a rifle from a maker that did not use the most advanced barrel setup technique described in the book. You can probably count the number of guys doing it that way without using any of your toes.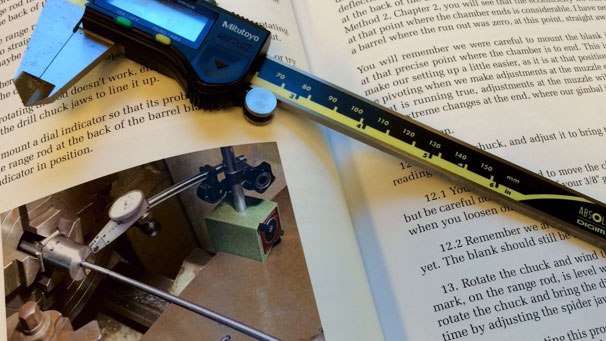 The Price
Australia is quite literally in the middle of nowhere. And so things are expensive in Australia—and they get even more expensive when you ship them from Australia. As a result, this book isn't cheap, and neither is the shipping. Ordering it, at least, is simple: you send an email to [email protected] and tell them what you want. You have the option of air freight (very fast) or sea freight (very, very slow!) and you can pay through PayPal. The book and air freight is $131.22 (which is 179 Australian dollars) and by sea it is $127.54 (159 AUD). If this seems like a pile of cash to invest, you probably haven't ordered a custom rifle lately. 
The Recommendation
If you have an interest in building rifles or make a living doing so, this book should be considered a "must read." If you're an enthusiast or potential custom rifle customer, I still highly recommend it. It's one of those books that you will re-read and constantly reference for years to come. I refer to it often enough that I don't even bother putting it back on the shelf. This is a purchase that I promise you won't regret—though you may grow old before it arrives, if you choose sea freight.