by
posted on November 25, 2015
Support NRA American Hunter
DONATE
The first time I ever saw a Nosler Ballistic Tip bullet—or something like it—was in 1983. I was at the theater to see a Chuck Norris flick called Lone Wolf McQuade. In one scene Norris used a Steyr SSG rifle to shoot it out with some bandits. His rifle ammunition was loaded with bullets that had a blue tip. Now, I don't know if those were really Nosler Ballistic Tips, but all the gun folks I knew at the time were really talking about them.
Nosler introduced the Ballistic Tip to the public in 1984. This was partly to satisfy those who were not thrilled with the accuracy of the Nosler Partition. But, just as importantly, the Ballistic Tip was a different bullet all together. It was designed to be very accurate, damage lots of tissue and cost less than the Partition. Unlike most conventional lead core bullets of the time, the Ballistic Tip was, and still is, manufactured by the extrusion process, where a gilding metal slug is pounded into the shape of a bullet jacket and then a lead alloy core is inserted.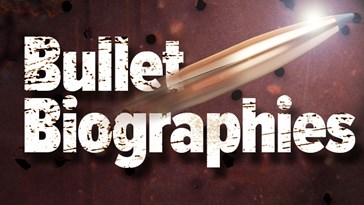 What got most shooter's attention was the same thing that Chuck Norris used to get mine. Nosler Ballistic Tip bullets had color-coded plastic tips that varied in color depending on the caliber. These pointy polymer tips and a sleek boat tail gave Ballistic Tips a high ballistic coefficient. They instantly developed a reputation for extreme accuracy, but some hunters claimed they were too soft for big game. In some cases that part was true.
That said, Nosler sorted out the that issue a long time ago, and when impacting at less than 3000 fps a Ballistic Tip will work splendidly on big game. A Ballistic Tip bullet will generally penetrate about 23 percent less than a Nosler Partition of comparable caliber and weight, while shedding about 35 percent of its mass. If someone tells you they won't use a Ballistic Tip because they blow up, they are basing their decision on antiquated information.
What some hunters do not realize is that Nosler offers two types of Ballistic Tips. One is for big game hunting and the other is for varmints. Ballistic Tip Varmint bullets are available in .20, .22, .24 and .25 caliber and they are easily identified by the word "Varmint" right on the box. Big Game Ballistic Tips are offered for almost every caliber in between .24 and .308. For bigger bores, Nosler offers a single Ballistic Tip in .323 and .458 caliber.
Several ammunition manufacturers offer ammunition loaded with Ballistic Tips, and for 2015 Nosler pulled the Ballistic Tip ammo from their Trophy Grade line to offer it at a more affordable price. Do not make the mistake of assuming these are fragile bullets intended for smallish critters. Ballistic Tips are a proven big game bullet, they're lights out accurate, and they damage lot's of tissue. I took two blesbok in Africa with 165-grain Ballistic Tips fired from a .308 Winchester. The rams were so far away it took the bullets almost three-quarters of a second to get there. 
Ballistic Tips are also responsible for starting the now very common trend of pointy plastic tips on bullets. Of course, I guess it could be argued Chuck Norris did that. Either way, it was a very good idea. Today, almost every bullet manufacturer offers a plastic tipped bullet.