Support NRA American Hunter
DONATE
Who all puts in for a bighorn sheep tag every year? I do. Despite that the odds of drawing aren't in my favor, getting to hunt a bighorn—or any of the four North American sheep species with a bow—would be a dream come true. Now imagine getting a bighorn that turned out to be the new world record. According to the Boone & Crockett Club, we may have a winner. Two weeks ago, a bighorn sheep that died of natural causes was found by wildlife officials in Alberta. If it checks out, the ram will be entered into the B&C record book.
For those who don't know, B&C records include big-game animals that have been found.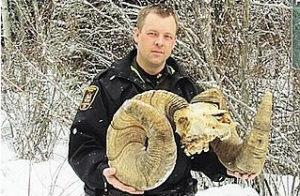 Like hunter-killed animals, they showcase conservation success by helping to gauge outstanding habitat, the numbers of game animals that make it to older age classes, sustainable harvest and other wildlife management objectives.
Biologists say the bighorn ram died in early summer 2013 at age 10-1/2. When official B&C measurers in Alberta put a tape to the horns, they contacted B&C as the green score exceeded the current 208-3/8-inch world record taken in Alberta in 2000. The next step is to wait the standard 60 days required for drying time and have the ram scored again by a special panel of judges. If the score holds up as expected, it will be announced and entered in the record book along with a photo.
Now for some bighorn trivia. Though Montana, in particular, has produced big rams in recent years, all B&C record bighorns have come from Alberta.