by
posted on August 13, 2012
Support NRA American Hunter
DONATE
Hunters need to be able to sit comfortably and quietly for hours if they're going to outwit a mature buck. Considering bowhunting means having to get that much closer to your quarry, a stand designed to be comfortable and quiet without compromising strength or stability just may tip the odds in your favor. So whether you prefer portable or ladder stands, you'll want a sneak peek at these for 2012.
Gallery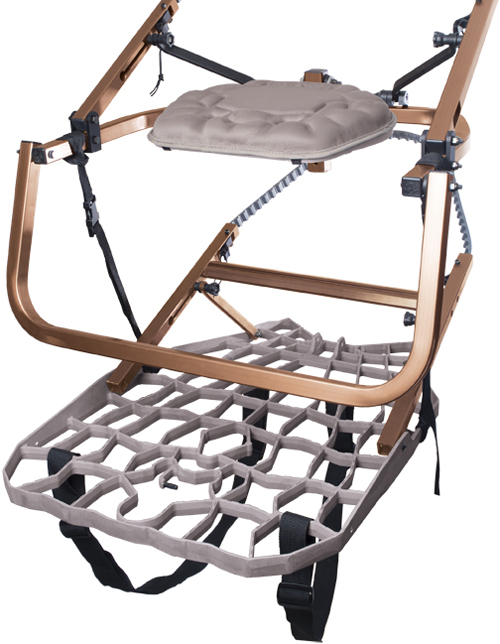 Lone Wolf Wide Flip-Top Climber "Combo"
"Sit-and-climb meets Alpha Hang-On" when it comes to Lone Wolf's new Wide Flip-Top Climber Combo stand. The company took the best of both worlds to make what it calls the ultimate climber. The climbing aid's wider stance makes for easy seated climbing, while its padded 14x12 inch pivoting seat is mounted higher to keep you in the ready position and easily flips up and out of the way for the shot. The stand has a large, 30x19½ inch one-piece aluminum platform and a bow holder that accommodates most parallel-limb bows. It fits trees from 9 to 19 inches in diameter, weighs 21 pounds, is rated for 350 pounds and, last but not least, comes with a safety harness. Backpack straps and one bungee strap are also included.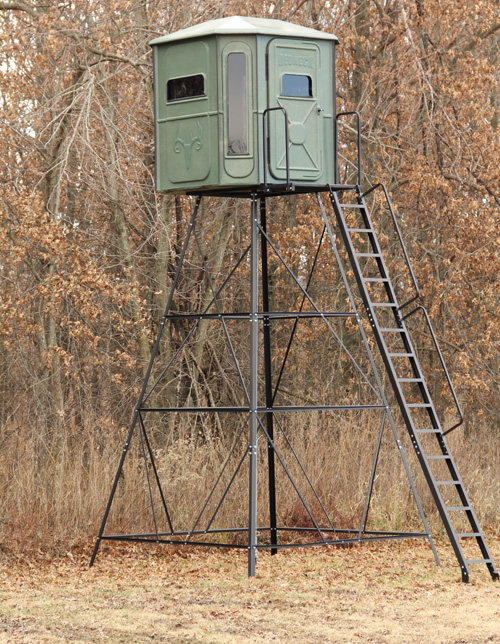 Redneck Blinds Buck Palace
The Buck Palace from Redneck Blinds offers two products in one by serving as a ground blind that can be elevated. Its 6x6 foot dimensions not only help to ensure all-day comfort, but the fact that it holds up to four hunters makes it the ideal scenario for taking youths hunting. Its 46-inch-tall windows allow bowhunters to shoot from almost any angle or position while offering better shot opportunities for hunters of smaller stature who might be challenged to shoot through smaller openings. Windows are made of tinted, tempered glass to camouflage hunter movement from inside the blind, and their ultra-quiet hinges minimize noise when opening them. A 5- or 10-foot stand is sold separately to provide a view from on high and offers ample support, thanks to a heavy, 3/16x2 inch iron frame. In step with the rest of the Redneck line, the Buck Palace is made of fiberglass to ensure durability while the exterior features a UV-protected gel coating that won't peel or fade, so it's maintenance-free. A one-piece roof keeps it weather tight and a fiberglass floor prevents rotting and varmint damage.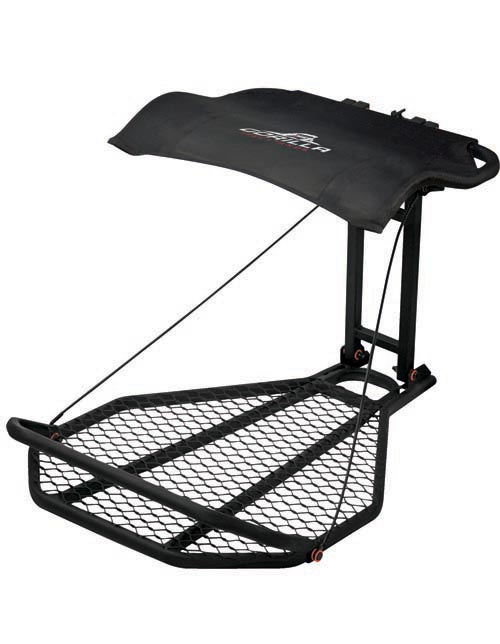 Gorilla Treestands King Kong Expedition HX
As the name implies, not much is bigger and badder in the "all-day comfort" arena than Gorilla's King Kong Expedition HX. This stand has a nicely sized 20x16 ½ inch water-resistant, flip-up Comfort Mesh seat, a 24x30 inch platform and a 24-inch padded arm and backrest designed to minimize the effect on peak pressure points. The HX sports a Traxion slip-resistant coating and all-welded steel construction rated for 300 pounds, yet weighs just over 28 pounds so hunters can hoist it with relative ease. The stand fits on even the most non-ideal trees from 8 to 22 inches in diameter, thanks to Gorilla's XLS Extreme Leveling System. With the seat and XLS bracket secured, the cam-action platform grips the tree securely, while the stand's red nylon bushers and washers ensure silence is golden in the woods.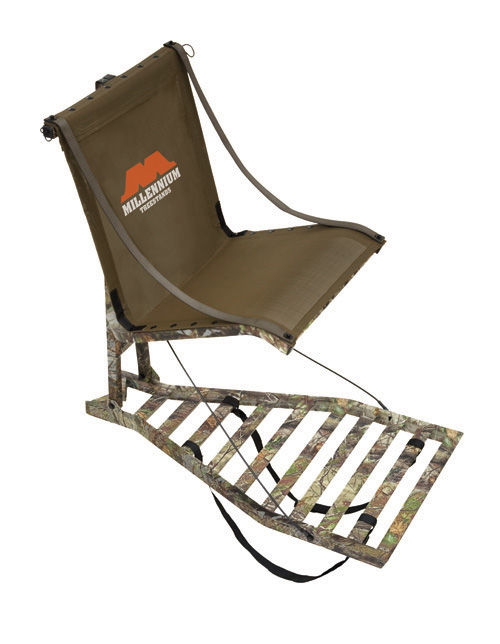 Millennium Treestands M100R Lock-On Stand
Hunters need to be able to sit in a prime location for as long as it takes, which may mean for multiple days from dawn until dark. Thanks to Millennium's M100R, hunters can sit quietly and comfortably. The stand's ComfortTech reclining seat is made with a non-stretch fabric so it does not absorb water and is quiet to the touch. The company's GoLite technology ensures portability as this aluminum stand minimizes weight without compromising strength. All in all, this stand is a great combination of stability, quietness and comfort and is available in camo.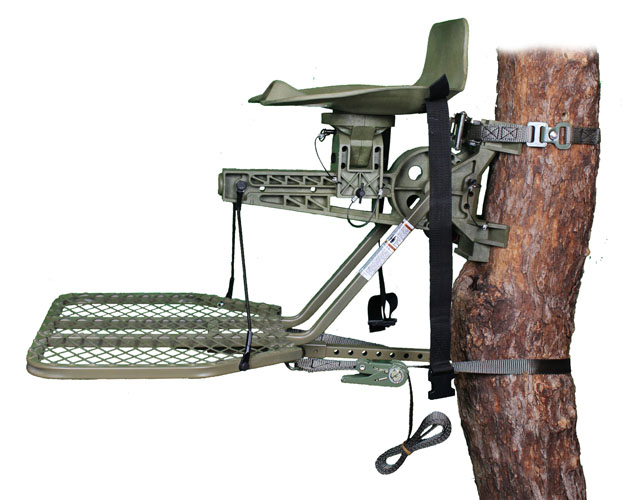 Swivelimb Treestands Vengeance
Having a super tough time hunting down the best tree for your stand? Swivelimb's Vengeance solves the problem by hanging securely in almost any tree. Those who hunt the river bottoms with only cottonwoods to choose from will appreciate its versatility and unlimited adjustment options. It sports a cushioned, swivel-style seat and a generously sized 19½x22 platform and is rated for up to 300 pounds. Though the stand weighs 23 pounds, Swivelimb's TreWinch accessory makes for an easy lifting job when it comes time to hoist it into the tree. Just secure the TreWinch strap in the tree at whatever elevation you want to hang the stand, then simply hook it up and raise it. Note: This makes for a nice accessory for hanging any stand or anything else you want to hang in your tree.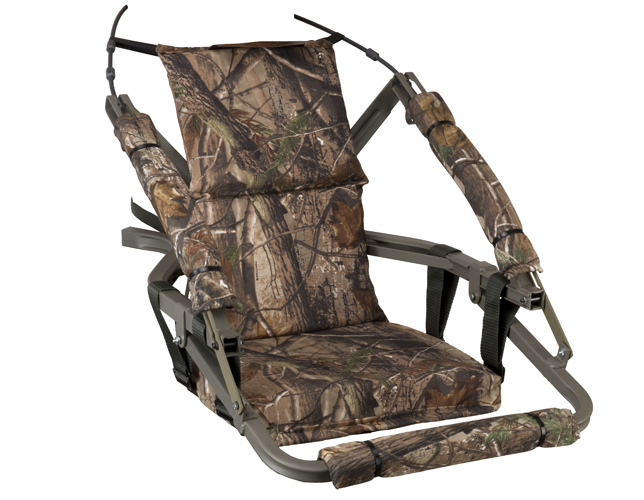 Summit Viper Elite SD and Specialist SD
Summit Treestands says less is more when it comes to its Viper line of climbing stands. A few years ago the company made them lighter by swapping steel for aluminum, then last year it made them even quieter with its Dead Metal Sound Dampening Technology. To further ensure functionality and comfort, Summit has launched the Viper Elite SD (closed front) and the Viper Specialist SD (open front). Features include round, high-tech aluminum tubing to enhance strength while further trimming weight, newly designed platform slats and a comfortable mesh/foam "hammock style" seat. Both models have a padded arm rest and rail in Realtree AP, Rapid Climb stirrups, QuickDraw backpack straps and are rated up to 250 pounds. The Viper Elite SD weighs just 16 pounds and the Viper Specialist weighs even less at 14.
Sniper Treestands Spotter Ladderstand
Delivering quality and comfort at a lower price point, Sniper Treestands' new, 17-foot Spotter Ladderstand seats two to accommodate you and a hunting buddy. It features a 40x13 inch padded seat and a padded shooting rail that flips up as needed to make way for a clear shot. Its 40x13 inch foot platform offers ample standing room. Two full-body harnesses are included for safety, as well as fasteners and an adjustable support bar to ensure stability. The Spotter weighs in at 65 pounds, has a weight rating of 500 pounds and nicely blends into the surroundings as you await your ambush.
Treelines Vine Ladder Stand
Treeline's Vine is good news in the ladder stand category, combining comfort and security with the ultimate in concealment. Its "vine"-shaped ladder sections mimic tree vines and provide maximum concealment, and its Canopy Seclusion Design minimizes any straight lines. It features a built-in foot rest, padded arm rest, adjustable padded shooting rail, an 18x16 inch padded seat and backrest, powder coated finish and steel-welded construction. It comes with a body harness, two 1-inch ratchet straps to secure the platform and/or seat and two 1-inch ratchet crisscross stabilization straps. Rated to 300 pounds, it is available with 20-foot and 14-1/2-foot ladder options. Kicking safety up a notch further, the Vine features the Rescue Step—a self-rescue device you can use to climb back into your stand quickly and safely if you fall out and are harnessed to the tree.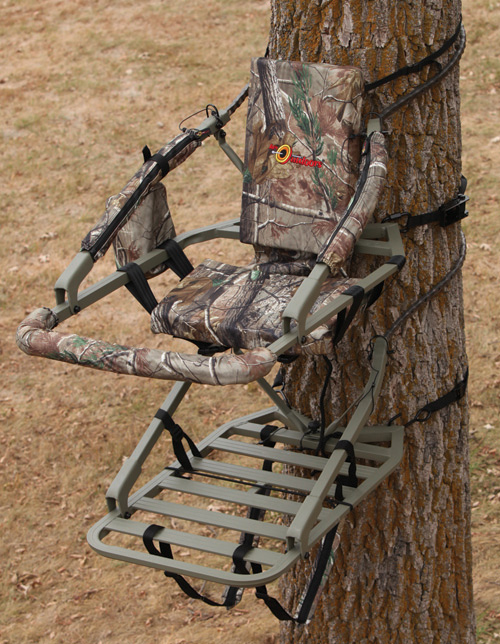 API Crusader Climbing Treestand
API's aluminum climbing Crusader features an innovative open design to allow for the perfect bow shot in any direction. The stand's non-slip, 20-inch-wide X 26-inch-deep foot platform allows you to position yourself comfortably in a safe, wide stance. For more comfort, a 17x11 inch seat sports a 2-inch thick pad designed to help hunters sit for longer periods. The Crusader can support almost any hunter, thanks to its 300-pound weight rating. The actual stand weight is 22 pounds.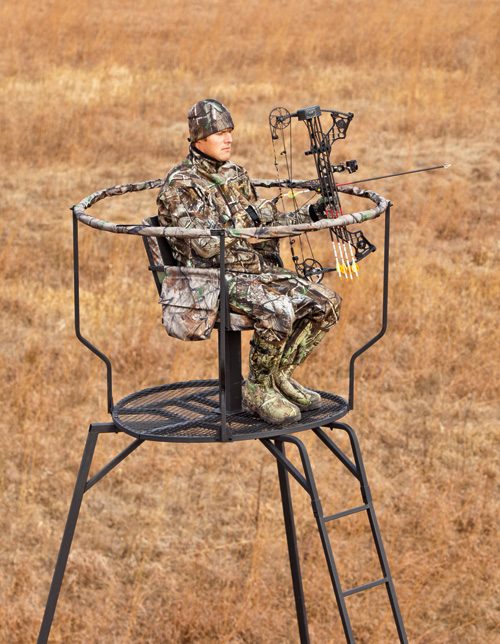 Big Game Treestands Adrenaline Tripod
Another winner in this year's new treestand lineup is Big Game Treestands' 20-foot Adrenaline tripod stand. Bowhunters will have plenty of room, thanks to a 42-inch foot platform and 54-inch padded shooting rail. A rotating seat provides for a steady shot in any direction. A 20x15 inch padded seat and 18x12 inch tall backrest seal the deal for all-day comfort. The tripod weighs in at 165 pounds and is rated to withstand up to 300 pounds.