by
posted on December 17, 2012
Support NRA American Hunter
DONATE
Can't think of what to get that special shooter/hunter/outdoorsman on your list? You know, the man, woman or kid who already appears to have it all? Take our word for it, anyone who likes to pull a trigger, bag a game animal and/or be prepared for the worst will like getting a knife … er, another knife. You can never have too many blades, and so here are some last-minute cues to can't-miss gifts.
Gallery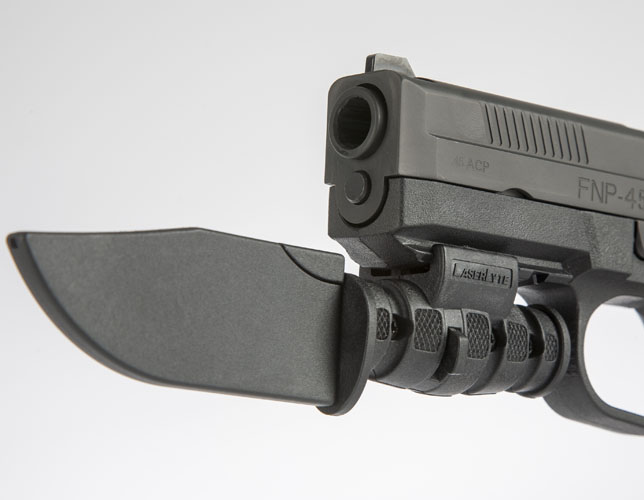 LaserLyte Warthog PB1
You may never need it, but there's no denying the cool factor of a pistol bayonet. And if you do find yourself is dire straits, why not be prepared with the no-nonsense PB1?  Leading laser-sight maker LaserLyte devised a secure mount that grips standard handgun rails and slides off easily with the press of two buttons. The razor-sharp Ka-Bar blade is coated in durable Teflon and comes with a protective sheath. Not your pop's pistol accessory—so what? $21.95; LaserLyte.com.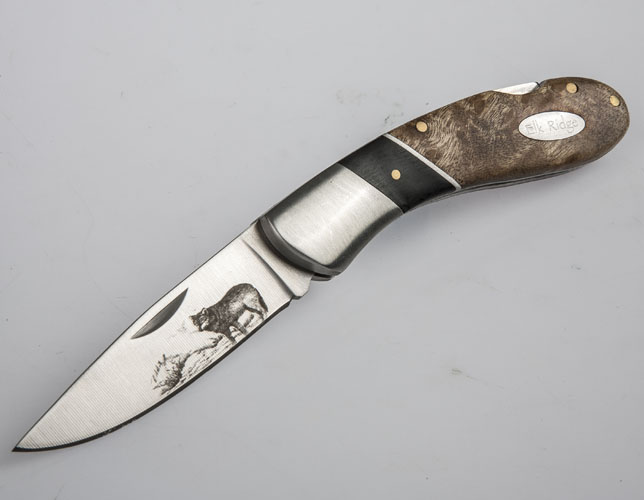 Elk Ridge Lockback
Don't be fooled by the rock-bottom pricing, this 4" (closed) pocketknife is worth carrying. The sturdy lockback offers a 3" drop point blade of 440 steel (not the best, but relatively durable and able to hold an edge). The handle is attractive, shaped from maple burl with contrasting ebony accents next to the matte-steel bolster. The series is decorated with wolf, eagle or deer graphic on the blade, and while that may wear, the knife will keep on working. About $8 to $15; search online for retailers.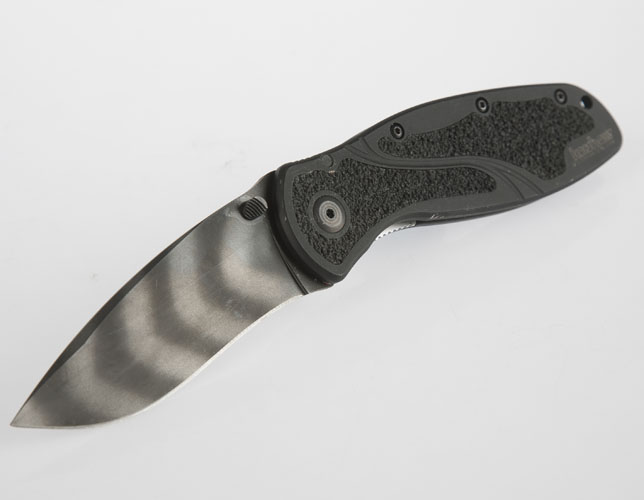 Kershaw Tiger-Stripe Blur from Cabela's
The popular, lightweight Blur folder boasts an all-new look in this Cabela's exclusive. The blade's black/grey stripe effect grabs attention, and thanks to an ionized metal-coating process, it won't scratch or wear. One-handed operation is lightning-fast thanks to Kershaw's ambidextrous SpeedSafe assisted opening. With a 3.38" high-performance Sandvik steel blade, this Blur makes the cut. $120; Cabelas.com.
Buck Travelmate Kit
Combine a wide-bladed knife with a detachable utility tool and you've got a versatile mealtime utensil for camping, backpacking…anywhere you need to pack light and smart. The blade is edged and partly serrated for use as a serious cutter, but is also flexible for spreading peanut butter and other soft foods. The Travelmate's molded sheath is antimicrobial, and holds the mini stainless steel tool that serves as a fork, bottle/can opener, screwdriver and scraper. Made at Buck's Idaho knifeworks, the entire Kit weighs just 5.4 oz. kit and is dishwasher safe and. $75; BuckKnives.com.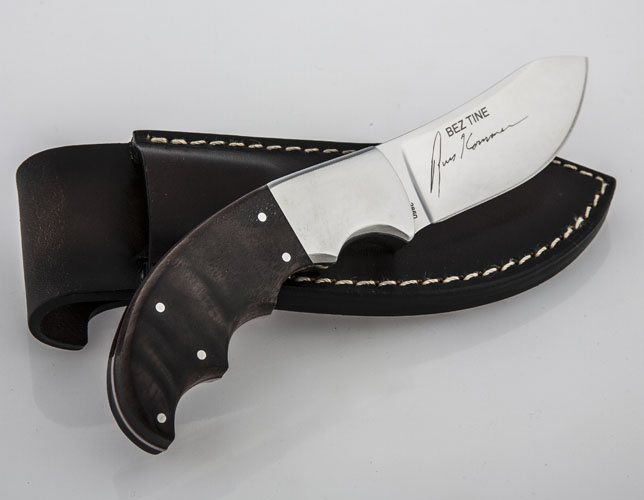 CRKT Bez Tine
Big jobs call for a hefty knife like the Bez Tine from Columbia River Knife & Tool. This classic fixed-blade skinner sports a thick 3.25" high-carbon stainless steel blade polished to a gleaming mirror finish. In his characteristic style, designer Russ Kommer outfitted the knife with a matching massive bolster and dressed it up with walnut scales featuring deep finger grooves for a sure grip no matter what conditions. But at just 6.8 ozs., and supplied with a sturdy leather sheath, this champ is ready for the most grueling high-country hunts. $150; CRKT.com.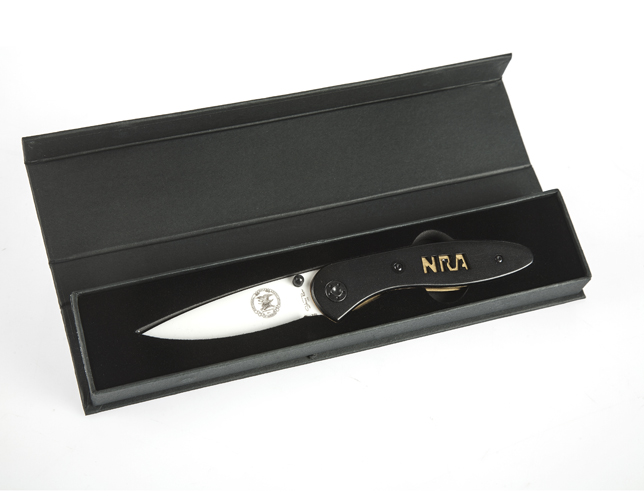 NRA Stone River Ceramic Switchback
Pair a ceramic blade with a titanium handle and you get one of the sharpest and lightest knives ever. NRA's Stone River Ceramic Switchback weighs just 5 oz., and its zirconium oxide blade is amazingly sharp, holds an edge and is adverse to rust. The gray titanium handle can take a beating, and the knife's Damascus laser finish gives it a distinctive style. This locking folder comes with NRA symbols etched on the handle and clip, and is packaged in a presentation box. $69.95;  NRAstore.com.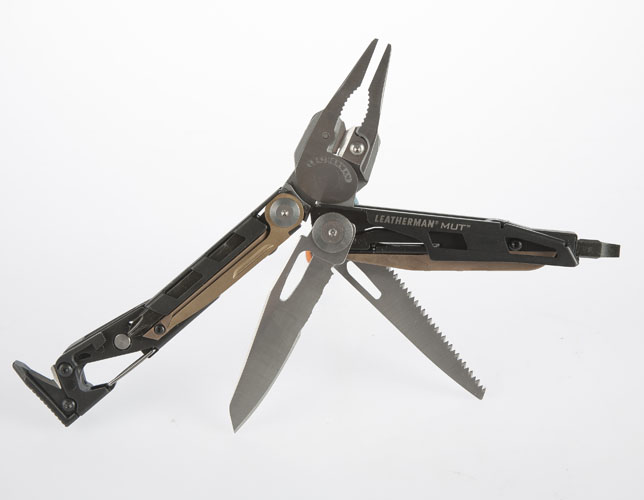 Leatherman MUT
True to its name, the MUT—Military Utility Tool—was designed primarily as tactical and practical gadget for military and LE shooters. Incorporating 18 tools and a 3-piece bit set, this virtual toolbox specializes in AR maintenance, including: optic mounting/adjustment; bolt override malfunctions; firing pin takedown and removal; carbon removal from the bolt assembly; and cleaning rod and brush attachment. Also, there are pliers, a saw, wire and hook cutters and a 3" blade, all of which fold into a neat 5" unit. About $150; Leatherman.com.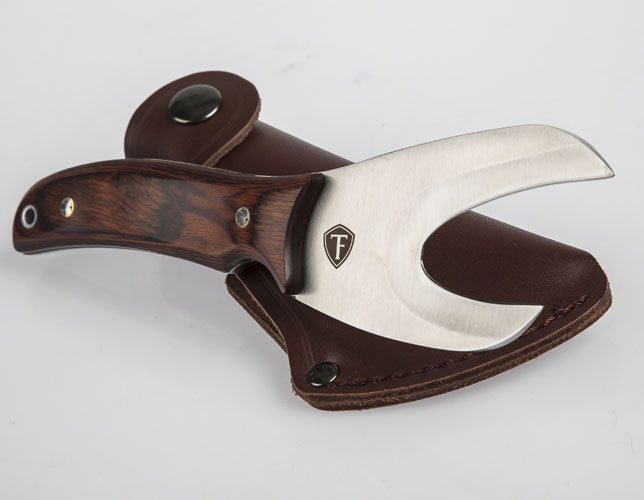 FieldTorq Viscerator
Wisconsin bladesmith Chris Stuckel calls his invention "the world's best field-dressing knife." Its U-shaped blade has no out-facing edges, and so is even less likely to puncture viscera than the traditional gut hook. The same is true when splitting a deer or elk's pelvis and sternum, where the two-sided blade works like a lever to apply great torque, but has no sharp points to make a mess of things. The knife's palm-filling laminate handle gives the user excellent control. This patented design not only makes field dressing faster and easier, it marks a major step in user safety. About $60; FieldTorqKnives.com.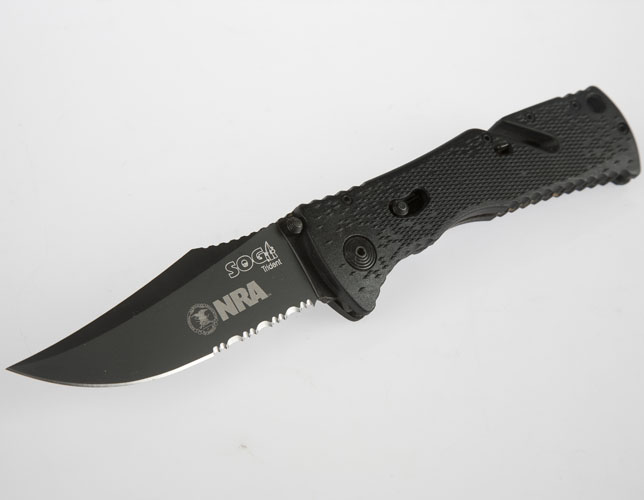 NRA SOG Trident
A knife chosen for Army Rangers serving in Iraq is now offered with a special NRA logo treatment. Just give a nudge, and the Trident's 3.75" assisted, heat-treated blade snaps open. The handle has a coarse surface in critical grip areas and the bayonet-style clip switches easily for right/left hand carry. Assembled in the USA, the Trident locks up stronger, releases easier, and is available in black or digital camo. $89.95; NRAstore.com.