Support NRA American Hunter
DONATE
If you're going to build a storefront, it's not a bad idea to make sure you stand out from the crowd. That said, Bass Pro Shops has taken "go big or go home" to a whole new level. The venerable outdoor gear chain has officially opened its new pyramid-shaped superstore in Memphis, Tenn., known simply as "Bass Pro Shops at the Pyramid."
Designed to be just as much—if not more—of a destination experience as a store, the new location features a wilderness hotel called Big Cypress Lodge, just shy of 600,000 gallons of water features, a cypress swamp with 100-foot-tall trees, an interactive Waterfowling Heritage Center (sponsored by Ducks Unlimited) and The Lookout, a glass-floored observation deck at the top of the whopping 32-story steel Pyramid.
Suffice to say, it's an unprecedented new addition to the company's family of locations.
"With an array of retail, educational and fun attractions for guests of all ages, Bass Pro Shops at the Pyramid is much more than a store; it's one of the most dynamic, captivating retail adventures in the world," said Bass Pro Shops founder Johnny Morris. "The Pyramid is a truly must-see destination for outdoor lovers and families from across the country."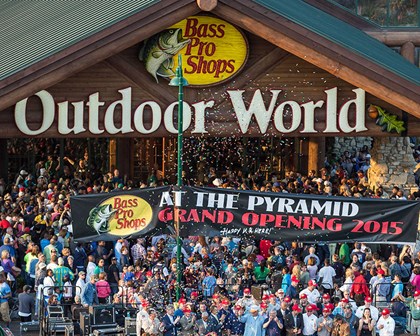 The building's interior was completely redesigned prior to its grand re-opening. Upon stepping inside the 535,000-square-foot space, guests are dropped off in a giant cypress swamp environment with ponds, 100-foot cypress trees, an 84,000-gallon alligator habitat and underwater ecosystems. A nautical-themed restaurant and bar—Uncle Buck's Fishbowl & Grill—is home to a saltwater aquarium and 13-lane ocean-themed bowling alley. Big Cypress Lodge, a 103-room wilderness hotel inside Bass Pro Shops at the Pyramid, is the first hotel inside any Bass Pro Shops location. The Pyramid also offers direct access to the Mississippi River for local, regional and national fishing tournaments.
Another signature experience inside the Pyramid is the new Ducks Unlimited Waterfowling Heritage Center, an interactive wetlands education museum showcasing the history of waterfowling and wetlands conservation.
If, somehow, you can find the time, you can actually doing a little shopping, too.
Standing a whopping 32 stories tall along the banks of the Mississippi River, the Pyramid is an icon of the Memphis skyline. It originally opened as a sports and entertainment complex in 1991. It hosted sporting events and concerts until the early 2000s, before ultimately going stagnant until the City of Memphis contact Bass Pro Shops about potentially infusing new life into the building.
"Throughout the entire process it has been inspiring to work alongside Johnny Morris," said Memphis Mayor A.C. Wharton. "Johnny is kinda like the Walt Disney of retail as far as creating exciting customer experiences. It's been fun to work with Johnny and the remarkable Bass Pro Shops team to make sure that every detail, from the signature décor of the Big Cypress Lodge to the alligator pond, will create as unique experience that will launch the Pyramid as a national tourist destination."
For more information, go to BassProShops.com.