by
posted on May 17, 2016
Support NRA American Hunter
DONATE
There we sat, on a blistering July afternoon, in the rugged hills of West Virginia, staring at steel targets nearly 300 yards away, scarcely visible to the naked eye, thanks to the thick brush and the shimmer so graciously provided by the mid-summer heat. I'd hesitate to call us a ragtag group—too many negative connotations, there—but we were, without a doubt, a hodgepodge. Battling the heat alongside instructors, organizers and me, a run-of-the-mill outdoor writer, were a dozen or so fellow students from all walks of life. Some were there to train for upcoming endeavors, some were looking to grow more comfortable with a rifle, and others were simply looking for a weekend away. While I played spotter for a retiree, a lawyer to our left was conducting a symphony of singing steel. Beyond him, a judge watched his two sons send bullets downrange with pride, and still farther down the line sat a father/son duo that hadn't so much as picked up a rifle prior to attending the course. I think hodgepodge is fair.

We'd convened at the Peacemaker National Training Center (PNTC) in Glengary, W.Va., to learn a bit more about basic riflecraft. That's not entirely uncommon, given what the folks at Peacemaker do for a living. What made this weekend unique, however, was its organizer: NRA Outdoors. Suffice to say, if you're an NRA member you've heard of the program. It was conceived to help connect NRA members with some of the finest outfitters and guides in the outdoor industry. And it has done so with gusto since its inception. What some folks haven't yet realized, though, is that NRA Outdoors is no longer just your portal to outfitters. Training courses are on the docket now, too. The one I attended, the Practical Hunting Rifleman School, is but one of the numerous initiatives launched by the program in the last 12 months.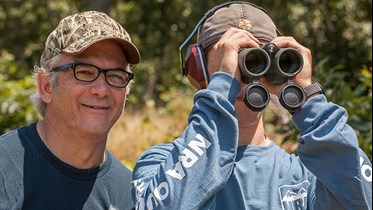 The schools serve as part of the greater NRA Outdoors initiative—that being to remain the go-to source for NRA members seeking adventure and new experiences. Never fear: You're still able to book world-class hunting and fishing trips through the NRA Outdoors portal—you can just do a lot more now, too. The schools, which began with a single exploratory course a couple years ago, have seen a rapid expansion in the past 12 months. Availability has experienced a bit of ebb and flow as NRA Outdoors has grown, but as this story goes to print the following seven courses are offered: Long Range School, Practical Hunting Rifleman School, Precision Long Range School, Wilderness Survival School, 3-Gun Introduction School, Tactical Carbine School and Defensive Handgun Academy. Each calls Peacemaker's facilities home, but the Long Range School also has locations in Utah and Texas. Current courses, you'll note, heavily favor rifles and handguns, but don't worry—shotgun schools are in the works.
What potential attendees can expect is what NRA Outdoors has delivered since its inception: Access to some of the highest-quality facilities and professionals in the business. While at PNTC, I benefitted from the tutelage of Cole McCullough and his veteran staff of NRA-certified range safety officers and instructors. The facility is the largest shooting sports complex on the East Coast and hosts more firearm competitions than any other range in the nation, short of Camp Perry. With 17 live-fire ranges and a selection of classroom settings, it effectively offers unmatched amenities. 
Not to be overshadowed, also on the rise are the program's Hosted Hunting Adventures. These events are presented directly by NRA Outdoors and offer members the chance to join their peers from throughout the country on a hosted, guided hunt. The adventures offer no shortage of variety—in November members will convene in Montana for a mule deer hunt that also sports an opportunity to win a new Weatherby rifle, and in December Benelli will join NRA Outdoors in hosting a combination quail/waterfowl hunt in Texas. The trips are available exclusively to NRA members through the NRA Outdoors portal. Alongside NRA, the programs are sponsored by some of the most respected names in the industry, including Weatherby, Swarovski, Benelli, SIG Sauer and Trijicon. Students will become familiar with top-notch gear from Nightforce Optics, Armalite, Huskemaw, Kestrel Meters and Vortex Optics, too.
As you might have garnered, students of all skill levels are invited to any of the respective parties. Remember that lawyer I mentioned? His name's Ted Browoski Jr., and like me he journeyed to PNTC with a bevy of big-game hunts already under his belt. What he sought was a warm-up for a Dall sheep hunt in Alaska. And in the hills of West Virginia he grew comfortable making shots as far as 500 yards, a range at which he wanted to be proficient before going on the hunt. A few months down the line, he killed his ram, and wrote about it for American Hunter (Member's Hunt, December '15).
No, not everyone who attends an NRA Outdoors event will kill a trophy sheep—but they'll be given an opportunity to make the most of world-class training and facilities just the same as the folks who will. It's hard to argue with that.