Support NRA American Hunter
DONATE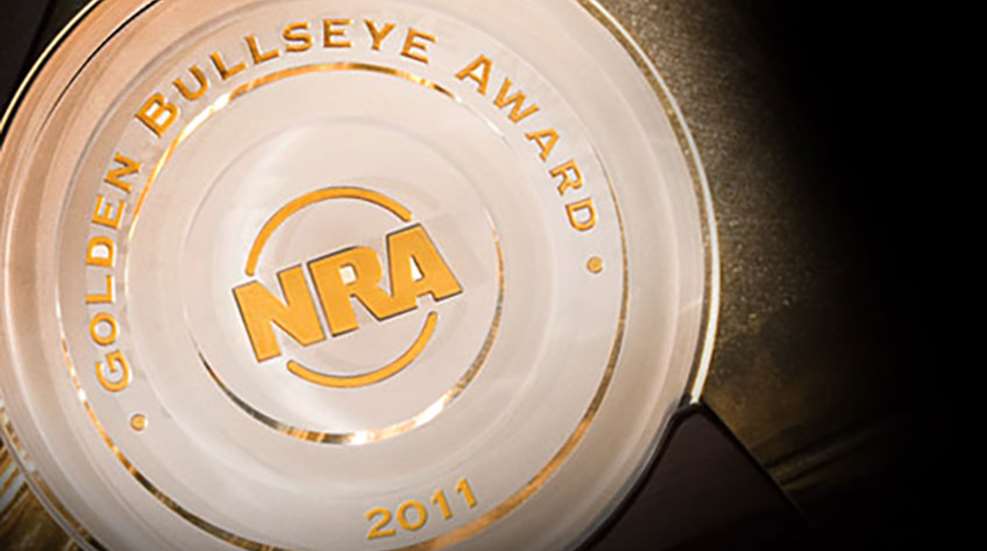 Of the numerous, and varied, duties of American Hunter's editors, few are as difficult as reviewing the past year's issues and selecting the firearms, ammunition product and accessory most deserving of a much-coveted American Hunter Golden Bullseye Award.
"With hundreds of shooting and hunting related products introduced each year and covered in our magazines, it is a challenge to review and select the firearms, ammunition products and related accessories most worthy of the Golden Bullseye Award," said Joe H. Graham, Executive Director of NRA Publications. "This much-coveted award, now in its ninth year, is a symbol of excellence, innovation and quality in firearms, accessories and related equipment. Our congratulations to the winners."
NRA Publications will present its annual Golden Bullseye Awards and Golden Bullseye Pioneer Award at an invitation-only breakfast during the 2011 NRA Annual Meetings & Exhibits in Pittsburgh, Pa.
The following products, and their representative manufacturers, received this year's American Hunter Golden Bullseye Awards.
Rifle of the Year: Thompson/Center Venture
After the introduction of its Icon rifle in 2007, Thompson/Center Arms realized that to capture the attention of a larger market segment, a mid-price-point bolt-action rifle was needed. As such, the company took lessons learned from the Icon manufacturing project and many of the rifle's key features and applied them to the lower-cost Venture, which was unveiled in 2009. The result is a rifle that is among the best deals available, as it compromises a few traits of its predecessor, yet boasts a more attractive price.
Shotgun of the Year: Savage 220 F
The Savage 220 F is the evolution of the long-established 12-gauge Savage 210 bolt gun, which was introduced in the mid-1990s. This gun features the company's renowned, adjustable uniquely two-stage Accu-Trigger that would have made the 210 a better gun. The 220 also utilizes Savage's vaunted 110 rifle action. Some say the Savage 220 F may be the most accurate slug gun ever built.
Ammunition Product of the Year: Federal Prairie Storm
In 2007 Federal changed the rules with steel shot when the company introduced Black Cloud ammo. The concept was to fix the pattern problems that are associated with steel shot. Steel tends to clump in the middle and leave the outer fringes of the pattern skimpy. So the Federal engineers designed a new pellet with a belt they call "FlightStopper" (FS). The different aerodynamics of this pellet design caused it to fly differently than normal steel pellets and to migrate out in the pattern to fill the holes in the edges. So, of course, Federal started looking at other areas where this technology could be applied. The result is this year's introduction of Prairie Storm upland game ammo.

Optic of the Year: Redfield Revolution Riflescopes
The Redfield Rifle Scope Company was founded by John Hill Redfield, an ingenious man whose story is not unlike those of John Browning or Samuel Colt or Bill Ruger. He died more than 65 years ago, but Redfield products have been carried by American hunters for generations. Anyone loyal to the brand he created will be happy to hear that, beginning this month, they can once again buy new, American-made Redfield riflescopes. That's because in 2008 Leupold & Stevens, the venerable American sports optics company headquartered in Oregon, purchased the rights to Redfield, then planned and executed a renaissance of the once great American brand.
Gear of the Year: Browning Full Curl Wool 3-in-1 Parka
Browning has taken wool to an even higher level with Full Curl Wool, and this wonder fabric has never been more comfortable and effective against the elements. The 3-in-1 Parka relies upon another of nature's wonders, down, to provide insulation in the removable liner. The rugged, time-honored performance of wool makes new Full Curl ideal for nearly all conditions, terrains and activity levels.
Vehicle of the Year: 2011 Chevrolet Silverado 2500 HD 4x4 Duramax Diesel
If high-capacity towing and the ability to carry a heavy payload are necessities, a diesel-powered pickup is the way to go for hunters. And the 2011 Chevrolet Silverado 2500 HD wins the war on power, torque and towing capability. The new 6.6-liter Duramax V8 diesel under its hood tops the competition with 397 hp and a whopping 765 lb.-ft. of torque at a low 1,600 rpm (up from 365 hp and 660 lb.-ft. on 2010 models).
Pioneer Award: Melvin Forbes, Founder and President New Ultra Light Arms
As a young West Virginia master gunsmith, Forbes had a vision of a hunting rifle weighing less than 6 pounds, including scope and mounts. It also had to be consistently reliable and accurate. Forbes introduced his masterpiece at the 1985 SHOT Show and the rest is history. His revolutionary approach to reducing weight from the bolt-action rifle without sacrificing accuracy and dependability, created a template that has been copied by many. For a quarter-century, hunters have banked on superb performance in easy-carry rifles from New Ultra Light Arms.