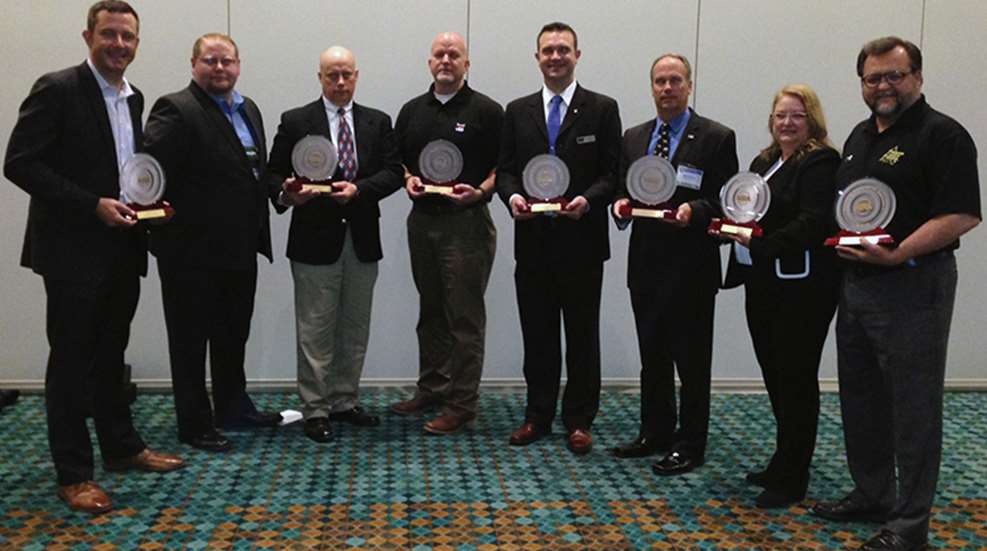 "Best in class"—it is the standard by which all others are measured. And clearly, our "best in class" is a standard companies across the outdoor industry seek to attain.
As the NRA Golden Bullseye program matures, increasingly I am asked, "How can my company win a Golden Bullseye? How can my product be nominated?"
The answer to the first question is, "Build a product that meets or exceeds expectations on innovation and quality, and provide hunters with value for their money." The answer to the second question is, "You can't."
You see, we'll do the nominating; but trust me, we don't miss much. The American Hunter stable of in-house editors, field editors and freelance contributors annually travels the globe, using and abusing the best and worst firearms, optics ammo and gear. We call it like we see it. And if we don't like what we see, a product is not nominated.
From there, the NRA Golden Bullseye committee meets and considers stringent criteria before voting up or down on a product. The committee consists of a cross-section of personnel that represents decades of experience across many arenas of expertise. It doesn't miss much, either. If a product wins a Golden Bullseye, it indeed is "best-in-class."
And so it is with great honor that American Hunter again recognizes innovative products that clearly rise above the rest.
Rifle of the Year: DPMS GII Hunter
Firearms maker DPMS is a leader in large-receiver, .308 Winchester-based AR hunting rifles, so the company's introduction of its GII series in 2014 was no surprise to us. What was surprising was the rifle's svelte lines. This thing handles well, unlike many ARs in the AR-10 category. That's good news for hunters, as the GII family also includes a Hunter model.
Though it's most certainly in the AR-10 family, the GII is almost as small and light as an AR-15, due mainly to a redesigned upper and lower and a new bolt carrier. The GII sports a 20-inch barrel, low-profile gas block and a free-floating, carbon-fiber fore-end. The integral rail atop the flattop upper is ready for an optic. Other features include an ambidextrous safety, Hogue OverMolded rubber grip, Magpul MOE Rifle fixed buttstock and two-stage trigger. Another important feature: Field Editor Bryce M. Towsley discovered outstanding accuracy and dependability while firing his test unit more than 1,000 times.
Additionally, hunters will be happy to know that in addition to .308 Winchester, the Hunter model is chambered for .243 Winchester, .260 Remington and .338 Federal.
Now, returning troops used to carrying our military's M16s can hunt big game with a platform to which they are accustomed in calibers suitable for deer, elk and even moose. Clearly, DPMS recognized a trend, and produced a trend-setter. So this trend-setter is American Hunter's Rifle of the Year.
Shotgun of the Year: Benelli Ethos
NRA Editorial Director John Zent wrote, "The Ethos has enough modifications to the inertia-driven, rotating-bolt mechanism to make Super Black Eagle diehards want to send in their guns for retrofitting." That's high praise, indeed, for the Super Black Eagle, as diehard waterfowlers and turkey hunters know, set a high bar for performance—and it was produced by Benelli, the same company that now produces the Ethos.
Zent's writing highlighted innovation that includes redesigned bolt linkage that runs faster than other Benelli actions to cycle even low-power 12-gauge, 3-inch loads with aplomb. Hunters, he noted, should appreciate the fact the Ethos is easier to load and unload than earlier Benelli semi-autos thanks to a beveled port, redesigned carrier parts and an easy-to-reach shell-release button. Its polymer Progressive Comfort system, hidden within the buttstock, contains interlocking teeth that flex under force like dovetailed springs to self-adjust to recoil. In fact they weigh less than the wood they displace—and they don't shift balance rearward. Another beneficial feature: easy-swap buttpads to help anyone to find his or her proper length of pull.
With all this going for it plus racy good looks and accuracy and dependability on par with any competition, it's hard to find anything to dislike on the Ethos. It is American Hunter's Shotgun of the Year.
Ammo of the Year: .26 Nosler
It took "considerable nerve" to introduce something "intended to be the ultimate small-bore, long-range hunting cartridge," wrote AH contributor Terry Wieland of the .26 Nosler. After all, no 6.5mm cartridge has enjoyed even modest success in the States (see: .256 Newton and .264 Winchester Magnum).
However, the .264 Win. Mag. failed mainly due to a combination of unsuitable bullets and inadequate powders, noted Wieland.
Today, the .26 Nosler enters a market with a variety of ultra-slow-burning powders widely available and bullet construction unheard of decades ago. It's a modern, high-capacity rimless cartridge that measures 3.34 inches long to fit standard-length actions. Befitting its bore size, it features long bullets that buck wind and maintain velocity at long range. One of Nosler's factory loads is a 140-grain Accubond. Its other is an entirely new bullet: a 129-grain AccuBond Long Range. With them, the company boasts "fast, flat and dead-on to 415 yards."
If the .26 Nosler doesn't become the 6.5mm/.264 cartridge that finally gains popularity stateside, nothing will. We believe it will, and so it is American Hunter's Ammunition Product of the Year.
Optic of the Year: Bushnell Fusion 1 Mile ARC
Ignore the bulk of Bushnell's Fusion 1 Mile ARC rangefinding binocular—that's a tradeoff necessitated by cramming two capabilities into one instrument. "If you believe pretty is as pretty does, however, the Fusion is downright gorgeous," wrote Field Editor Ron Spomer in 2014.
Spomer saw sharpness at the center of the binocular's field of view extends outward as far as can be expected of most upper-echelon units. He noted a bright LED produces readouts in half a second on targets from 15 yards to a whopping 1,843 yards. Bushnell's Angle Range Compensation (ARC) switches between rifle, bow, scan, bullseye and brush. It's user-adjustable to match a variety of rifle trajectory groups, and holdover solutions are displayed in inches, MOA or mils. Precision construction is mated to top-tier ingredients including phase-coated Bak4 roof prisms with 60-layer mirror coatings, multiple anti-reflection coatings on air-to-glass lens surfaces and Bushnell's Rainguard HD coating.
In his final analysis, Spomer lauded Bushnell for combining good glass and rangefinding capability without compromising either function in a unit that costs less than $2,000. Good job, Bushnell. Your Fusion 1 Mile ARC rangefinding binocular is American Hunter's Optic of the Year.
Gear of the Year: Huntworth Touch Tip Ranger Glove
Sometimes, it's the little things that catch our eye. One such item is gloves: I never can seem to find the right pair for a hunt, and as a result, I usually travel with three pairs or more in my duffel bag.
Huntworth's Ranger gloves are just the ticket for much of the hunting we do throughout the year. For starters, they provide solid base-layer insulation and water repellency. They supply plenty of dexterity, too, thanks to a honeycomb fleece lining, stretch-fleece construction and a gusset system that provides full range of motion. Purchase? They've got that, too. Palms are coated with high-tack silicone for excellent purchase that isn't too sticky and never wears thin so hunters can grip a gun or bow or treestand steps with confidence. Another benefit: The Touch Tip model is fitted with conductive index fingers and thumbs to enable smartphone operation without exposing digits to the elements.
Fit is excellent, says Editorial Director John Zent, who's used a pair of Rangers throughout the past year, including during a mountain goat hunt. "I've been impressed with them," he says. "At first glance, I liked the feel of the Rangers' high-tack palms and Touch Tip fingers but worried about durability. They surprised me: They survived my goat hunt and are still going strong."
Strong: That's not usually the first word that comes to mind when talking about light-duty gloves. But Huntworth Rangers are just that. And they're American Hunter's Gear of the Year.
Vehicle of the Year: Chevrolet Colorado
The all-new Chevrolet Colorado is aimed squarely at urban/suburban dwellers who need a pickup but because of price or fuel mileage don't want a full-size unit. That pretty much sums up a large swath of American Hunter's reading public, so we owed the truck a close look.
The Colorado's 3.6L V-6 engine is a solid upgrade over its previous five-cylinder unit, delivering a combined city/highway fuel mileage of 20 mpg and dishing out 305 hp and 269 lb.-ft. of torque doing it. Performance upgrades on the truck hunters will want include an automatically locking rear differential, downhill descent control and electronic trailer control.
Go off-road in 4WD, tow your ATV, duck boat or camper with ease then take the vehicle downtown—the Colorado acts like a truck, except when not needed. We had no problem weaving it in and out of traffic or parking it in tight spaces in suburbia. But one look across the hood from the driver's seat proves this is no car. The view is expansive. Drivers feel like they're in control of something, and indeed they are.
Inside, creature comforts make the Colorado feel like a luxury sedan. A central touch screen with Wi-Fi, satellite radio, navigation, weather and traffic advice and OnStar—it's all there at your fingertips. DC connections and USB ports make for easy charging of most devices even hunters take afield these days. The truck is even a hotspot: Within 150 feet of it your phone or laptop never lacks a connection.
We think hunters could get used to life in a Colorado, which is why it's American Hunter's Vehicle of the Year.
Women's Innovation Product of the Year: Hunter Safety System Ladies Contour Vest-and-Harness System
Hunter Safety System (HSS) answered the call for safe and innovative products with its new-for-2014 Ladies Contour Vest-and-Harness System because it understands women are the fastest-growing segment of hunters. As someone who scampers up trees on a regular basis, Senior Editor Karen Mehall Phillips field-tested it and immediately began blogging to tout its features.
Designed to fit a woman's form, the vest has three black Right-Fit stretch panels that trim bulk regardless of clothing layers to offer a contoured fit. HSS eliminated a bust strap in favor of a zippered-vest design—the "safety" zipper releases if pressured in any direction—unlike a standard zipper. And in the event of a fall, it will not hinder a woman's neckline. Patented adjustment features keep the vest snug and comfortable while allowing hunters to remain mobile on stand. At 2.5 pounds, it feels like a lightweight shirt. HSS even included stylish teal-colored accent lines in front of the black panels to create the image of "curves"—nice touch, but even that was no afterthought as HSS actually surveyed female hunters on color preference.
The vest sports a sliding, metal adjustment bar between fabric layers for adjusting the internal straps before adjusting and securing the leg straps. A Suspension Relief/Deer Drag strap featur9es a shock-absorbing tether sewn using "break-away" stitches to cushion the impact of a sudden stop in case of a fall. Users adjust the strap to fit and keep it handy in one of two lined pockets. In the event of a fall, users simply step into it to maintain circulation.
An included HSS Lifeline keeps users connected to the tree whether climbing up or down, which is ideal considering hunters often move in low-light conditions. Also included is a tree strap, lineman's climbing strap and an instructional DVD. HSS thought of everything on this one. So we think the Ladies Contour Vest-and-Harness System is an ideal choice as American Hunter's first-ever Women's Innovation Product of the Year.