by
posted on January 31, 2014
Support NRA American Hunter
DONATE
Don't get too caught up in their racy looks and engineering tweaks to the action that revolutionized shotgunning. New models from Benelli are platforms for emerging technology, leaders at solving wingshooters' problems and smart-manufacturing values that keep costs at what the market will bear.
Wait 'til you see the Ethos, the newest semi-auto from the Italian-based trendsetter. Oh, it has the racy looks and enough modifications to the inertia-driven, rotating-bolt mechanism to make Super Black Eagle (SBE) diehards want to send in their guns for retrofitting. But cutting edge doesn't start there.
Instead, wait 'til you see what Benelli has conjured up now to thwart recoil. The company previously tackled that nemesis with its ComfortTech treatment in SBE and Vinci models. It consists of a series of rubber chevrons strategically embedded to allow stocks to flex under force, and thus absorb more that 40 percent of the thump headed the shooter's way. It works great, and while the appearance is tolerable with black synthetic, ComfortTech isn't compatible with wood and would absolutely ruin the looks of a fine walnut stock.
But that's not the case with the equally effective Progressive Comfort system, which is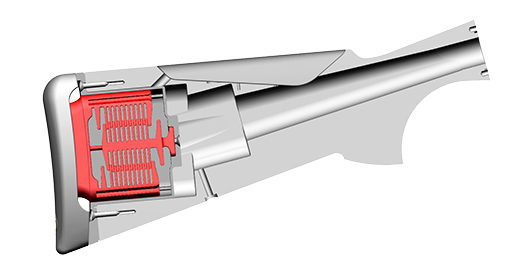 tucked out of view within a hollowed portion of buttstock. It isn't the only stock-contained recoil tamer, but is way different than others we've seen. The sealed unit contains what resembles two opposing sets of combs with long, coarse, interlocking teeth that flex under force. The inner teeth are anchored to the stock itself, while the outside sets connect to the buttpad, and as the pad compresses inward, the teeth act as dovetailed leaf springs. The resistance multiplies as setback bends each tooth independently, so that the system self-adjusts to the amount of recoil.
Alternate onboard recoil reducers utilize stout metal springs, shock absorbers or mercury units, thus adding a half-pound to a pound to the buttstock. The polymer Progressive Comfort weighs a bit less than the wood it displaces, and doesn't shift the balance rearward like the others. In fact the walnut-stocked Ethos weighs just 6½ pounds, which makes for friendly carry on upland beats, but unlike other lightweights, won't pound you when the time comes to shoot high-brass pheasant or waterfowl loads or during high-volume outings. And so take it from one who is kind of a specialist in second and third shots (not by design), Progressive Comfort makes it much easier to keep your head down and eyes on the birds.
The Ethos is notably easier to load and unload than earlier Benelli autoloaders. Shells slip right into the magazine thanks to the beveled loading port and redesigned carrier parts, and the new gun's bolt release—a handy toggle mounted on the right receiver wall—no longer requires a jeweler's fine motor skills. The same holds true for the button that releases shells from the magazine, now in easy reach at the right front of the trigger guard.
Easy-swap buttpads provide owners great length of pull flexibility, from 13¾ to a full 15 inches, and the featherweight carbon-fiber rib and fiber-optic front sight can both be changed without tools. More versatility stems from a redesigned bolt linkage, which runs faster than other Benelli actions and cycles even with low-power 7/8-ounce loads.
To flaunt all the upgrades, Benelli created a new design—most notably by slimming the fore-end—that they insist provides excellent ergonomic control. If your taste is open to complementary but non-classic angles repeated in the trigger guard, sculpted receiver and ejection port, then you may agree with my judgment that this is the handsomest Benelli since the original Montefeltro. So far two versions are offered: one with a dressy, coin-finished, lightly engraved receiver; the other a semi-matte-receiver "work" gun.
While these first-edition 12-gauge Ethoses aren't literally do-everything guns, I found our test models pretty darn versatile. They proved equally adept at trailing pointers to released pheasants and chukars in the hilly Italian countryside, busting 5-stand clays and intercepting doves in Virginia cornfields. For duck hunting my lone reservation was dinging the comely walnut stock (didn't happen), but I found the sleek newcomer is still a little more gun than I want to lug around for a mountain grouse. Mud-bug waterfowlers will want synthetic stocks, bobwhite fanciers will clamor for sub-gauges, and unless Benelli makes a 32-inch-barrel/upright-rib version, an Ethos probably won't win Olympic trap gold in Rio de Janeiro.
Given Benelli's history of aggressive product development, however, subsequent model variants could be eye-openers. It stands to reason that the Ethos' innovative technology and design modifications will appeal across the shotgunning spectrum. What multi-tasking wingshooter can't think of how he could benefit from a shotgun that's light, easy to operate, doesn't kick so hard and looks absolutely great?
For starters, let's just say the Ethos is classy enough to run with British best, accurate enough to compete with top-rank sporting models and yet every bit as rugged as any "gun valley" workhorse. Shotgun hunters seeking that one special gun to meet many challenges should hold off until they check out the Ethos.
Benelli ETHOS
Type: inertia-driven, autoloading shotgun
Gauge/Chamber: 1 2/3"; 4+1 capacity; recommended load 7/8-oz.
Barrel: 26" and 28", vent rib
Trigger: single-stage
Sights: carbon fiber rib w/interchangable fiber-optic front bar sight
Safety: cross-bolt
Stock: AA walnut w/Progressive Comfort recoil reducer, shim kit to adjust drop and cast; LOP 14 3/8"; drop at heel 2 1/4"; drop at comb 1 1/2"
Overall Length: 47 1/2" and 49 1/2"
Weight: 61/2 lbs.
Metal Finish: anodized or nickel-plated receiver, blued barrel
Accessories: 5 Crio® chokes (C,IC,M,IM,F)
MSRP: $1,999 (black anodized receiver), $2,199 (nickel-plated engraved receiver)