Support NRA American Hunter
DONATE
It was a simple plan, but like any plan it relied on all parties being informed. In this case no one told the elk. No one told them they were supposed to move more slowly through this alfalfa field, that they were supposed to hop the fence to the neighboring property only after first light. It was the only way we could accurately identify the herd bull then line up a shot on the monarch.
Now, as we stared at an empty field only an hour or so after legal shooting light first shined from the east, Fred Eichler used geography to map our strategy.
"The elk move across my field from west-to-east," he said. "Once they get to that corner," he said, pointing southeast, "they hop the fence and go lay up on the neighbor's ranch until evening, when they come back this way. In the evenings, we'll set up on the other side, where we can see them coming this way from that hill," he said, pointing again to the southeast. "From there, shots are closer than they will be if we stay here in the evening. I've been keeping an eye on them all fall. There's a good bull among them—in fact there's more than one good bull. They usually hang around this field longer after the sun rises, but not this morning, obviously."
I couldn't disagree with the plan, especially as I cast an eye toward snowcapped mountains miles to our west. Normally, a Colorado elk hunt—any elk hunt, really—means entering such hills. I don't mind such excursions. Elk hunting does, after all, expose us to perhaps the most beautiful landscapes of America. This was more like deer hunting, what with the patterning of the critters and the agriculture all around us. I could get used to it.
The good news was it was only day one of a five-day hunt. We'd have plenty more opportunities to see this plan through, to hunt elk like deer from this field at dawn or from yonder hill at dusk. But the plan was in fact a one-shot deal. We needed elk to cooperate. If they moved too quickly at dawn, they moved too slowly at dusk—they appeared well before dark but they took forever to return to our side of the fence before legal shooting light faded.
Fortunately, these 2,500 acres of southeast Colorado supplied plenty of other entertainment for me and Neil Davies, marketing director of Hornady Manufacturing, who'd enticed me to come here to wring out his company's new brainchild, the .300 Precision Rifle Cartridge (PRC). We were hunting with Fred and Michele Eichler, who for years have lived at and run Fulldraw Outfitters in Aguilar, Colo., with their kids. Not long ago they purchased this 2,500-acre beauty of a spread, less than an hour east of their home base; now they have Fulldraw West and Fulldraw East.
To say this eastern spread never failed to disappoint is putting it mildly.
In only a week I saw most game one could find in Colorado—elk, whitetails, mule deer, pronghorns, quail, pheasants, waterfowl, coyotes, even a bobcat. I didn't see a black bear but Fred described at least one bruin that made frequent appearances at his neighbor's ("She leaves pies in the window to cool—of course bears are attracted!"); and I didn't see a mountain lion because, well … I've never seen a mountain lion.
No wonder Fred and Michele were attracted to this place even though their outfitting business was doing just fine with the western spread only miles away.
What's more, they explained, one field on the ranch must've been the site hundreds of years ago of a Native American encampment. Their family enjoyed scouring it to discover artifacts, especially right after it was plowed. There they'd found in the past arrowheads, spear points, manos (rolling pins), metates (mealing stones) and more; the physical evidence could be seen in their lodge.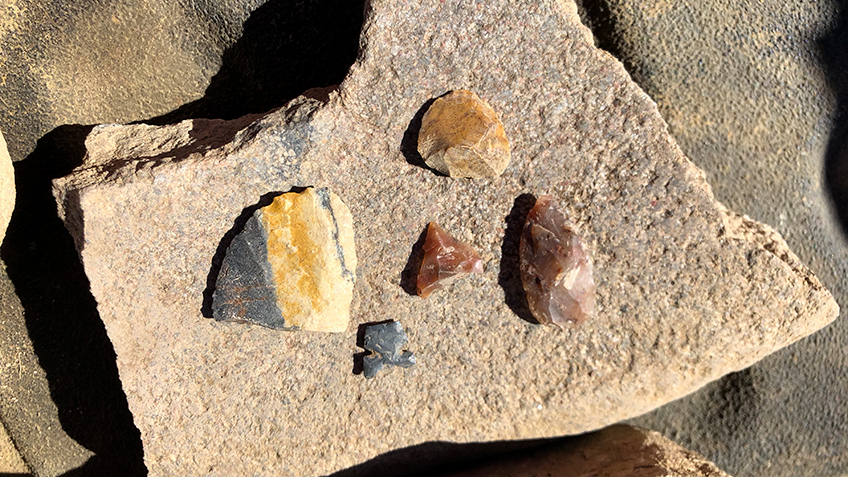 I love history. One of the most fascinating aspects of hunting is the knowledge that ours is not the first generation to try its luck on this ground we call America. But in all my years I have never found a single artifact. Despite the fact I've hunted many promising places—along a buffalo jump in Montana, atop a cliff where Native campfires and teepee circles are still defined by rocks, alongside the ancient cliff dwellings of an ancient Anasazi settlement—I've never found a thing, not even an arrowhead.
The way Fred and Michele talked, this place sounded promising.
And yet, after half a dozen of us scoured that field for more than an hour, after listening to my companions exclaim their joy upon uncovering one artifact after another, I felt like Charlie Brown.
"Scott, what'd you find?" someone asked as we all dumped our plunder upon the tailgate. "I got a pocket full of rocks," I replied. "I don't think any of them are real." I was wrong; they were real rocks.
It was a good thing for me the elk hunting actually looked more promising as the week wore on; in fact, I'm sure I'm better at being Natty Bumppo than Indiana Jones. I proved that in short order the morning the elk finally cooperated.
For a change, they hung around long enough for us to watch them, to figure out which one was the herd bull and to get a bead on him.
"You on him?" asked Fred.
"Yep," I replied. "The third bull from the left, right? That one right there?" I asked, motioning in the dim light with an outstretched arm toward the herd.
"Yep," replied Fred. "We'll wait a few more minutes till it gets good and light. They're not going anywhere this morning." … And then, after perhaps 10 more minutes, he asked again if I was ready, told me to get comfortable and to take the shot when I was ready.
"I'm ready," I said, ensconced prone behind my rig, an HS Precision PLR loaded with the latest darling cartridge of the long-range world, the Hornady .300 PRC. The 212-grain Hornady ELD-X bullet it fires leaves the muzzle traveling almost 2900 fps. At 500 yards it's still traveling 2250 fps, and carries 2,383 ft.-lbs. energy. To say the bullet gets there fast with authority is an understatement. I'd learned all that when Hornady unveiled the cartridge in Texas a couple of months prior to this, wringing it out on steel targets out to 1,400 yards and on at least one pig at 433 yards.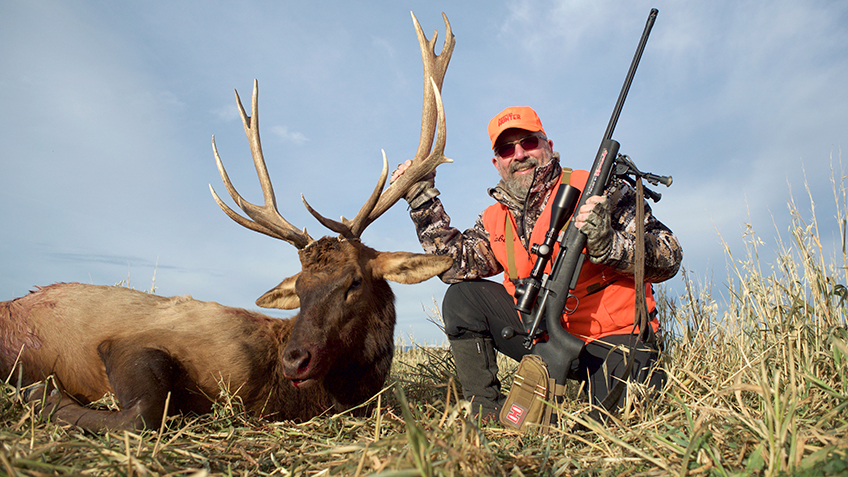 Boom! The shot was 479 yards, as measured by the Leica Geovid rangefinding binocular around my neck. That's not a chip shot, but it's not a super-long poke, either, if a rifleman wields the right rig and if he does his part. After measuring the precise distance with the Geovid, it was a simple matter to dial up the reticle of the Leica Magnus i 2.4X-16X-56mm scope atop the rifle. The two Leica instruments are designed, after all, to work in concert. After doing a little math, all I had to do was focus, breathe and squeeze.
It was all going swimmingly … until Fred and Neil got to talking and decided this bull dead on the ground before us was not the one they were watching through their binoculars—that it, indeed, was not the herd bull.
"You're kidding," I said, expecting them to admit they were joking.
Nope, they weren't. I was embarrassed … momentarily. This was the second head of game in the last few years I'd misidentified. Neither hunt had ended badly, but still … a fella likes to think he can follow instructions. The best I can figure is in the early-morning light I'd become confused and entranced by a really nice pair of antlers. I thought I was looking at the herd bull, a nice 5x5, but in fact I was looking at another 5x5.
But I didn't really care. It didn't really matter. I shot a great bull. I did so with a brand-new cartridge. I used some whiz-bang optics. True, none of the equipment helped me shoot the right bull, but it did help me to ably deliver a lethal blow. Besides, it'd been a couple of years since I'd taken an elk, and I wanted meat for the freezer. Now I had it.
I like elk hunting too much to fret over human error. I like everything about it. The sights, sounds and smells, the weather, the landscapes, the flora and fauna—they all add up to a positive experience, even when things don't go according to plan.
---
Hornady .300 PRC
The Hornady .300 Precision Rifle Cartridge (PRC) was designed to fulfill a need defined by the U.S. Navy to substantially improve the probability of a first-round hit at long range on the battlefield. It hit the market as a complete package, as a cartridge and chamber designed for accuracy. As such, it has the capacity to kill not only most big game but also many existing .30-caliber magnums.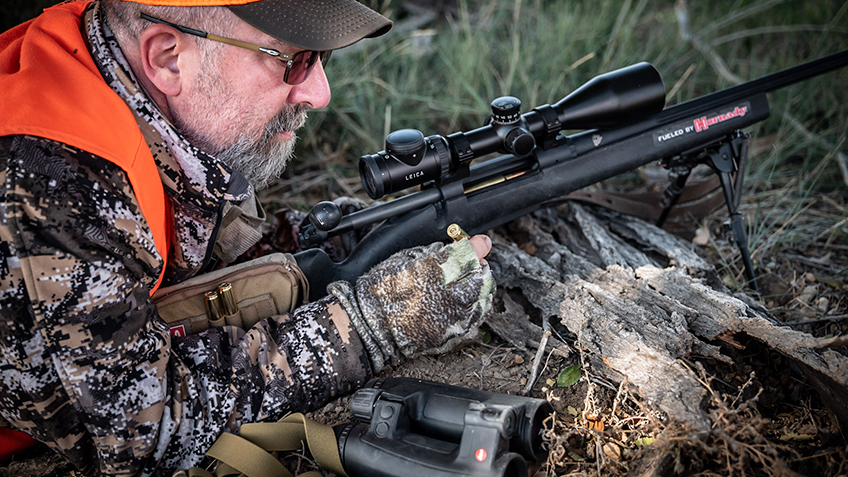 It is based on the .375 Ruger; cartridge overall length is 3.7 inches; case length is 2.58 inches. Those factors create capacity for 75-80 grains of powder to push big .30-caliber bullets at high velocity. They also mean the .300 PRC may accommodate not only traditional bullets but trendy long-range designs. A head diameter of .532 inch (same as the .300 Win. Mag.) is sized to fit within a standard magnum bolt face (unlike the .300 Norma or .338 Lapua). That and its COAL ensures the .300 PRC will fit, feed and function in existing long actions. Its beltless case headspaces off a 30-degree shoulder for optimal chamber alignment. Bullet-over-chamber tolerance is tight. Unlike other .30-caliber magnums that headspace on, and are thus supported only at, a rear belt, the .300 PRC is supported fore and aft so bullets launch from case to bore more precisely than ever before.
The 212-grain Hornady ELD-X bullet I fired at my bull elk carries a G1 ballistic coefficient of .673. It's loaded in the Hornady Precision Hunter line, and leaves the bore traveling 2860 fps. At that speed, energy at 1,000 yards—a distance greater than any living target I may shoot at—is still 1,132 ft.-lbs. This thing moves and hits hard right on the money. For more information, visit hornady.com.
Leica ABC for BDC
Leica's Geovid HD-B 3000 laser rangefinding binocular is built to be tough and waterproof with a nitrogen-purged, magnesium body, Perger Porro prism, HDC multi-coating and AquaDura lens coating. Choose from 8- or 10x42 or 8x56 configurations; each includes a tripod adapter, a nice option on an instrument like this.
The Geovid accurately measures linear distance to 3,000 yards and features the company's ABC ballistic program. Ballistic measurement values in its LED display are available in holdover, click adjustment and equivalent horizontal range (EHR); barometric pressure, temperature and angle also are measured to help calculate the correct point of aim. Twelve trajectory curves are pre-installed. With a microSD memory card and the ABC calculator, users may import individual ballistic parameters to receive data perfectly adjusted to a caliber and load, which is what we did before hunting.
The unit pairs nicely with Leica Magnus i riflescopes, which feature turret scale zeroing. Even better is an optional bullet drop-compensating (BDC) reticle and "direct dial ring" for intuitive operation. There are 12 rings to tailor best fit for individual calibers and loads.
New Magnus i scopes feature a 6.7X zoom range for many applications with any of four models. Each of four reticles includes an illuminated dot adjustable for brightness with a day/night setting and intelligent on/off. Energy consumption has been reduced to extend battery life, and it is now easier to replace the battery. For more information, visit us.leica-camera.com.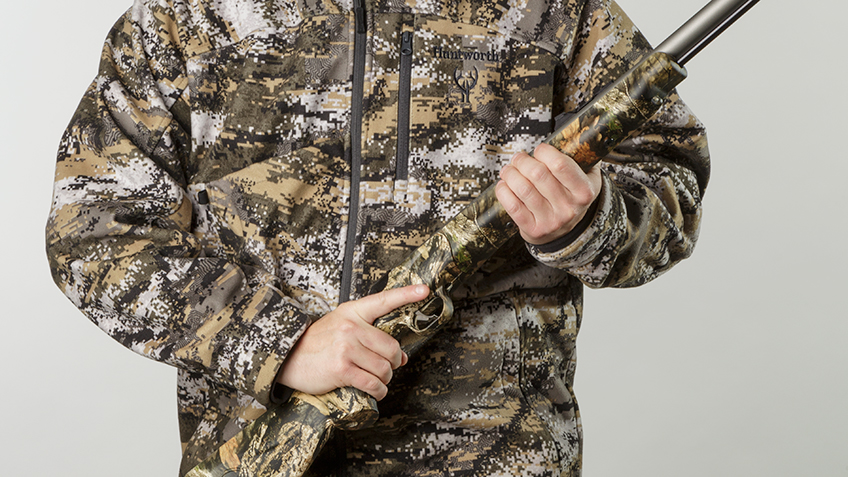 Huntworth Soft Shell
In Colorado I wore Huntworth's Mid Weight Soft Shell Hunting Jacket in the company's Disruption digital camo pattern. That's it in my trophy shot. With other layers it is great outerwear for fall weather across much of the country—warm enough in the morning but not too stuffy in the afternoon when the sun shines bright.
A couple of features I like include a full-length zip front, drawcord hem at the waist, articulated arms for a nice fit, a removable hood, a zippered pocket along the left side of the chest and a pair of pockets on the right side that are big enough to hold a small bino or a rangefinder while in the field or a spare beer while standing around the campfire. It's constructed of a triple-layer fabric: the company's In-Velvet low-pile fleece bonded to a waffle fleece and a windproof, breathable film. A durable water-repellent finish sheds light rain. Another great feature is the price: $159.99. For more information, visit huntworthgear.com.