by
posted on March 18, 2015
Support NRA American Hunter
DONATE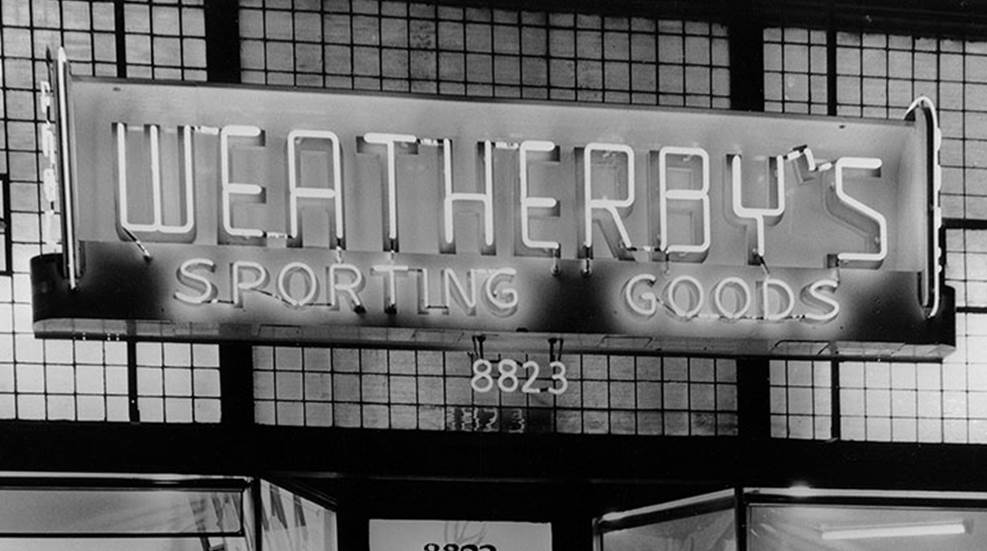 Seventy years ago in Los Angeles, an insurance salesman plunged into debt to start a custom-rifle business. He'd outgrown his basement shop, but the $10,000 loan from a pal wasn't enough to keep the doors open in his new retail store. When his wife got $21,000 from the sale of her family's Kansas farm, Roy Weatherby enjoyed a reprieve. Then in December 1946, an automobile crash put him on crutches. But a Weatherby rifle on the cover of The American Rifleman buoyed his spirits.
Was The Rifleman's charitable review an endorsement of his venture, his rifles or the fast-stepping rounds with radiused shoulders he'd shaped from British magnums? Roy didn't wait to find out. As soon as he could ditch the crutches, he was back in marketing mode, courting industry giants and film stars to promote his products: "The day Gary Cooper walked into my shop, I knew things were looking up!" Roy hobnobbed with Jack O'Connor and Elmer Keith, Jimmy Doolittle and Joe Foss, Roy Rogers and John Wayne. Phil Sharpe's 1948 book, Complete Guide To Handloading, handed Roy Weatherby precious credibility among hard-core riflemen. But neither stove-side chat about bullet velocities nor the reflected glow of Holly-wood would fuel the growth Roy had in mind. He plowed ahead with a stock offering. Weatherby's Inc. (later Weatherby Inc.) was formed in May 1949. Investors poured in $70,000. Texas oilman and big-game hunter Herb Klein, who'd bought a Weatherby rifle in 1946, committed $10,000. "Herb was our salvation," Roy conceded. Their friendship would be tested as the firm careened through fiscal minefields.
■■■
Had Dean Rumbaugh entered military service upon graduating high school, he could have retired after 20 years. Another career would have brought another pension. Instead, Dean has been employed by the same company for 52 years. "Weatherby is my second home," he says.
A soft-spoken man with smiling eyes and a full white mane, Dean walks me through Weatherby's headquarters in Paso Robles, on California's lovely Central Coast. Paso has been the company address for nine years now, after a 12-year tenure in Atascadero, short miles to the south. Dean remembers moving to Atascadero in late 1994, early 1995: "We were all ready to leave L.A."
Los Angeles, the City of Angels: It must have appeared so to immigrants fleeing the Depression, to families beaten to slump-shouldered resignation in the Dust Bowl of Oklahoma and Texas, where new farms became sepulchers buried in black. The Dirty Thirties hadn't scarred California's glistening orange groves or its Pacific beaches or Hollywood. The hopeful masses streaming west comprised a market with enormous potential. Roy Weatherby was keen to tap that potential, and he had the gumption to do it.
Born in 1910 to a Kansas sharecropper, Roy E. Weatherby spent his childhood helping the family wrest a living from the soil. He peddled garden seed to neighbors for money to buy a BB gun. In that day, college came hard to farm boys, but Roy was driven to further his education. He worked for Southwestern Bell while he took night classes at the University of Wichita. In 1937 he and his new wife, Camilla, left the nation's breadbasket for the glitter of the Golden State. Like legions of others, he felt the pulse of promise on Route 66. A self-starter, Roy prospered selling insurance. A lathe and a drill press from Sears found their way into his basement shop, where he tinkered with rifles. Soon he was building them on military and commercial actions. He fashioned his own cartridges, too, howling fast wildcats that gave hunters additional reach and killing power. The .220 Rocket, an improved .220 Swift, appeared in 1943. Widely acknowledged as the first high-velocity Weatherby, it was never factory-loaded.
Roy's wildcatting had a goal. On a deer hunt in Utah in 1942, "I wounded a buck with the .30-06, and after following the blood trail until dark I finally had to give up," he said. "I had a sad feeling for that animal. … I started thinking about getting a bullet to travel fast enough [so the] shock would cause instant death even though [the hit] was not in a particularly vital area." The animal, he said, would not suffer, and the hunter "wouldn't be wounding one and taking another."
This rationale surely upset .30-06 fans. Arguably, it faulted the bullet for the shortcomings of the shooter. But this incident set Roy on a mission that would benefit all riflemen, no matter their taste in big-game cartridges. He was heartened in 1945 when a letter he wrote to Sports Afield magazine, rebutting a January article by heavy-bullet proponent Charles Askins, brought kudos from readers. Other shooters, too, were keen to open the throttle on hunting ammunition. Still a part-time gunmaker, Roy knew a fork in the road when he saw one. To pursue his passion—and build enough rifles to satisfy increasing demand—he would have to quit selling for the Automobile Club, his employer of eight years. It was a tough decision. He liked his boss, J.L. Magee, and Roy's $600 monthly salary was quite a sum. Also, he and Camilla had started building a new home. But on Aug. 21, 1945, Roy wrote his letter of resignation. The young man's character came through more clearly than the trepidation he surely felt.
" … I will remain your employee until such time as you find someone suitable to take my place. … During this time I will continue to do my job to the best of my ability, keeping the interest of you and the Automobile Club in mind. … I want to thank you, Mr. Magee, for hiring me back in 1937. You have been the finest boss I have ever had. …"
Magee wrote back to applaud him for his initiative, and to wish him well.
A co-worker at the Club had already offered to rent Roy shop space for $100 a month. It was on the corner of Long Beach and Firestone boulevards in Southgate. Roy outfitted it with a neon sign and borrowed from friends to equip it. He opened the shop, complete with a retail sporting goods counter, on Sept. 1. All told, he'd sunk almost $5,000 into it, a fortune then. Over the next five years, the business grew slowly. Roy plowed back almost all its profits. As the Weatherby gun shop outgrew its 25-by-70-foot space, Roy looked for alternatives. A plot of ground with 240 feet of frontage lay just around the block on Firestone Boulevard. Friend and customer Herb Klein wrote a check for the property, and another for a new building. By April 1951, Roy had left the shop at 8823 Long Beach Blvd. and moved into a 20,000-square-foot facility that would remain the company's base for more than four decades. Firestone Boulevard gave Weatherby its corporate image. Glossy, four-color catalogs showed Roy, nattily dressed, in a plush, spacious office, showing his rifles to business tycoons, screen celebrities and war heroes. An enormous mural of the East African plain became the trademark background.
■■■
Roy's first rifles were built on the most available bolt actions: the 1898 Mauser, 1903 Springfield, 1917 Enfield. He rebarreled or rechambered Model 70 Winchesters and other actions for his cartridges. "The first commercial Weatherbys were on FN Mausers," recalls Dean Rumbaugh. "Roy imported these actions beginning in 1949." Two early cartridges, the .220 Rocket and a .228 Magnum, faltered. But the .270 Weatherby, on a shortened, blown-out .300 Holland & Holland case, prospered. Roy liked it a lot. With the .257 and 7mm Weatherby Magnums that appeared about the same time, his .270 triggered a spate of "short" belted rounds from other quarters. In 1945 the .300 Weatherby Magnum, its 2.85-inch hull as long as that of its parent, the .300 H&H, drove bullets nearly 300 fps faster. Roy showed its muscle on film, lopping a thick tree limb with a single shot, and a straight face.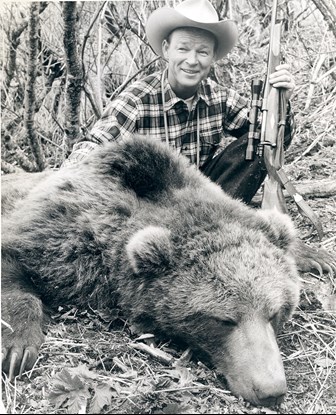 Roy shaped the stocks of the first Weatherby rifles, and even deep-hole-drilled and contoured his own barrels. He installed Jaeger triggers, Buehler safeties and scope mounts. Roy and Maynard Buehler were pals who shared an interest in vintage automobiles. In 1954, Weatherby introduced its Imperial riflescope, by Hertel and Reuse. The following year, Roy contracted with Timken for barrel blanks, though he favored Douglas barrels as replacements in his custom work. "He was pretty shrewd," says Dean. "He rebarreled completed rifles to keep his warehouse stock in sync with demand."
By 1954, post-war inflation threatened to push the price of Weatherby rifles to levels Roy didn't like. He'd been getting $150 to $165. Tooling costs and wages had all but erased profits. So he explored having rifles produced elsewhere to his specifications then imported. He and Maynard Buehler hied off to Europe. After getting a quote from BSA for importing a rifle under its brand, the two auto enthusiasts toured the Rolls Royce plant (years later, Roy would own a Silver Cloud). Then they traveled to Schultz & Larsen, 100 miles out of Copenhagen. Larsen showed them a rifle he'd made for Roy from specs sent earlier. Its rear-locking action was big enough and stout enough for Weatherby's .378 Magnum round just introduced. The .378 was not only longer than the .300 Weatherby, it was larger in diameter. Roy evidently didn't like the S&L's pot-bellied profile and single-column magazine. But his publicized 1953 safari, which featured the .378, had already drawn orders. He urged Larsen to send a shipment of rifles to Southgate. Eventually S&L would deliver an action with a staggered magazine. Firearms International then had exclusive rights to U.S. distribution of Sako rifles, but Roy's visit to the Sako plant in Finland opened the possibility Sako might supply actions from FN in Belgium. Roy ordered 1,000 traditional Mausers. He and Maynard cancelled a stop at Husquvarna in Sweden, as this firm was buried in orders and couldn't accept more work. (It, too, had a U.S. distributor: Tradewinds). In Berlin, Heym people welcomed the visitors but required that Weatherby provide all tooling for any new rifle. Roy dismissed the idea out of hand.
Later dealings with Steyr, Sako and BSA convinced Roy he needed to design and build his own bolt action. He enlisted the help of company engineer Fred Jennie. "Fred had great talent," according to Dean. "He applied it to many projects, including Weatherby's first rimfire."
Roy had several items on a checklist for his new rifle. While he admired the Mauser action and its derivatives, he knew most were built to bottle about 70,000 c.u.p. (copper units of pressure). He wanted a rifle that would handle 200,000! Of course, Weatherby Magnum cartridges didn't generate that much, but they did operate at higher levels than other "high-intensity" rounds. Also, handloaders commonly tested velocity limits. Roy wanted a rifle that would endure handloading chutzpah that tore apart other actions. He envisioned a countersunk bolt face enclosing the case head. Three vents in the bolt body would direct gas away from the shooter, in the event of case rupture. Instead of two big locking lugs, he decided on three rows of three, an interrupted-thread design. Bolt lift would thus be reduced to about 54 degrees, an advantage under scopes. The full-diameter bolt body would smooth bolt travel.
A prototype of the new action was well received at the 1955 NRA meetings. But design changes took another two years, frustrating Roy. In 1957 he showed the final product to world-renowned big-game hunter Elgin Gates. "We don't know what to name it, though," Roy said. "It is our fifth rendition. Should we call it the Model Five? The Californian?" After a moment, Gates replied: "How about the Mark V?"
The Mark V rifle came to define Weatherby. Its angular profile, figured walnut, high-gloss finish and potent, flat-shooting cartridges prompted the slogan "Tomorrow's Rifles Today." As even friskier rounds followed, Roy substituted dense European walnut for Claro and used tough, heavy mesquite. By the late 1970s, Weatherby had established a working relationship with California walnut supplier Calico, which still furnishes most of Weatherby's wood.
According to Dean, the first Weatherby Mark V receivers were manufactured by Pacific Foundry International in California from sand castings. "The high failure rate quickly sent Roy to J.P. Sauer, where receivers were forged. That was in 1959, just before I started at Weatherby. German Weatherbys, and the Japanese- and U.S.-made rifles since, are of extremely high quality and incredibly stout. By the way, you probably won't find any Mark Vs with single-digit serial numbers. If memory serves, the PFI rifles were numbered from 15,000 into the 16,000s. Sauer-built actions began at 20,000."
Dean, who started at Weatherby as part-time help, notes, "Roy was always a bit short-handed. He chased efficiency; it was easy for me to get more hours. In 1963 I moved from retail sales to shipping—a garage where we stacked rifles and ammo. By '64, Lawrence Warehouse was buying and storing our rifles. It was really a loan. Roy got operating cash. To fill orders, he bought rifles back from Lawrence."
■■■
In 1950 Roy bought a panel van. The artfully rendered images of rifles on its flanks would hardly make sense in urban L.A. today, but Roy insisted on it. He had a Chrysler coupe outfitted with zebra seat covers, and a Buick wagon with a built-in walnut gun vault. Drawers held scoped rifles. Roy called often on dealers and wanted a mobile, active sales force focused on the personal contact he thought so valuable. For years after postage costs made it questionable as business practice, he sent personal Christmas cards to everyone who bought a Weatherby rifle.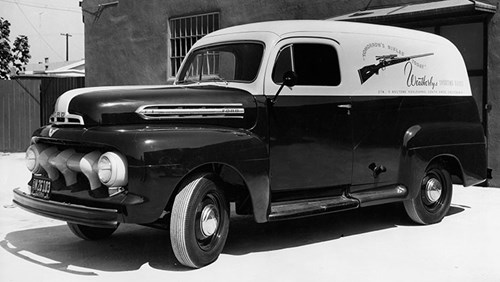 While Roy took his rifles afield, he may have gained more satisfaction from promoting them than from hunting. In 1947 he hosted a few carefully selected hunters in British Columbia. The group included Jack O'Connor, who subsequently wrote favorably of the .300 Weatherby Magnum. The following year, Roy made his first African safari to evaluate the effects of his magnum cartridges on a variety of game.
He took detailed field notes, describing not just shots that floored game but those that didn't. During his safari, he "… killed a zebra at 335 yards with a 150-grain Peters belted bullet in my .270 Magnum—dead with one shot." But a topi hit at 100 yards with a 300-grain Silvertip from his .375 Magnum "fell down, got up, and never stopped running. … Of course, velocity means greater killing energy at greater distances. … but there is no substitute for the right spot." Roy evidently had four rifles on that trip, chambered for his .257, .270, .300 and .375 Weatherby Magnums. He came to favor lighter, faster bullets than would be recommended in Africa now, and most certainly were anomalous then. "I am convinced the 130-grain .270 bullet is superior [to 150-grain Core-Lokts] at almost any point. The 87-grain bullet in [the .257 Magnum] seems to have more killing power at 100 yards than does the 100-grain bullet." Few so-called "controlled expansion" bullets were available in 1948. John Nosler was still tooling up for what would become his Partition. Bullet cores and jackets designed for the .30-06 and kin came apart on impact when wildcatters like Weatherby hiked velocities above 3100 fps. For his first safari, Roy loaded some .300 Magnum ammunition with Remington Bronze Points (which I've found frangible even at '06 speeds). He wrote of stoking them to 3600 fps! His .257 spat 87-grain soft-points at a claimed 3900! The Winchester Silvertip and Hornady Spire Point bullets also used on this expedition wouldn't pass muster in penetration and retained-weight trials now, but Roy preferred grenade-like upset. (The only heavy bullets I recall him using were 220-grain full-patch [solid] missiles in his .300, for elephant. He killed a bull with one to the brain. This was hardly validation of the load; W.D.M. Bell brained elephants with solids from lesser cartridges.)
Commercial production of Weatherby cartridges didn't come easily, but by 1948 Roy was selling ammunition. Norma has manufactured Weatherby Magnum ammo for the company since the early '50s.
■■■
Herb Klein's guiding hand and ready funding were crucial to Weatherby's survival in those early years. In 1956 Klein received the first Weatherby Award, a trophy still presented annually to hunters of extraordinary achievement. But according to Dean Rumbaugh, "those two men didn't always see eye to eye. The relationship was strained when Herb installed his comptrollers at Weatherby. Then Herb suggested Roy hire a hunting crony who expected a European office and three months off to arrange hunts. By the time Herb's nephew Lloyd Klein, a young attorney, was installed as Roy's legal assistant the partnership was in free-fall." But Klein owned half-interest in the firm. Roy proposed a buyout. Herb agreed, stipulating a $125,000 return over investment. Roy found other partners in J.P. Sauer and Dynamit-Nobel, the German companies each getting 25 percent of Weatherby. In 1966, Roy's friend and NASCO Industries owner Leo Roethe paid $500,000 for those shares, $187,000 less than Roy's price to the Germans. Roy Weatherby and Herb Klein remained good friends until Herb's death in 1974.
Meanwhile, the company kept growing.
In 1964 it added 10,000 square feet of shop space. Then Weatherby leased and converted a skating rink. That helped with storage; in 1971 Roy bought it. Demand pushed production, but excepting one hiatus, Weatherby maintained a custom shop.
In 1969 Roy added the first shotguns to Weatherby's product line. The Italian over/unders were built by Zoli. Since then, Weatherby has marketed pumps, semi-autos and side-by-sides as well as over/unders from Japan, Turkey and Italy, all manufactured to Weatherby specifications.
By the time the Mark V was 20 years at market, Weatherby had introduced almost all its current cartridges. In 1962 it announced the .340, a necked-up .300. A year later the .224 arrived, on a scaled-down Weatherby action. The .240 came in 1968. The .30-378 didn't appear until 1998. This powerful magnum became a top seller and has remained so. Evidently, the .30-378 resulted from a request from Alabama's Redstone Arsenal for a cartridge that would launch a bullet at 6000 fps—in 1959!
In 1981 Elgin Gates, who'd been shooting special handguns at long range, urged Roy to build a pistol on the petite .224 action, "a good idea," says Dean. "The short, stiff barrel was very accurate." The Japanese firm Howa built the Silhouette Pistol. Both firms profited until Howa management declared it couldn't in good conscience ship a rifle whose barrel was to be lopped on arrival to produce a pistol. With just 200 built, this is the rarest of production-class Weatherby firearms. Dean shakes his head. "I'd like to have had one. Earlier, Roy had agreed to reserve Weatherbys with serial number five for me. Elgin took the first 25 pistols. I didn't think it my place to suggest we make 26." Howa and Weatherby still do business, as Weatherby's popular rifle for standard cartridges, the Vanguard, incorporates the stout Howa action.
Dean shared Roy's passion for antique cars. "He had a 1930 Franklin when I came to work in '61. He loved classics, always dreamed of a Deusenberg. That didn't happen. But Roy collected Lincolns and Packards and owned others, among them a Patrician. The Weatherby pump shotgun of that name likely owes its name to that car."
Early on, Roy groomed his son Ed to take the company helm. "Like Roy, Ed was—and is—tech-savvy," says Dean. Active in the firm until the mid-1970s, Ed spent three years in Oregon then returned to run Weatherby. Roy had two daughters as well. The youngest, Connie, is married to Paul Shepherd, an attorney who has also served as the company's legal counsel.
Seventy years after he brought his racy rifles and magnum cartridges to market, Roy would surely be pleased to know that Ed and the Weatherby crew are still building the brand while holding true to its heritage, that Norma is still loading high-octane Weatherby ammunition and that the Mark V rifle is now built in California, where Roy once made very good money selling insurance.