by
posted on April 22, 2020
Support NRA American Hunter
DONATE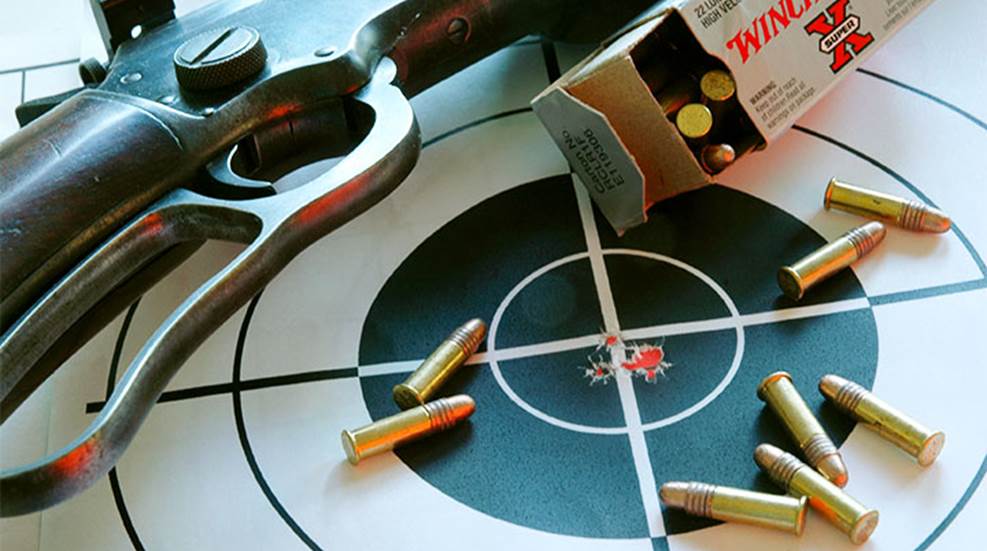 Henry Ford's utilitarian Model T pulled Americans into the automotive age. In 1926 it sold, new, for $360. Four years later 24-year-old Bill Weaver introduced hunters to riflescopes, with his $19 Model 330. In 1934 revolver ace Ed McGivern sent five shots from a $30 S&W through a playing card in a half-second thunderclap. The next year, Ben Comfort shot a 1,000-yard score of 100-14V at Wimbledon with a .300 built on a Remington 30-S rifle listing at under $75.
A modern pickup offers more than did a Model T, but it can cost 200 times as much! Swarovski's dS scope, a marvel of optical and computer engineering, retails for $4,999, or 260 times what Bill Weaver got for his 3X. Price bumps in revolvers, with fewer changes, are less jarring: An S&W Performance Center 686 sells for about a grand. But some long-range rifles come dear.
Happiness is hard to buy. Ditto success in shooting sports. While top-shelf gear can hike scores in competition, it's no shortcut to marksmanship. Nor will it bless hunters with game. The biggest whitetail and mule deer, and the biggest elk in Boone and Crockett records for most of the 20th century, were shot with iron-sighted rifles in .25-20, .32 Special and .30-40 Krag.
These days, new shooters and hunters may feel the urge to buy equipment that's more sophisticated and more expensive than is practical. Though high-tech stuff can be appealing for various reasons, mentors can help by explaining that it can also be more difficult to master than basic shooting gear, and that one can succeed nicely with more basic items.
As a youth, I picked through arrows in a local hardware store before spending my 25 cents, then loosed them from a bow bought with Green Stamps. Later, I used a borrowed .22 to ambush barn rats. The simplicity of the rudimentary bow and rifle kept my focus on shooting form and hunting technique.  Good coaching and lots of practice are the real prerequisites to straight shooting and bagging game.
Many mentors provide rifles, shotguns, pistols or bows in training sessions or first hunts, and it makes sense to teach with the kind of gear we used when starting out, providing it fits the new trainee. Then too, we can provide realistic advice when newcomers are ready to acquire their own, and should make it clear that price need not be a barrier to our sport.
Role Models and the Gear That Made History
Simple tools have served great talent. Phoebe Ann Moses, born in an Ohio cabin in 1860, lost her father to pneumonia soon thereafter. Hunting with a .22, Annie helped provide for her mother and five siblings. A gifted shooter, she killed quail on the wing and handily won local matches. Visiting marksman Frank Butler was starstruck. She was 15 when they wed. She joined his traveling show as Annie Oakley. In 1884, with a .22 in Buffalo Bill's Wild West Show, the petite sharpshooter hit 943 glass balls of 1,000 tossed. Firing 25 shots in 25 seconds from a repeater, she'd chew one ragged hole in a playing card. Ace colleague Johnny Baker tried for 17 years to outshoot Annie, concluding, "She wasn't beatable." At age 62, after a crippling auto accident, she could still hit 25 tossed pennies without a miss.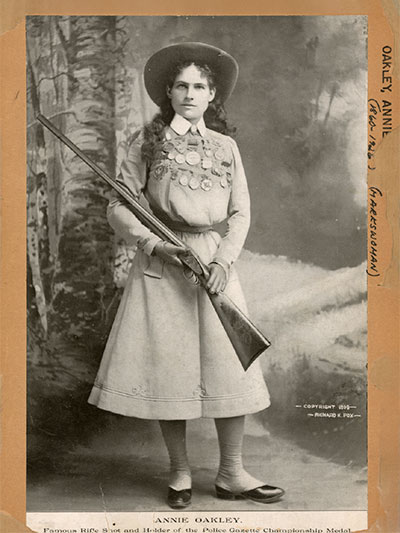 Nine years Annie's junior, Adolph Topperwein hailed from New Braunfels, Texas. Uninspired by hunting or paper bullseyes, Ad shot aerial targets with .22s, first a Winchester 1890 pump, then 1903 and Model 63 autoloaders. In 1894 he hit 989 of 1,000 tossed 2¼-inch clay targets. Hired by Winchester, Ad shot in exhibitions, riddling five tossed cans before any landed. Holding a Model 63 ejection port up, he'd fire, then hit the flying empty! In 1907 in Texas, he shot for 120 hours at tossed 2¼-inch wooden blocks, missing only nine with 72,500 shots, and splintering 14,500 straight. That record stood until after World War II, when Remington's Tom Frye used Nylon 66 autoloaders to tally 100,004 hits on 100,010 targets.
Herb Parsons followed Topperwein's 55 years at Winchester. Born on a Somerville, Tenn., farm in 1908, Parsons honed his aim tossing walnuts and lumps of coal. He mesmerized audiences with fast talking and faster shooting. He'd hurl oranges pell-mell, and pulp them with .30-30 bullets. From the hip with a .351 auto, he'd drain its 10-shot box to mince 10 clay targets set on edge. An ace trap-shooter, Parsons milked seven shots from a Model 12 so fast the burst cracked like thunder as it reduced a flurry of clays to smoke. On one duck hunt, his partner had no chance until Parsons, limiting out, opened his .410 pump and grinned, "Your turn." Until his untimely death at age 51, Parsons urged others to keep hunting traditions alive by taking children afield.
The exuberance of exhibition shooters was real and infectious. It had little to do with their gear, almost all of it ordinary. Enthusiasm and talent made the magic.
The bow has served hunters for perhaps 50,000 years. Howard Hill put it under spotlights. Born on an Alabama farm in 1899, this athlete won the first of seven consecutive National Flight Tournaments in 1925. He set a flight record of 391 yards with a bow pulling 172 pounds. In longbow exhibitions, Hill popped a series of balloons, one inside the other, with peripheral strikes. He shot cigarettes from the lips of lovelies. He once hit 20 airborne silver dollars in a row, and seven of nine tossed dimes! Hill's longbow downed game from grouse to elephants. In 1937 Warner Brothers filmed "The Adventures of Robin Hood." Director William Keighley hired Hill to hit steel plates on costumed stunt men astride cantering horses, the shafts lodging in balsa slabs on the plates. Each stride bounced those targets 9 vertical inches. Hill missed none. Then came a signature scene: splitting an arrow in a target. Six of nine shafts sent from Hill's longbow to get a cinematic split struck that arrow!
---
Anything but a rudimentary bow and rifle might have sent the author down the wrong path. Their simplicity kept his focus on shooting form and hunting technique.
---
By any measure, the longbow is elemental. But that simplicity endeared it to Russell Hoogerhyde, a rangy Michigan lad who polished his form hurling 1,000 arrows a day for six months. In a Depression-era shoot, after "the 106 ablest bowmen in the U.S." each sent 468 arrows, Hoogerhyde won with a score of 2,865—266 points ahead of the runner-up! He captured almost all U.S. Target Championships during the 1930s, then another as Hitler blitzed London. His stellar record put him in archery's hall of fame; but, observed a friend, "he was most pleased coaching new archers." He did so for 40 years. I have one of his bows, a 69-inch stick that once sent arrows into the gold from as far as 100 yards.
While Bob Swinehart used a longbow to take Africa's "Big Five," Fred Bear and Ben Pearson put inexpensive but powerful hunting bows on the market. Arrowing dangerous game and ducks on the wing with "a stick and a string," they inspired millions to take the bow afield.
Center shots follow diligent practice, and so those of us who are bringing others into hunting should always remember to keep it fun, at the range and in the field. We know that familiarity with our gear makes us more skilled in using it and that real value comes from the events it brings to mind. Long ago, when a deer tumbled to my $30 surplus infantry rifle, I couldn't suppress a whoop. There's no shortcut to that kind of exuberance.