Support NRA American Hunter
DONATE
8. Kodabow Alpha Strike
Although this Kodabow (now owned by Ruger) makes 200-pound draw weight crossbows up for skewering the world's largest game, its Alpha Strike is available in 125- and 150-pound draw weight models. As such, the 125-pound unit is perfect for people of smaller strength and stature. Even so, it delivers more than enough speed and energy to down any animal on the continent. Notable to Kodabow's design is its skeletonized, machined-aluminum barrel, simplistic recurve-limb design that does away with cables and cams, and its AR-15-style collapsible buttstock and vertical foregrip that make carrying, shooting and transporting the Alpha Strike all that much easier. It comes with a cocking rope and a 3x32 power, illuminated reticle scope. MSRP: $899.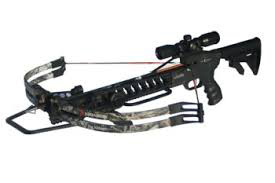 7. Barnett Buck Commander Raptor R
Nearly all crossbows have ample killing energy and are plenty accurate, so my No. 1 feature I look for in a crossbow is its size. Crossbows are unwieldy by nature, and many treestands and groundblinds aren't big on room. The Barnett Buck Commander Raptor R is likely the smallest high-performance crossbow available, thanks to its Reverse Draw technology. Incredibly, this 6.8-inch bow tapes a mere 10 inches between the axles when cocked yet still delivers 330 fps via a 155-pound draw weight. It's got a good trigger, ample safety features, sweet looks, and it's one of the best values going. MSRP: $649.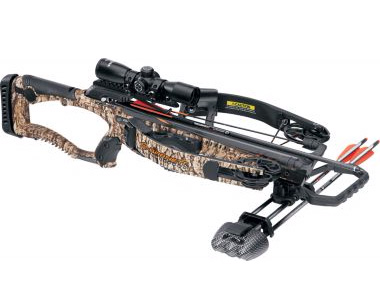 6. Carbon Express Intercept Supercoil
Carbon Express is another crossbow company that realizes the advantages of an ultra-compact bow. Its Intercept Supercoil measures 13.5 between the axles but slings an arrow at 360 feet per second. I like its AR-15-inspired grip and Picatinny rail, on which hunters can mount all the game-killing accoutrements they wish. What stood out the most was this bow's excellent 3.5-pound trigger. Since bows have a much greater lock time than rifles and therefore are more susceptible to poor accuracy due to poor trigger pulls, the Supercoil's trigger is a huge deal. It comes with a 4x32 illuminated scope. MSRP: $749.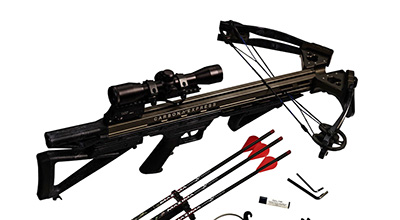 5. Parker Stringray
The most specialized crossbow on the list, the Parker Stingray, is set up for bow fishing—or fish hunting, depending on how you look at it. For years, Parker has made some of the most solid (not the fastest or flashiest, but well-built and accurate) crossbows available, and now it looks to expand its market. This 7.5-pound, polymer-barreled compound crossbow comes with a reel attachment, line and a fiberglass arrow. And while I can't think of a better rig for gators, with its fishing rig removed the Stingray also makes a great whitetail crossbow for kids thanks to its 100- 125-pound draw weight and bullet-proof design. MSRP: $499.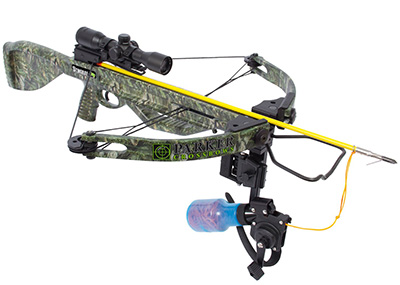 4. Mission MXB Sniper Lite
The noted vertical bow company Mathews also makes an excellent line of crossbows under its Mission brand. The Mission MXB Sniper Lite is one of the lightest crossbows available at under 6-pounds, yet its precision machined, modular engineering also make it deadly accurate. Its patented Smart Glide cable slide eliminates downward pull—not to mention wear—on its round "SyncCams" and strings; its trigger is excellent. Like a Mathews bow, the 150-pound draw Sniper Lite may not be the fastest, but it may be the smoothest and one of the most accurate. It's certainly a deal. MSRP: $599.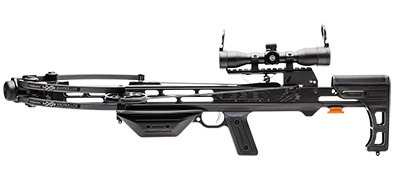 3. TenPoint Lady Shadow
TenPoint caters to the fast-growing segment of bowhunters with its Lady Shadow. This top-end crossbow brand is known for its precision, made-in-America components that always produce stellar accuracy. The Lady Shadow is no exception, except for its pink Muddy Girl camo pattern. With speeds of 350 fps produced from its 180-pound draw weight, savvy consumers might ask how, other than being pink, it qualifies as a "ladies" crossbow—but that's simple: It's available with TenPoint's patented AcuDraw system, so anyone can cock it via this integral, ratcheting draw device. At 6.4 pounds overall, it's also easy to carry. Like all Ten Point bows, it comes ready-to-shoot with all necessary accoutrements included. MSRP: $1,119.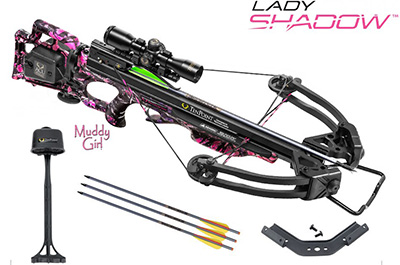 2. Horton Storm RDX
One of the oldest names in crossbows, Horton, was recently purchased by TenPoint, which completely modernized the brand when it unveiled its new Storm RDX crossbow. Like the aforementioned Barnett, it also licenses Jim Kempf's Reverse Draw Technology, which I believe is a better mousetrap. Simply put, this technology produces greater speeds thanks to its elongated, 16.5-inch powerstroke, yet it simultaneously makes the whole unit more compact at 10-inches axle-to-axle. An innovative brush bristles retains the arrow; TenPoint's AcuDraw or AcuDraw 50 system makes cocking quick and handy. MSRP: $999-$1,199.

1. Stryker Offspring
Two powerhouse crossbow companies, Excalibur and Stryker (the latter owned by Bowtech) collaborated to produce the Offspring. In essence, it uses Stryker's proven eccentrics (cams and limbs) combined with Excalibur's rugged stock design to deliver a durable bow that weighs 6.5 pounds yet sends an arrow blistering downrange at 360 fps. This is tremendous performance especially considering its easy-to-draw, 150-pound pull weight and relatively short powerstroke of 13 inches. It comes in Mossy Oak Break Up Country camo. MSRP: $849.