by
posted on March 5, 2018
Support NRA American Hunter
DONATE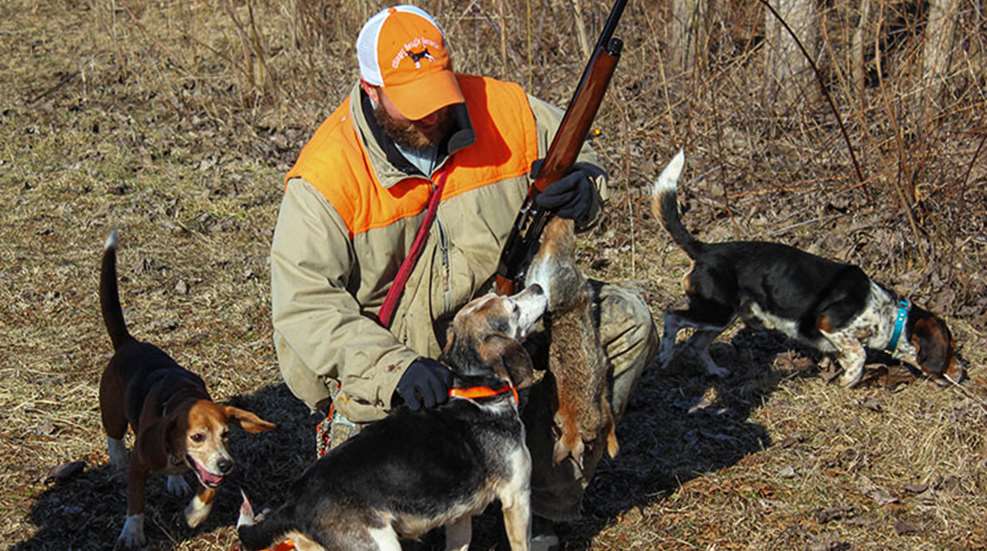 On a cold morning in February I met up with Jason and Jenny Olinger and several of their friends at a large farm outside Coshocton, Ohio to hunt rabbits with beagles. Since deer season had ended, it was a pretty safe bet we'd have the woods all to ourselves, and a fresh layer of snow made tracking conditions ideal for the dogs. One by one, Jason released his hounds, none of which could contain their excitement as they scrambled into the winter-dry goldenrod and blackberry bushes nearby. In very short order, the dogs fell into a chorus of yips and howls as they followed the fresh scent of a cottontail. The chase led the dogs directly away from our position, their chorus of howls dying as the rabbit carried them on a wide loop through overgrown honeysuckle and cedar fields. Soon, however, the volume began to rise again, and that indicated the rabbit had made its loop—and was heading straight back toward us.
Our party fanned out into the brush, everyone trying to find a shooting lane that offered a clear shot and maximum visibility. As the sound of the dogs reached almost a roar I heard Jason's 28-gauge clap. "Got him!"
Beagling is a form of hunting that dates back to at least the fourteenth century, but nowhere has this sport been popular as it is in the eastern United States. Today there are a number of beagle clubs across the country and breeders are still working to produce the perfect rabbit dog—one that has a good nose, the tenacity to jump rabbits in thick brush and the smarts to unravel a twisting scent trail. I've had the opportunity to hunt large and small game on several continents, but I'd place a morning spent listening to these howling hounds near the top of the list for sheer fun. If you've haven't experienced a cottontail hunt with hounds, you need to add it to your short list of future outdoor adventures. Here are six reasons why you should to consider joining the ranks of America's growing beagle fraternity.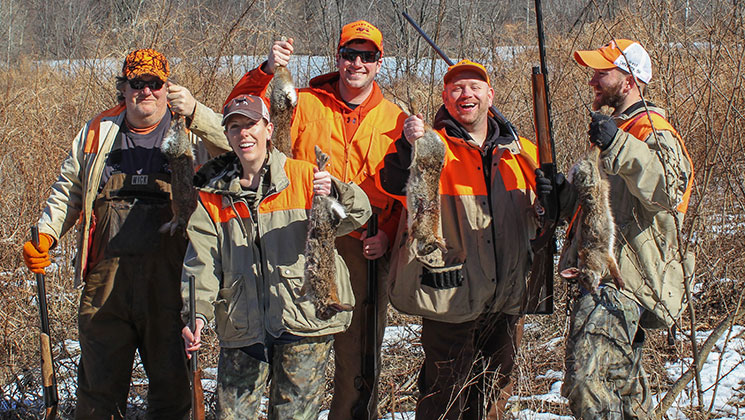 1. It's Fun for the Whole Family
In most cases, hunting cottontails with beagles is a low-impact pursuit. While it's true that rabbits are most active in the early morning and late afternoon, having a good jump dog (one that busts brush to jump rabbits who are laid-up after a morning feed) makes this an all-day event. These hunts don't require long hours sitting in a cold stand or in a duck blind, and you don't have to hike deep into the wilderness to find your quarry. When the dogs jump the rabbit, you'll need to position yourself for a shot. Contrary to popular belief, beagles don't actually "circle" a rabbit, but rather follow their scent trail, and since they have a relatively small home range, most rabbits run in a wide loop that covers somewhere between a few hundred yards to as much as a half-mile or more. This offers time to coach new hunters through getting in position and making a shot, and kids don't have to be completely silent during the chase and are free to ask questions. A good day of rabbit hunting is action-packed and everyone in your family—even beginner hunters—will enjoy the experience.
2. You'll Extend Your Hunting Season
Many states have liberal rabbit seasons that extend beyond traditional deer and duck seasons. In my home state of Ohio, cottontail hunting is legal through the end of February, and that means an extra month spent in the woods chasing game. Additionally, you can choose to run your dogs for fun or in competitions year-round. There are hundreds of beagle clubs scattered across the country, and most of them host competitive or fun hunts for little or no cost. If you chose to compete seriously, in many areas you'll be able to find a field trial within driving distance at least two weekends a month. If you're looking for a beagle club near you check out the American Rabbit Hound Association website, the United Kennel Club's Beagle website or the American Kennel Club's Beagle Field Trail website, which will help you connect with beaglers close to home.
3. Access and Affordability
Experienced beaglers possess a great deal of knowledge about training, bloodlines and hunting tactics, but once you have a good hound (or a friend with trained beagles), you can learn the ropes very quickly. Additionally, most hunters can find access to great "rabbitat" very close to home. CRP ground, marshes, pine forests, agricultural land and even small unmowed patches of private ground around homes are likely to hold rabbits, so there's a good chance you can find hundreds or even thousands of acres of prime, productive habitat, even in an area with a relatively high human population. As a bonus, the cost to get started hunting rabbits with beagles is relatively low. You don't need special clothing (jeans, boots and a sweatshirt work fine—though you may want some protection against briars), you can use just about any shotgun from .410 to 12-gauge, and, in most cases, there are no additional tags or licenses to buy or draw. Good beagles are far more affordable than most trained bird dogs and big game hounds, and you don't need to purchase optics, tree stands, waders, decoys or any of the other items associated with other forms of hunting.
4. It's a Great Pastime for Deer Hunters
Most beaglers I know are also deer hunters, and the two sports complement one another well. Strolling through the woods listening to a pack of beagles run cottontails offers an exciting alternative to all-day sits in treestands, and I have oftentimes switched gears after an unproductive morning deer hunt and spent the midday hours chasing rabbits. Rabbit hunting requires spending hours in the woods, and during that time you'll learn a lot about deer movements and behaviors—info you might not be privy to otherwise. I've stumbled upon rubs, scrapes, bedding areas, hidden trails and even shed antlers while I was out in the woods chasing bunnies. There's a long-held notion that running dogs scares deer away from an area, but in my years as a beagle and deer hunter, I've never found this to be true (unless, of course, your dogs decide to start chasing whitetails instead of rabbits—which they should be trained not to do). I've killed plenty of deer—big deer—in areas where I regularly ran dogs.
5. Beagles Are the Ultimate Family Breed
Beagles consistently rank among the most popular of all dog breeds with major registries, and there's a good reason for that. These jovial little hounds are family-friendly and do better in small houses than many larger breeds. A trio of beagles eats about the same amount of dog food as one large lab, and other than deer breaking and basic commands there's very little training to do with a hunting beagle. Their innate tracking instinct takes over, and once your dog understands the nature of the task at hand, they'll begin rummaging through the brush around your house in search of a rabbit every time you turn them loose. Beagles that regularly spend time running rabbits have an outlet for their energy and are less prone to bad behaviors like barking and chewing, too.
6. You'll Become a Member of the Beagling Family
I've made some very good friends—including Jason and Jenny—through rabbit hunting. Most rabbit hunters are eager to teach beginners the lessons they need to know to be successful, and the growing online beagling community is a great resource for any questions you may have. I encourage anyone interested in the sport to attend a competition hunt at a local club and to talk to the competitors about their dogs. Most beaglers are happy to answer questions and point you in the right direction, and many of them would be willing to let you tag along on a hunt to gain first-hand experience.
Hound hunting is under growing fire from anti-hunting groups (and even a few hunters), primarily because those people have little or no experience with the discipline. Once you spend some time in the field with trained beagles, you'll gain a new appreciation for the sport and begin to understand why so many people quickly transition to full-fledged—and hopelessly-addicted—beaglers.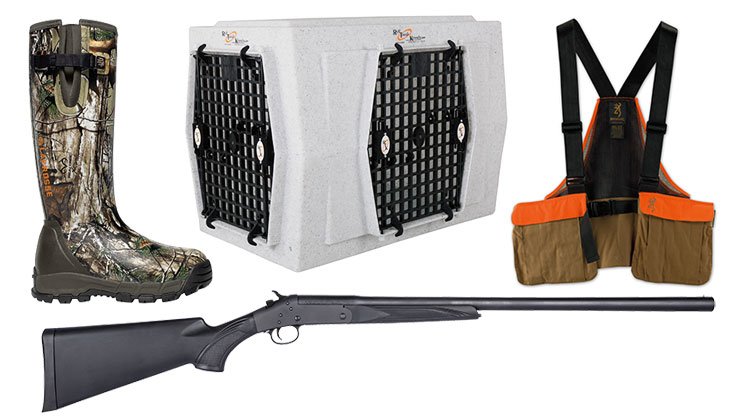 Gear Items for Rabbit Hunters
You don't need a lot of fancy gear to chase cottontails, but here are some great items that will make the experience more enjoyable: