by
posted on January 14, 2016
Support NRA American Hunter
DONATE
Savage's utilitarian Model 24 was an icon, winning many over with its grab-and-go survival gun build. Production of new Model 24s ceased in the late 1980s, though, leaving interested parties stuck searching for secondhand models. A few years back—perhaps inspired by the increasingly popular "prepper" ideology—Savage decided to resurrect the design, but only after giving it a polymer stock and calling it the Model 42. For 2016, the company is taking things a step further by introducing the new Model 42 Takedown, making the handy little combo gun even more portable. There's a youth version coming, too.
Here are five things you need to know about the Model 42 Takedown.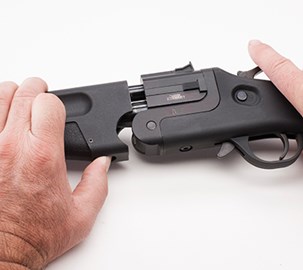 1. It's still the venerable Model 42.
If you loved the Model 24 and Model 42, then you won't be surprised by the Model 42 Takedown. It's still that same utilitarian takedown rifle that's chambered in .410 bore and .22 LR or .22 WMR. It's still a great survival or starter gun—it's also just easier to transport than ever. Like the original Model 42, Model 42 Takedown-series rifles are stocked with a bilateral, synthetic buttstock and fore-end.

2. It ships with a Go Bag.
If you're going to have a survival rifle, it needs a Go Bag, and so the Model 42 Takedown ships with one of its own. Each gun comes with an Uncle Mike's Go Bag for transportation. The Go Bag features MOLLE loops, a carry strap and several pockets for ammunition and spare gear.
3. It's easy to takedown.
Seriously. The process couldn't be any simpler, as shown here. With the push of a button, you can takedown your rifle.
4. There's a youth model.
The original Model 42—like the Model 24 before it—was known for being a great "starter gun" for young hunters and shooters. The Model 42 Takedown will serve a similar purpose, but on a whole new level—it comes in a youth model variant. The Takedown-Youth is a full inch shorter (34.75") and a pound a half lighter (4.65 lbs.) than its "big" brother.
5. It's affordable.
The Takedown (in either .22 LR or .22 WMR) and Takedown-Youth will be ship with an MSRP of $500, though I'd imagine you'll find them on shelves for even less than that.
In the meantime, don't hesitate to check out Savage's website for further information on the launch.