by
posted on October 28, 2014
Support NRA American Hunter
DONATE
The right pack for deer hunting is like the right rifle—barring sentimental reasons, the best tool for the job often depends on the type of hunting you'll be doing. Here are four packs that fit with the gamut of whitetail methods (mule deer, too) and will keep your essentials organized in the woods.
Fieldline Pro Series Ultimate Hunter's 2-Day Pack
• Volume: 1,765 cubic inches
• MSRP: $65
• Use It For: stand hunting
• Why: When you're comfortable on stand, you'll stay on stand, and the Ultimate Hunter's 2-Day Pack provides plenty of capacity to haul extra clothes and enough snacks for an all-day sit. Thirteen pockets and pouches, one of which is designed for the included 2-liter hydration reservoir, keep all that stuff organized and within easy reach. Yoked shoulder straps, an internal aluminum stay and a padded waist belt lessen the load's burden while you're on the way to your stand. (Note: This pack seems to be designed for hunters with short torsos; if you're not one of them, the waist belt will ride several inches above your hips.) Use the five external straps to cinch down bulky exterior layers until you need them. Before hitting the woods, though, be aware the pack's nylon lining produces a "crinkly" sound when accessing the internals, which could alert a wary whitetail. Available in Realtree Xtra and Mossy Oak Break-Up Infinity.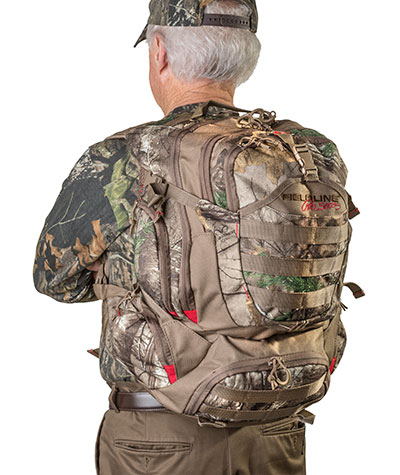 Tenzing TZ 2220
• Volume: 2,228 cubic inches
• MSRP: $209.99
• Use It For: hunting big country with wide-open spaces
• Why: Some of the biggest bucks live in the open country of the Midwest and West, and killing a wall-hanger often requires spotting him from afar first. Tenzing smartly designed the TZ 2220 with two expanding side pockets that accommodate and protect a spotting scope but make getting to it as quick as tugging a zipper. Three internal pouches in the front zippered pocket, as well as two pockets on the waist belt, hold small items. A foldout gun and bow carrier on the bottom of the pack lets you keep both hands free for glassing or negotiating difficult terrain. The pack's channeled, padded back creates space between it and your body to promote air flow and keep you cool during a long trek. When it comes time to close the distance, you'll get within range quietly thanks to the super soft exterior fabric. The only drawback is the price, but it comes with a limited lifetime warranty. Available in Realtree Max-1, Realtree Xtra and loden green.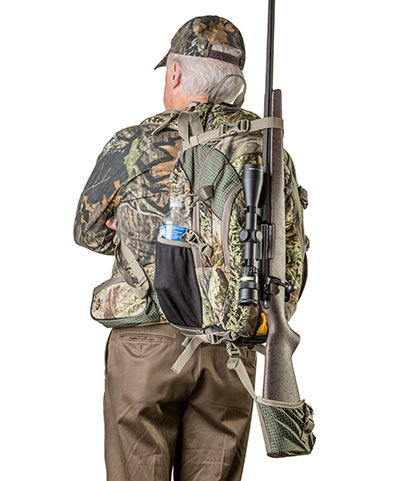 Timber Hawk Kill Shot
• Volume: 3,325 cubic inches
• MSRP: $240
• Use It For: getting way back in there
• Why: You hear it all the time: If you want to tag a monster, you've got to hunt where others don't. On public land in the East, this usually means getting away from roads and walking farther than other hunters are willing. With a whopping 3,300-plus cubic inches of storage and multiple exterior lashing points, the Kill Shot will haul all the gear you need to stay back in there for days. When your hard work pays off, the pack's main compartment is large enough to hold more meat than you'll want to carry in one trip. The Kill Shot is built to handle a heavy load: Its thickly padded, adjustable shoulder strap system lets you fit the pack to your torso, which will be especially appreciated by tall hunters. The waist belt is wide and just as padded. Three horizontal compression straps help stabilize the goods. The pack also comes with a gun and bow carrier, a hydration reservoir with an insulated tube, a system that attaches a binocular directly to the shoulder straps, and a blaze-orange rain fly that stows in a bottom pocket. All these features come at a price in the form of weight, however; the Kill Shot tips the scales at a hefty 7 pounds unloaded. Available in Realtree AP.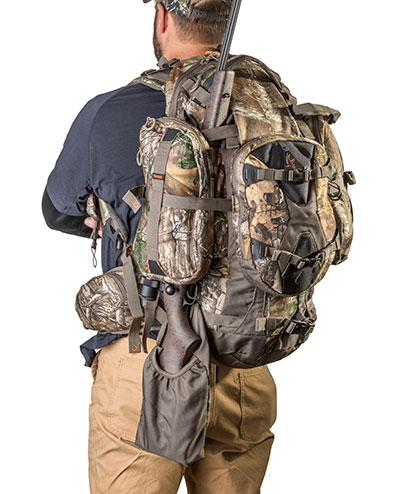 Slumberjack Flush 750
• Volume: 750 cubic inches
• MSRP: $119.95
• Use It For: still-hunting and driving
• Why: Sometimes you don't need—or want—to carry a lot of gear. Whether you're in stealth mode still-hunting or coursing woodlots on a deer drive, light and mobile is the way to go. About half the size of most deer hunting packs, the Flush 750 rides low on the back and uses a lightweight harness system to anchor it in place. Inside the two zippered pockets there's plenty of room for a lunch, drag rope, knife, flashlight, etc., and two external water bottle holders keep hydration handy. A center strap and pocket on the outside of the pack provide a place to carry an extra layer of clothing. The waist belt is compatible with a paddle holster for carrying a sidearm. The Flush 750 has a lot of nice features for a small pack, but unfortunately quietness isn't one of them. No doubt the exterior fabric is tough against brush and bramble, but it's also scratchy loud. Deer drivers won't have to worry too much about this, but still-hunters will want to pick their path carefully. Available in Kryptek Highlander.