by
posted on June 7, 2019
Support NRA American Hunter
DONATE
It's that time of year to show good ol' Dad how much you care, but there's no denying that he can be hard to buy for. To make this year a bit easier on you, we've put together a list of the latest and greatest items for every budget. Whether searching for a gift for Dad, grandpa or any other male figure in your life, we've got you covered. Feast your eyes on the American Hunter 2019 Father's Day Gift Guide.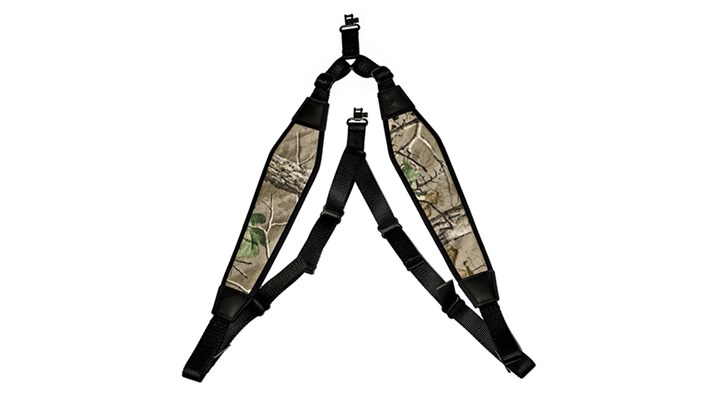 GrovTec BalancePoint Sling
Get dad one of the most innovative slings on the market: the BalancePoint sling from Grovtec. Designed to carry a rifle like a backpack, the sling has two padded straps instead of one. This secures the rifle and evenly distributes the weight of the gun while allowing Dad to keep his hands free without worrying about the rifle sliding off a shoulder. Available in Realtree Xtra Green and black nylon, the product is proudly made in the U.S. MSRP: $31.99-$56.99; grovtec.com.

Browning Black Label Blind Spot Folder Knife
Every dad needs a good knife, and the drop-point Browning Black Label Blind Spot folding knife is a solid option. The knife's 3.8-inch blade, which locks via a liner lock, is made from 5Cr15MoV/7Cr stainless steel with a Rockwell hardness of 56-58 and is finished in a matte-black stonewash. The knife measures just under 5 inches when closed. Its hemp micarta handle has a scaled pattern, and the blade has anti-skid grooves in the spine for sure grip. Other small yet appreciated details are the blade's ambidextrous thumb stud for easy opening and a pocket clip. The knife measures 8.75 inches and weighs less than 5 ounces. MSRP: $39.99; browning.com.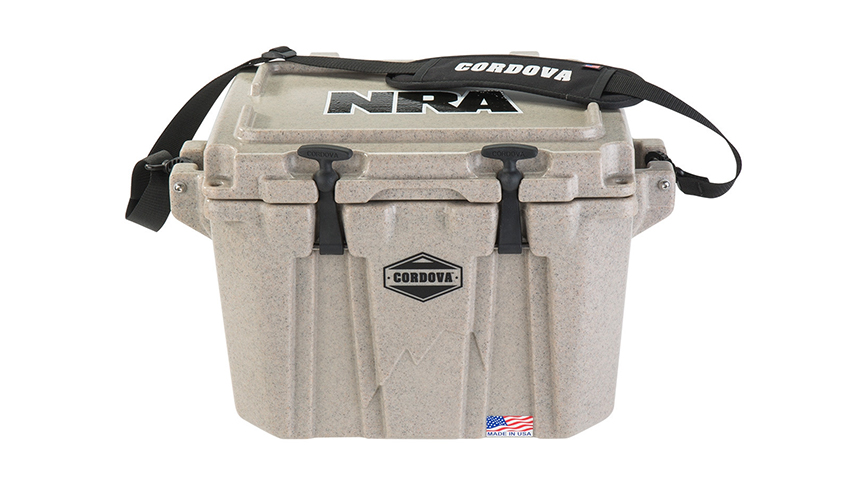 NRA Cordova Cooler
Cordova says, "2A is in our DNA." The company's new NRA logo coolers (the officially licensed coolers of the NRA) are built with as much pride as you'll have using them. These roto-molded coolers sport thick aluminum handles with a built-in bottle openers, no-slip "goat's feet," rubber latches, and a break- and leak-resistant drain plug. The stay-open top has a lip to keep items from rolling off. Every size, from the SM 28-can (shown) to the XL 120-can cooler, is IGBC-Certified bear resistant. MSRP: $222.99-$474.99; cordovaoutdoors.com.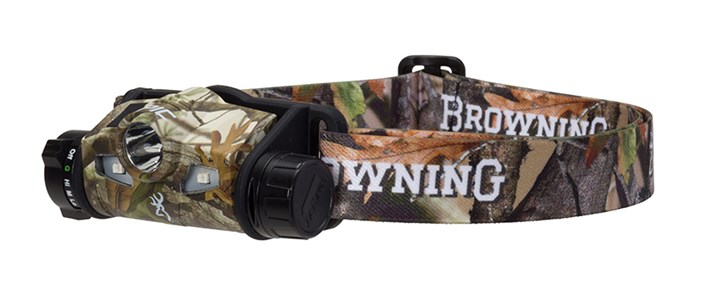 Browning Epic 1AA USB Rechargeable LED Headlamp
Fathers are leaders, even in the darkest times, which is why they need a good headlamp. Delivering 260 lumens that provide 115 yards of visibility, Browning's water-resistant Epic 1AA USB Rechargeable LED Headlamp features a rotating mode selector dial to pick a two (high, 260 lumens), four or 10 hour (low, 40 lumens) mode. Two LED light colors can be emitted from the unit; white or greed. The unit runs on a single AA battery (two are included). The lithium-ion variant charges completely in two to three hours. With a polymer body and bezel, the headlamp is durable and weighs less than 4 ounces including batteries. MSRP: $59.99; browning.com.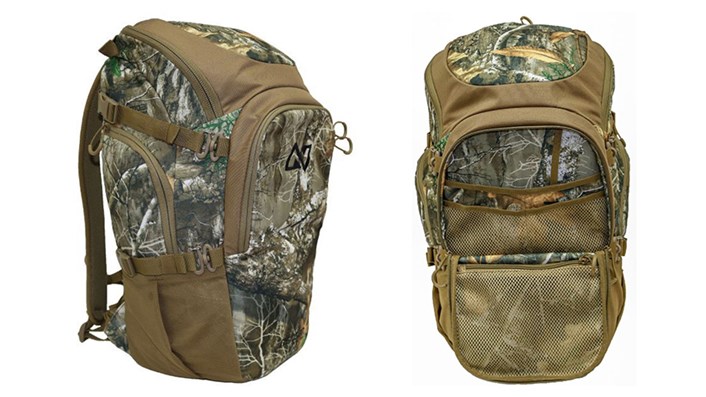 Nexgen Outfitters Whitetail Caddy Pack
Outfitted with 18 pockets and pouches (seven outside, 11 inside), the Whitetail Caddy Pack from Nexgen Outfitters features a durable, quiet polyester construction with a water-resistant polyurethane laminate for protection from the elements, adjustable padded shoulder straps equipped with MOLLE loops for fastening essential gear; a fully-adjustable waist belt and reversible, adjustable external compression straps for carrying gear or game. A structured base and back panel allows the pack to stand freely, and the zippered lid folds down for easy access to calls and other gear. Additionally, the flap that covers the main compartment can be folded forward to create a small table-like surface. The pack weighs less than 4 pounds, and is available in Realtree Edge and Realtree Timber camo patterns. MSRP: $99.99; nexgenof.com.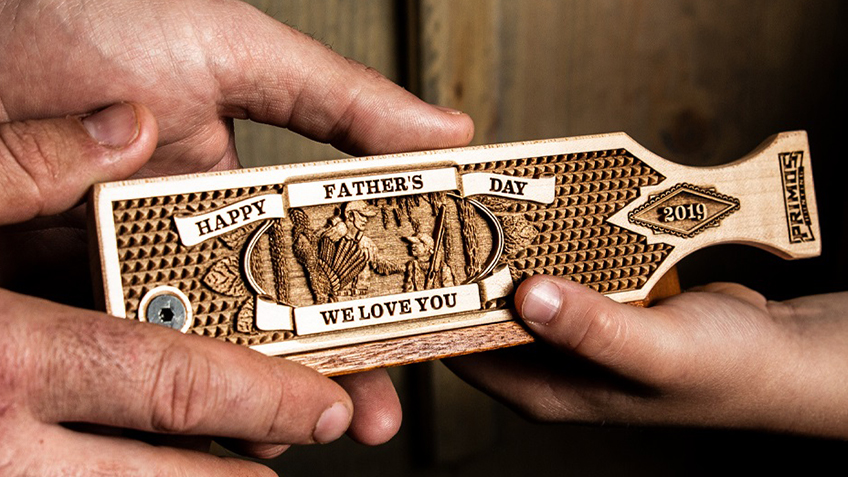 Primos Custom Mill Shop Box Call
What dad wouldn't appreciate a custom box call? Primos recently launched an online Custom Mill Shop where users can design a customized, high-grade version of the original Heart Breaker box call. Users can select either maple or cherry lids, custom patterns and laser-etched hunting scenes, along with custom inscriptions on the top and bottom banners as well as the back of the call. Each Custom Mill Call receives a mark of authenticity and is shipped in a protective package. MSRP: $150; primos.com/custom-mill-shop.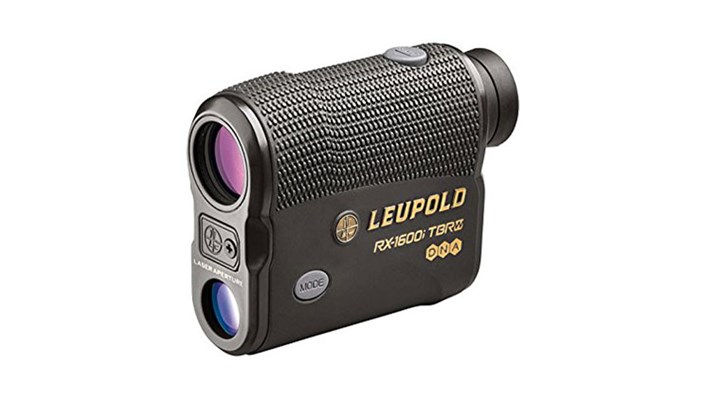 Leupold RX-1600i TBR/W Laser Rangefinder
If dad is using an outdated rangefinder, he'll appreciate Leupold's new RX-1600i TBR/W laser rangefinder. With the ability to range out to 1,600 yards, the rangefinder's True Ballistic Range/Wind technology allows users to account for incline, range to target and ballistics data, as well as develop wind compensation solutions. It also comes fitted with a 6X monocular and a fully multicoated lens system. Fold-down rubber eyecups are also included for use with or without glasses. MSRP: $519.99; leupold.com.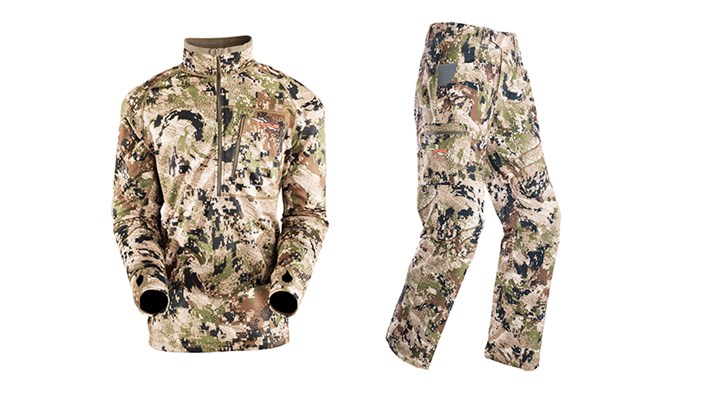 Sitka Traverse Pant & Zip-T
What dad wouldn't appreciate new camo? Sitka's Traverse Pant features 4-way stretch polyester for maximum mobility and a durable water-repellent coating. Internal mesh pockets allow for ventilation during warmer weather, and simply adding a base layer allows for use in colder weather. A reinforced knife anchor pocket on the side of the pant will keep dad's blade secure and easily accessible. The Traverse Zip-T is made of a durable knit abrasion-resistant outer fabric with a high-loft fleece backer that delivers warmth while effectively wicking sweat. It features a large zippered chest pocket and low-profile thumbhole loop to keep sleeves in place for easy layering. The Traverse Pant and Zip-T are available in Optifade Subalpine and Optifade Open Country camo patterns. MSRP: Traverse Pant $149, Zip-T $149; sitkagear.com.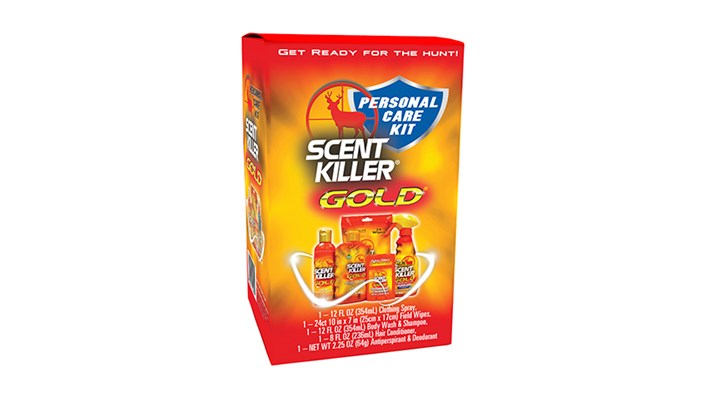 Wildlife Research Center Scent Killer Gold Personal Care Kit
The new Scent Killer Gold Personal Care Kit ensures dad has the products he needs to eliminate scent before, during and after hunting this deer season. The kit includes Scent Killer Gold Clothing Spray (12 oz.), Scent Killer Gold Body Wash and Shampoo (12 oz.), Scent Killer Gold Conditioner (8 oz.), Scent Killer Gold Antiperspirant & Deodorant, and a pack of 24 Scent Killer Gold Field Wipes. MSRP: $37.99; wildlife.com.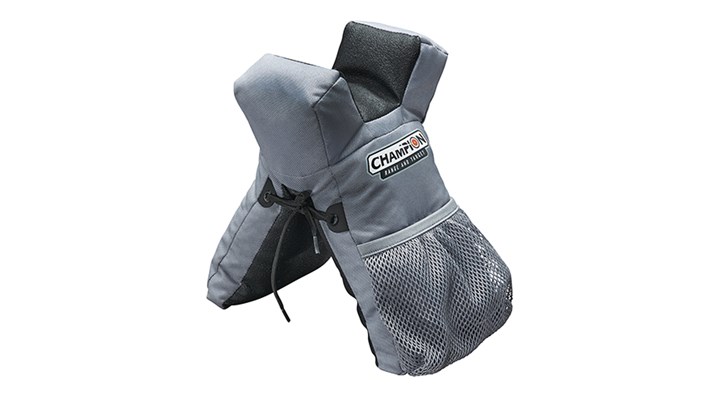 Champion Rail Rider Front Shooting Bag
Whether on the range or in the treestand, the Champion's Rail Rider Front Shooting Bag fits the bill in nearly any situation where a long gun's fore-end needs solid support. The rests feature "Tuff Hide," a textured synthetic material that prevents sliding, on both the top and bottom of the bags. The mesh pocket stitched onto the side is perfect for a rangefinder or a compact pair of binos. A drawstring system on each side adjusts and solidifies the bag's height. The laces are also long enough to secure the bag on a treestand rail for added support when Dad's lining up his next shot. MSRP: $19.95; championtarget.com.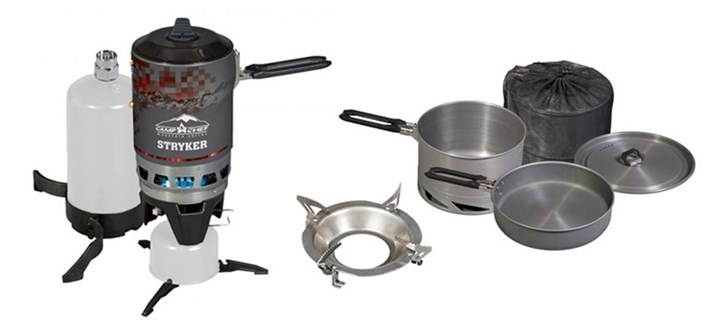 Camp Chef Stryker 200 & 4-Piece Cook Set
The Stryker 200 is a compact, multi-fuel cook stove with matchless ignition and a 1.3-liter insulated pot that can cook rabbit stew or boil water in about two minutes. Add the 4-Piece Cook Set (pot, pan, lid, mesh carry-bag) and the Pot Support Adapter, and you'll be cooking up five-star field-meals for the entire crew. MSRP: Stryker 200, $124.99; Cook Set, $59.99; Pot Adapter, $29.99; campchef.com.
FLIR Scout TK Pocket-Sized Thermal Monocular
The FLIR Scout TK pocket-sized thermal vision monocular makes the ability to see heat signatures at night easier than ever. Featuring eight color palette options, the Scout TK can detect people, objects and animals over 100 yards away, and offers still image and video recording. The rechargeable battery lasts approximately five hours, and images and video can be uploaded to various devices via USB. The unit has an overall length of 6 inches and weighs just 6 ounces. A neck lanyard, USB cable and lens cap are included with the device. MSRP: $599; flir.com.