by
posted on November 9, 2017
Support NRA American Hunter
DONATE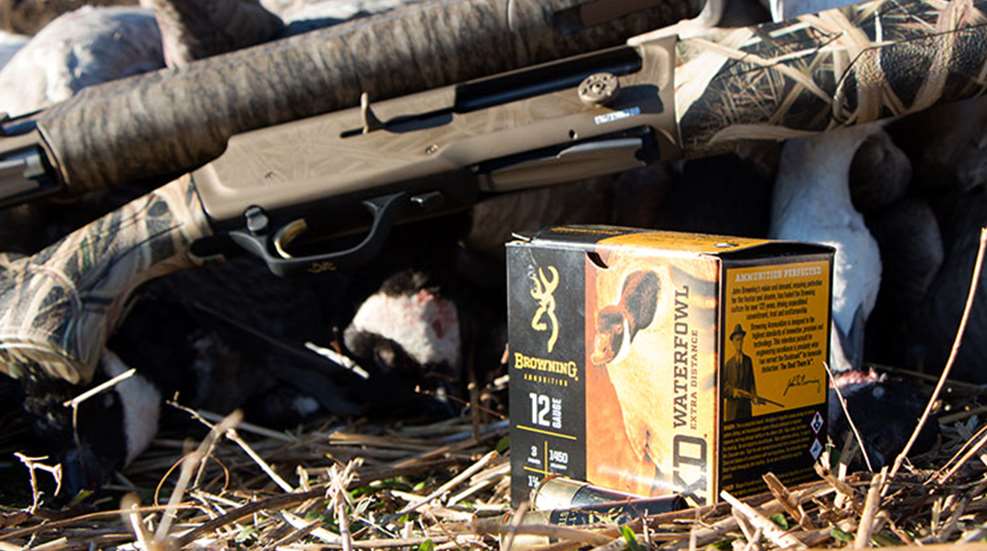 The American Hunter staff has spent quite a bit of time sending Browning steel at waterfowl over the last two seasons, and it's fast becoming a favorite go-to bird killer for the entire team. Here are six reasons why Browning's new BXD Waterfowl loads have done so well for us, and why you should put a box or two in your blind bag this season.
Browning Utilizes Premium Plated Round Shot: Round shot is the most aerodynamic (and here you thought it was square), and as a result, the most accurate, tightest patterning and boasts the most retained energy on target. Even within the "round shot" family, though, there are different grades of roundness due to varying types of shot manufacturing and screening. Browning BXD Waterfowl starts with premium high-quality shot then adds a special (blue zinc-chromate) plating that further reduces any imperfections and protects the shot from corrosion in the elements.


The BXD Waterfowl Wad Creates Racecar-Like Performance: Browning claims this specially designed wad does more than act as a shot cup or protect your barrel; to Browning engineers, it's a tiny high-tech delivery device engineered to hold your shot column tightly together through the bore of the shotgun then execute a beautifully choreographed controlled shot release. This optimized, rear-stabilized wad flies straight and carefully pulls away from the shot column in a way that keeps it tightly packed together so the shot pellets benefit from a drafting effect—not unlike race cars or the flying V of a flock of geese—which retains more energy downrange. All of that may be true, but what it ultimately means, and what AH editors can attest to, is that it kills birds clean, even past 40 yards. Tighter patterns and more energy result in less cripples.


BXD Hits the High-Velocity Sweet Spot: High-velocity shot gets to the target faster thereby reducing the amount of target-lead required and reducing the chance for aim error that often occurs when people don't know how to adjust for longer shots. However, faster is not always better because if comes with a tradeoff of increased recoil. BXD Waterfowl positioned in the sweet spot for optimum performance without heavy recoil; 12-gauge 3-inch loads are traveling at 1450 fps and 3 ½ inches at 1500 fps.


It's Choke Responsive: BXD Waterfowl was designed with slits in the side of the wad that allow it to flex and work in various choke constrictions. Pattern your gun with various chokes to see what pattern you prefer given your expected hunting scenario.


BXD is Offered in 12 and 20: With 12-gauge offerings of No.2 and BB available in both 3- and 3 ½-inch loads, as well as 3-inch No. 4's, Browning has come out of the gate with a lineup of shells that nearly every hunter can get behind. What we weren't expecting, and were darned impressed to see as part of the initial offerings, was the 20-gauge 3-inch No. 2.


It's an Affordable Shell: Browning BXD Waterfowl offers amazing, premium-shell performance available at a very reasonable price. You can find it almost anywhere for around $20/box, but act quick and Browning will make the deal even sweater—Browning BXD Waterfowl loads currently have a rebate available for $5/box back through Dec. 31, 2017.