by
posted on October 11, 2017
Support NRA American Hunter
DONATE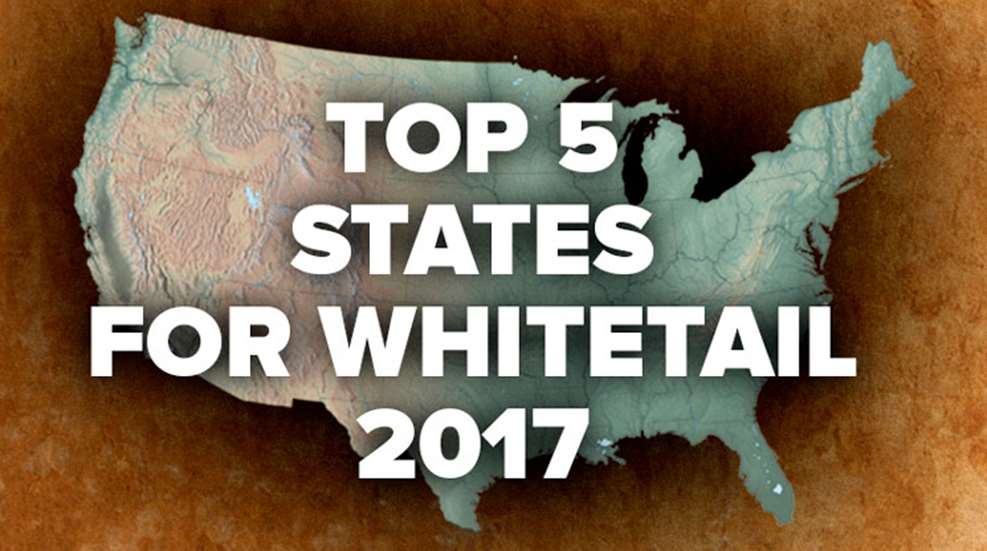 Whitetail remain the single most-hunted game animal in the United States, and by a large margin. Roughly 44 states in the union play home to whitetail populations, which begs the question—just where is the best place to hunt America's favorite critter? We decided to crunch a few numbers and see who came out on top. Using the 2017 Whitetail Report provided by the Quality Deer Management Association (QDMA), which compiles whitetail deer harvest data from three recent hunting seasons (2013-14, 2014-15 and 2015-16. 2016-17 season data hasn't been made available yet), we settled on what we feel might be the top five places to fill your tag this year.
5. Texas
When it comes to sheer numbers, nobody can compete with Texas. It topped the QDMA survey for both buck population (290,590) and antlerless population (257,247), totaling 548,337 deer harvested. With more than half a million deer bagged in the Lone Star State in the aforementioned timeframe, it's not a bad place to start.
4. Pennsylvania
The Quaker State boasts a top-five spot on several of the QDMA categories, including ranking fifth in buck harvest numbers (137,580) and buck harvests per square mile (3.1, just more than double the 1.5 national average). It saw an 8 percent jump in the buck harvest compared to the five-year average. The downside? It also ranks as the number one state with the most hunting pressure, with 20.5 hunters per square mile.
3. Michigan
If you enjoy your space and still want optimal buck hunting, the Michigan boasts the most bucks harvested per square mile at 3.4, which is more than double the national average of 1.5 bucks taken in a square mile. And next to Texas, Michigan hunters took the most bucks (191,608) in the allotted time span.
2. West Virginia
Time brings change, and West Virginia maybe the perfect example. The Mountain State saw a mountain of change in its buck population, reporting a 22 percent jump in buck population in comparison to the five-year average, according to the 2015 QDMA survey. What that means is that West Virginia had the largest population boom in bucks across the country over that time span. Hunters have taken advantage of the spike in numbers, harvesting 3.4 bucks per square mile, per QDMA data.
1. Arkansas
If you're after an older, more mature buck, try hunting in Arkansas. According to QDMA data, 74 percent of all bucks harvested in the Natural State were at 3.5 years old. Only 7 percent of all bucks harvested in that same window were yearlings. Age doesn't automatically translate into antler mass, but it can certainly help.