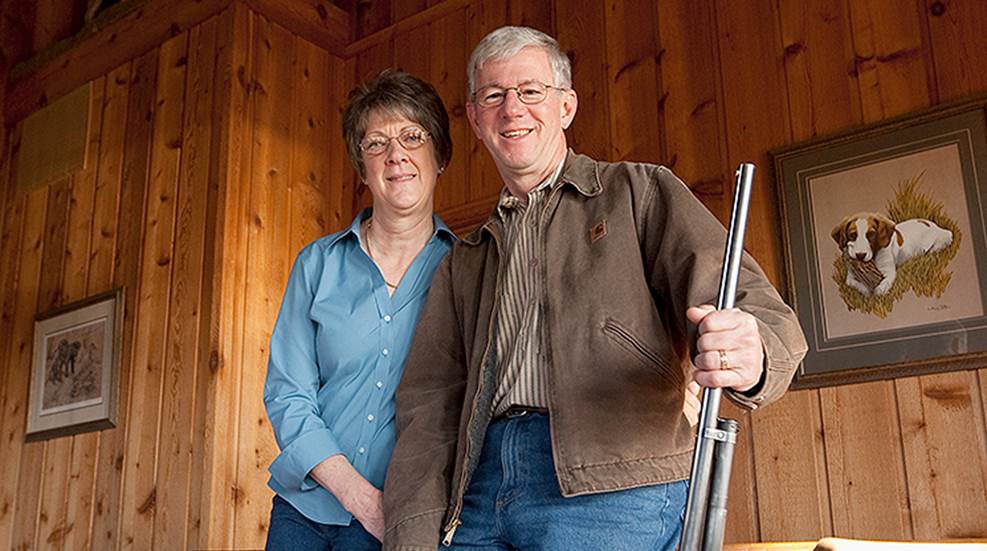 2017 Pioneers of the Year: Larry and Brenda Potterfield, Co-Founders of MidwayUSA
Started as a small brick-and-mortar shop, MidwayUSA in Columbia, Mo., has become a household name and is now a giant of the firearm trade. The core principle of MidwayUSA's business model—that customer satisfaction is paramount—has helped the firm earn two prestigious Malcolm Baldridge National Quality Awards.
Equally important to the cause of freedom, the husband-and-wife duo that created it, Larry and Brenda Potterfield, devised inventive new ways for firearm-industry businesses and private citizens to actively support NRA. Most prominent are two enduring financial lifelines: 1) The NRA Round-Up Program, with total contributions to NRA-ILA now exceeding $17 million; 2) The Friends of NRA—first established in Columbia at Larry's urging, the beginning of a groundswell that has since raised more than $740 million for The NRA Foundation.
Brenda and Larry have long been known for their love of fine firearms, and they are accomplished shooters, worldwide hunters and ardent conservationists, both at home in Missouri and on a global scale. For many American hunters and shooters, Larry embodies what it means to be a gun enthusiast and tinkerer, thanks in part to MidwayUSA's long-running "thanks for your business" TV commercials. There is practically no cause for the betterment of shooting, hunting, wildlife management and firearm freedom that has not been generously supported by the Potterfield family.
In recognition of their unparalleled service to NRA and The NRA Foundation, the Potterfields are charter members of the NRA's Ring of Freedom and hold the distinction of being charter members of the Charlton Heston Society—the Ring's ultimate honor.