Support NRA American Hunter
DONATE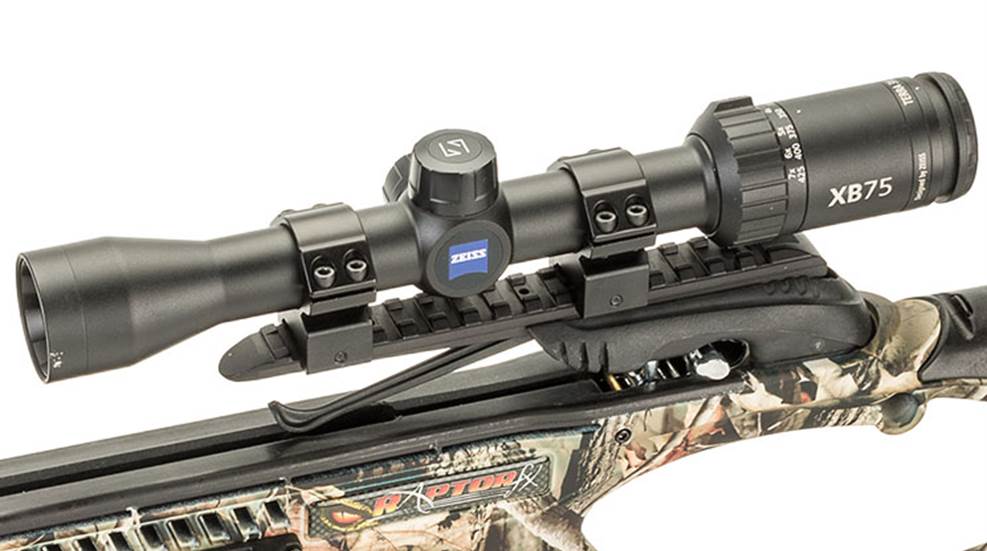 "Best in class" just about says it all. It announces to the world that you stand head and shoulders above your peers. To those companies whose products are featured herein, we say, "Welcome to the 'best' class."
Optic of the Year: Zeiss Terra XB75 Crossbow Scope
Modern crossbows store far more energy than those of old but crossbow scope advancements have not kept pace—until now. Zeiss' Terra XB75 2X-7X-32mm scope ($443) is a low-profile, 13-ounce marvel sporting a patented ballistic reticle with aiming points from 20-75 yards in 2.5-yard increments—based on the chronographed speed of our crossbow.
Six crosshairs represent 20, 30, 40, 50, 60 and 70 yards; the top of the bottom reticle wire is the 75-yard mark. The top and bottom of each crosshair are 2.5-yard marks. The ocular ring is marked with bow speeds from 275-425 fps. Zeiss engineers matched the subtensions of the reticle and magnification to speed, so dialing up speed also increases magnification.
Calibration is not complicated, either, as AH Senior Editor Karen Mehall Phillips learned ("Hardware," September '15). "In a short time I was hitting the target exactly where I aimed at various yardages," she wrote. She toted the scope mounted on a Mission crossbow to a South Africa waterhole. "I put the reticle's 25-yard mark behind the shoulder of a warthog at 24 yards and squeezed—and secured my birthday present!"
Editor's Note: Winning products must be tested by the editors, meet or exceed expectations on innovation, and provide hunters and shooters with value for their money. NRA Publications will present the annual Golden Bullseye Awards at an invitation-only breakfast during the 2016 NRA Annual Meetings & Exhibits in Louisville, Ky., May 20-22.