Support NRA American Hunter
DONATE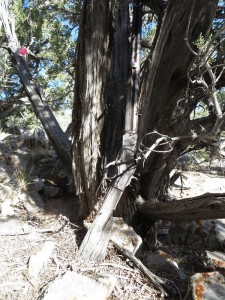 Photos courtesy of U.S. National Forest Service
Now here's a Throwback Thursday for you: Word came out yesterday that, back in November, a team of archaeologists conducting surveys in Nevada's Great Basin National Park discovered a 132-year-old Winchester rifle—apparently resting peacefully against the very tree that it had been left propped up against over a century ago. The rifle in question has been identified as a Model 1873, known to many as "The Gun that Won the West."
Reports indicate that the scientists made the discovery by sheer coincidence—spotting it by chance while passing by the tree that was nestled in. Years of exposure left the rifle looking an awful lot like the weathered tree trunk it was leaning on, providing natural camouflage. The rifle was chambered in .44-40, and was unloaded. Precisely how long the battered old lever-action spent against the tree remains anyone's guess—but the staff at the National Park was, at the least, able to date when it had been manufactured through its serial number. A call to the Cody West Firearms Museum revealed that the rifle had been manufactured and shipped in 1882. Whether it was abandoned that same year or at a far later date is impossible to know.
The Park intends to preserve the rifle in its current condition, and will make it available for viewing. In all likelihood, its story will remain a mystery.
Hit the video below for more photos of the discovery.