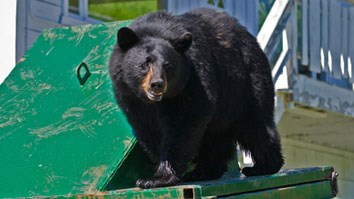 A couple weeks back a bear in Estes Park, Colo., wandered its way into a bar, checking out the scenery a bit before waddling back out the door. Apparently the bears a few hours south don't have that kind of time, because they seem to have developed a habit of getting their meals to go.
According to a report originally posted by KDVR out of Denver, a bear temporarily hijacked a dumpster behind Edleweiss Restaurant, located in Colorado Springs.
The restaurant, which specializes in German fare, found its dumpster tipped over in the middle of the parking lot last Tuesday morning. Employees reviewed the security footage, and found the culprit to be a bit hairy (and hungry) in nature. The bear visibly drags the dumpster off screen in its efforts to turn it over and get at the leftover food inside.
Bears are no strangers to dumpster diving (and have even been known to get stuck before), but it's not often you get a clear video of their antics. I don't know if I can blame this particular scavenger for its determination: The restaurant's website says it specializes in dishes like schnitzel, bratwurst and sauerbraten—which are more than worth a little additional effort. I don't know that I'd hop in a dumpster to get my hands on them but, hey, I'm not a bear. I can use the front door and order from the menu.