by
posted on December 11, 2020
Support NRA American Hunter
DONATE
Take our word for it: After using and perhaps abusing all four of these items, we're sure many hunters would appreciate such gifts, not only when opening the package, but for a long time to come.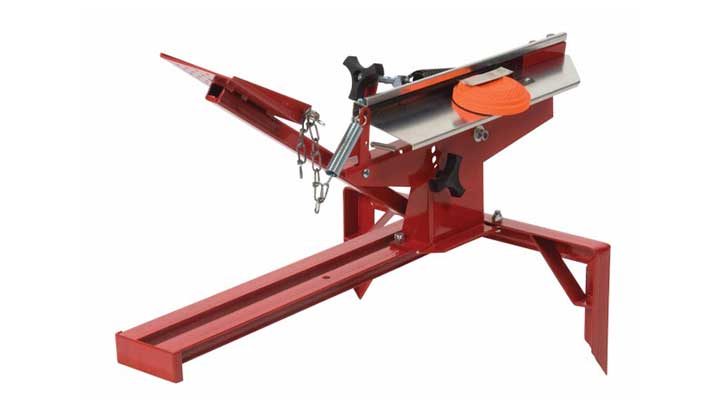 Lyman Trius 1-Step
For those with access to property suitable for safe shotgun practice, the 1-Step from Trius Traps can help create your own impromptu clays range. The sturdy but portable trap has four launch-angle settings and a turn-in/out speed adjustment from beginner-level to high-velocity birds that fly 60 yards or more. Unlike typical hand-cocked units where you must retract the throwing arm under heavy spring pressure, the 1-Step is foot-operated. As the name implies, you step on it, both to compress the spring and then release the bird in a single action, making it safer than handling a pressurized arm.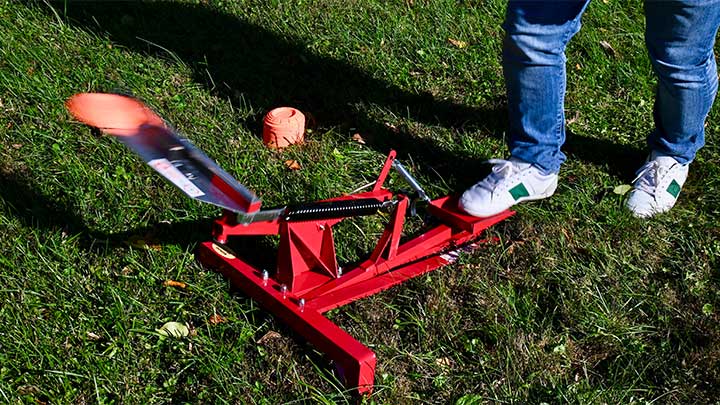 A forceful tromp is required to work the foot pedal, so solo users must get used to shifting their weight just as the bird launches. In a sense it's good practice for the sometimes-tricky footwork common to upland shooting, and many will find it easier to use than lanyard-pull units. The portable launcher can also throw "simo" pairs by stacking one target atop another. Along with its heavy-gauge steel frame, the 1-Step's moving parts use oil-impregnated brass bushings, thereby promising years of trouble-free service. Some assembly is required, but it's a snap for anyone with basic mechanical know-how. Best of all is its affordability, at $129.95 when ordered direct from Trius. MSRP: $129.95; lymanproducts.com.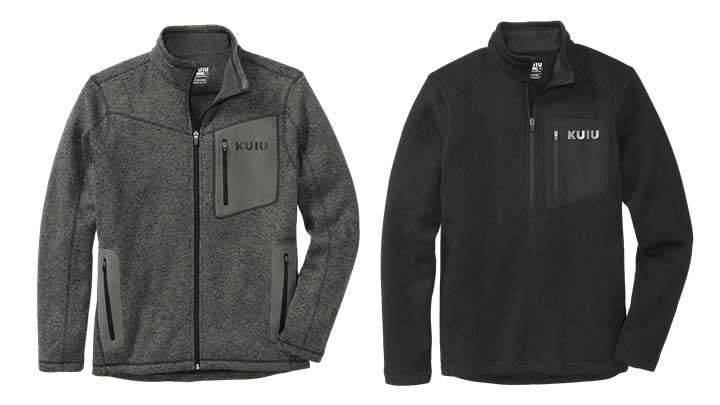 Kuiu Base Camp Sweater
One of the top reasons why Kuiu has claimed such a fast-growing share of the hunt-apparel market is warmth-to-weight ratio. They've proven that heat-retaining layers don't have to be a burden. The new Base Camp Sweaters are prime examples. Knitted from something called "300g sweater fleece," they are far less bulky than past hunting sweaters, and Kuiu says they are made only in limited quantities.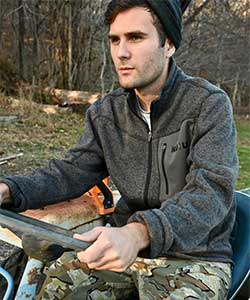 Hooded, pullover, vest and full-zip models are offered in five earth-tone solid colors (no camo), both men's and women's sizing available.The Base Camp line intends to be versatile, and these sweaters are plenty sharp enough to wear in town as well as in the woods. All models feature large zippered side pockets and a chest pocket. I'm partial to the Full-Zip version that makes it easy to control the warmth and to reach inside-layer pockets, for but those in need of an all-day-in-the-elements middle layer, the hoodie is the ticket. MSRP: $69-$129; kuiu.com.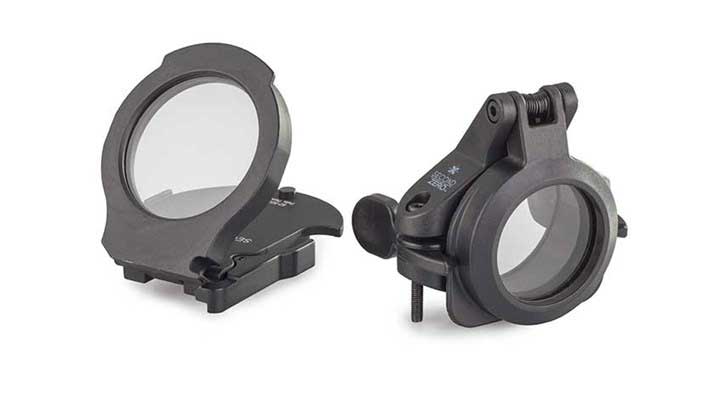 Axeon Second Zero—Foolproof, Fast Trajectory Correction
Compared with other bullet-drop-compensating (BDC) optics, the learning curve for the Axeon Second Zero is fast and easy. Pairing with your existing optic, Second Zero provides instant elevation up-adjustment simply by flipping its lens (actually "precision-ground" prisms) into alignment with your existing scope or red dot. Roughly speaking, the 4.3-MOA model elevates a 100-yard sight-in to a 330-yard zero, while the 11.5-MOA unit brings the 100-yard zero to dead-on at 530 yards. (Based on average point of aim/point of impact with popular loads. Actual zeroes may vary slightly.)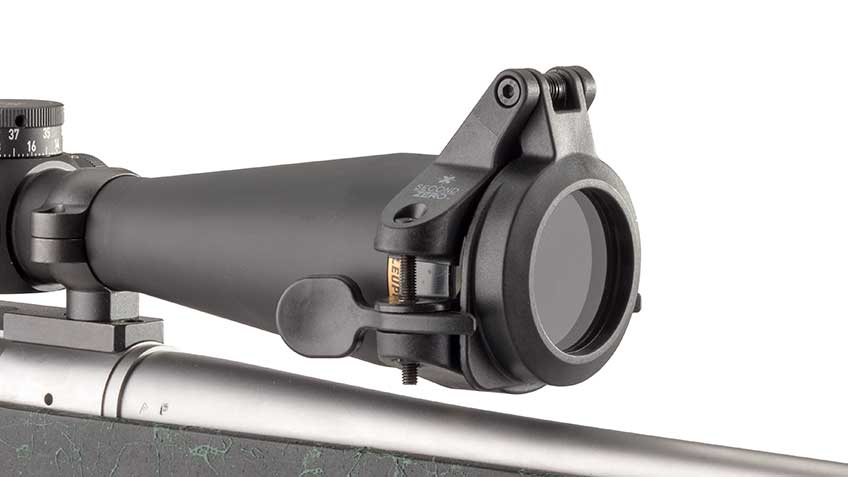 The high-tech glass is encased in durable folding frames that add just four to seven ounces total weight. The Bell-Mount frame units attach directly to your scope's objective (front) bell in 40-44mm or 50mm sizes. The Rail-Mount style clamps to Picatinny rail in the same manner as other accessories. Both styles lock tightly into place when you want the extra downrange boost, or fold neatly out of line of sight when not in use. The Second Zero's proven repeatability gives users the confidence needed for making precision extended-range shots.
Second Zero reliability is on par with other BDCs, but virtually eliminates operator error, as well as battery loss and electronic interference. Affordability is another very strong selling point. MSRP: $49.99-$79.99; axeonoptics.com.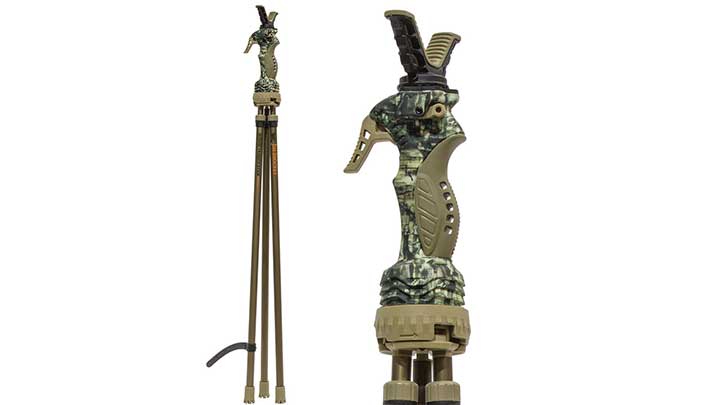 Primos Trigger Stick Gen 3
Modern shooting sticks have done a lot to improve American hunters' field marksmanship. The simple, highly portable rests help bring home the venison while ensuring a higher rate of the clean, quick kills that every hunter strives for. The "Cadillac" of the category is the Primos Trigger Stick Gen 3, an extensive line that includes monopod, bipod and tripod versions. Their key feature is the trigger situated just under the rifle support yoke. Squeeze it and the legs drop freely until you release, at which point they lock in place with the height optimally adjusted for your shooting position.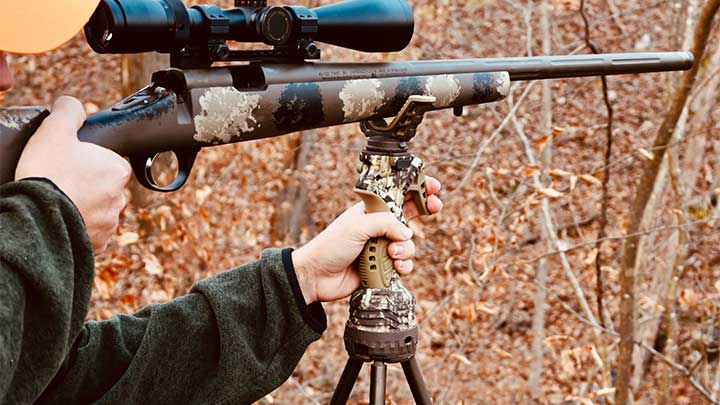 So much faster and quieter than using other sticks, it's no wonder Trigger Sticks got so popular, to the point where hunting headliner Jim Shockey jumped on board, and you can find his instructional video at the Primos website. Current Gen 3 models come in short (max height about 38 inches) and tall (max up to 68 inches) models, and are also crossbow-compatible via wider yokes. Accessories include carry scabbards and a camera mount plate. When it really counts in the field—and gee, when is that not the case!?—why not use the best? MSRP: $60.99-$140.99; primos.com.